VR and AR set to change customers' reality
Share - WeChat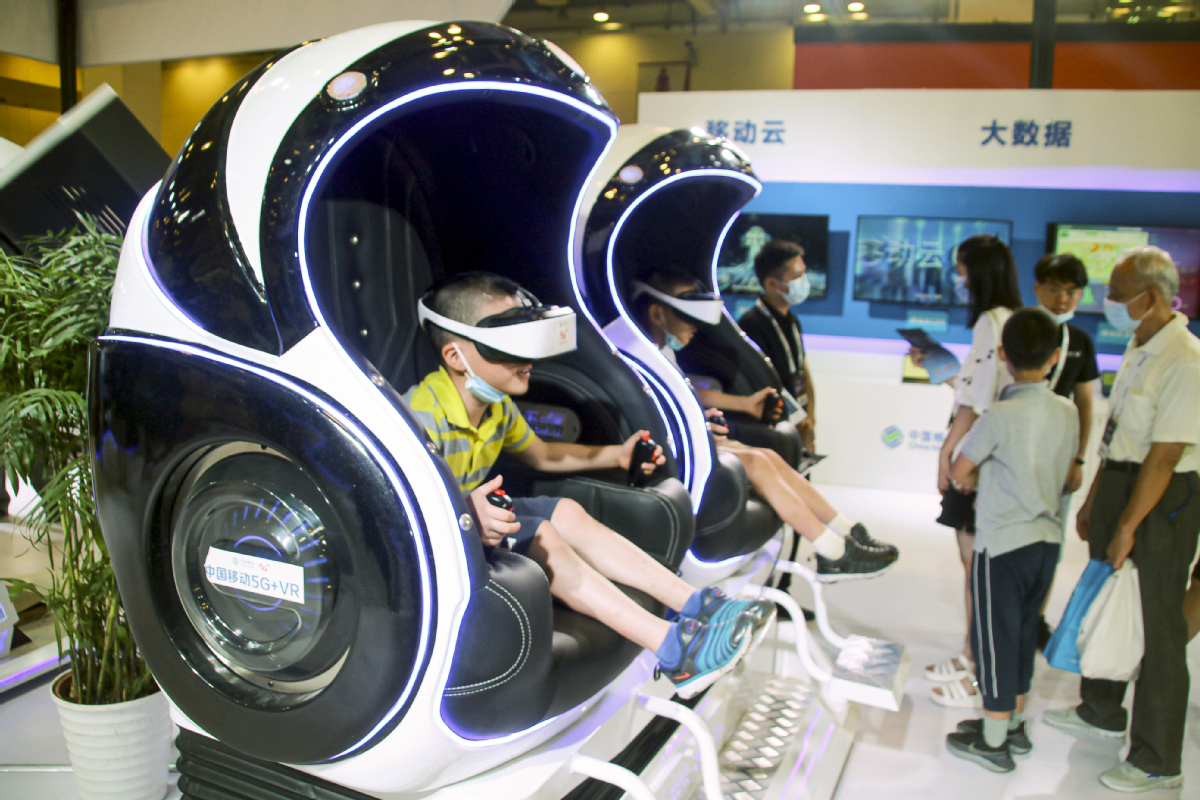 Advanced tech winning more fans
As the US science-fiction film Ready Player One hit cinema screens in 2018, few people were familiar with the virtual reality technology mentioned in the movie.
But within just two years, VR has become an increasingly popular topic for young people. Experts forecast that 5G will further this trend by opening up new possibilities for the technology, and the industry is now at the tipping point for growth.
Yuan Min, deputy general manager of Migu Video, a subsidiary of Chinese digital content provider Migu, said VR is a major 5G-powered application and is closely linked to the development of 5G. As China accelerates efforts to roll out 5G, VR is also expected to see faster expansion.
"We will pour in more resources to assist the production of high-quality VR content because the commercialization of 5G will fuel the industry's growth," Yuan said.
She added that 5G can solve many of the technological bottlenecks that have limited the popularity of VR and augmented reality, such as enabling new convenient forms of meetings to reduce misunderstandings and better convey messages.
Migu said its Cloud VR platform has already played an active part in offering rich content to consumers amid the COVID-19 pandemic. For instance, it has enabled consumers to see 360-degree online livestreams of Qomolangma, known in the West as Mount Everest, and support VR concerts.
Yuan said the platform is currently dedicated to helping consumers access VR content on smartphones, TVs and VR goggles, so more people will learn about the format and enjoy its beauty.
As the price of VR hardware falls and content becomes increasingly abundant and diverse, more people will buy and embrace professional VR goggles, Yuan added.
Tuong Nguyen, senior principal analyst at researcher Gartner, said 5G will become a huge enabler of the VR and AR industries. It will open up many possibilities by providing high bandwidth, low time lag and massively collaborative on-demand contextualized experiences.
High-quality VR will become possible at places where 5G is available because the technology will enhance the sense of "presence"-the feeling that consumers are really "there" inside the experience. In addition, 5G will cut the cord connecting many VR headsets to PCs, with the Cloud taking over the heavy lifting, Nguyen said.
HTC, one of the world's largest manufacturers of VR headsets, is moving in that direction. In June, the company launched its VIVE XR Suite, an integrated application bundle that enables users to work, learn, socialize and even attend events in an immersive fashion from any location in China by using computing devices.
Alvin Wang Graylin, China president of HTC, said VR and AR are poised for robust growth as the novel coronavirus outbreak prompted a large number of consumers and employees to stay indoors and use VR and AR to communicate with colleagues and to entertain themselves.
He said he believes that the world has changed irreversibly in recent months, taking people on an accelerated path toward a digital-first future. "This videocentric 'new normal' we are living in will rapidly transition to the XR first 'next normal' that awaits us," he said.
XR is the umbrella category that covers the various forms of computer-altered reality, including AR, VR and Mixed Reality.
The Ministry of Industry and Information Technology, the nation's top industry regulator, has recently called for more efforts to propel the application of 5G in a wide range of fields, including VR, AR, livestreaming, games and entertainment.
China's VR industry is expected to be worth 54.45 billion yuan ($8 billion) next year, with an annual growth rate of about 95.2 percent, according to a report from the China Center for Information Industry Development, a research institute affiliated with the ministry.
Wu Shengwu, deputy head of the ministry's electronic information division, said China has become the most important global production base for VR hardware, which has helped to nurture the VR consumer market.
"After China officially allowed the commercial use of 5G last year, the superfast wireless technology is helping to unlock more potential in VR, which is now starting to see more applications in manufacturing, education, gaming, medical care and transportation," Wu said.
He added that the ministry will continue to support construction of a VR manufacturing innovation center and advance research and development of VR core technologies.
Claire Zhao, an analyst at global market consultancy IDC, said VR and AR devices have become more popular during the COVID-19 epidemic, with their recent application in education accounting for 23.8 percent of all VR/AR devices in China.
IDC has forecast that China's VR/AR market is expected to grow at a compound annual rate of 67.5 percent over the next five years, though it will take some time before the technology is widely accepted by the public.