Embroidery helps stitch handsome profits
Share - WeChat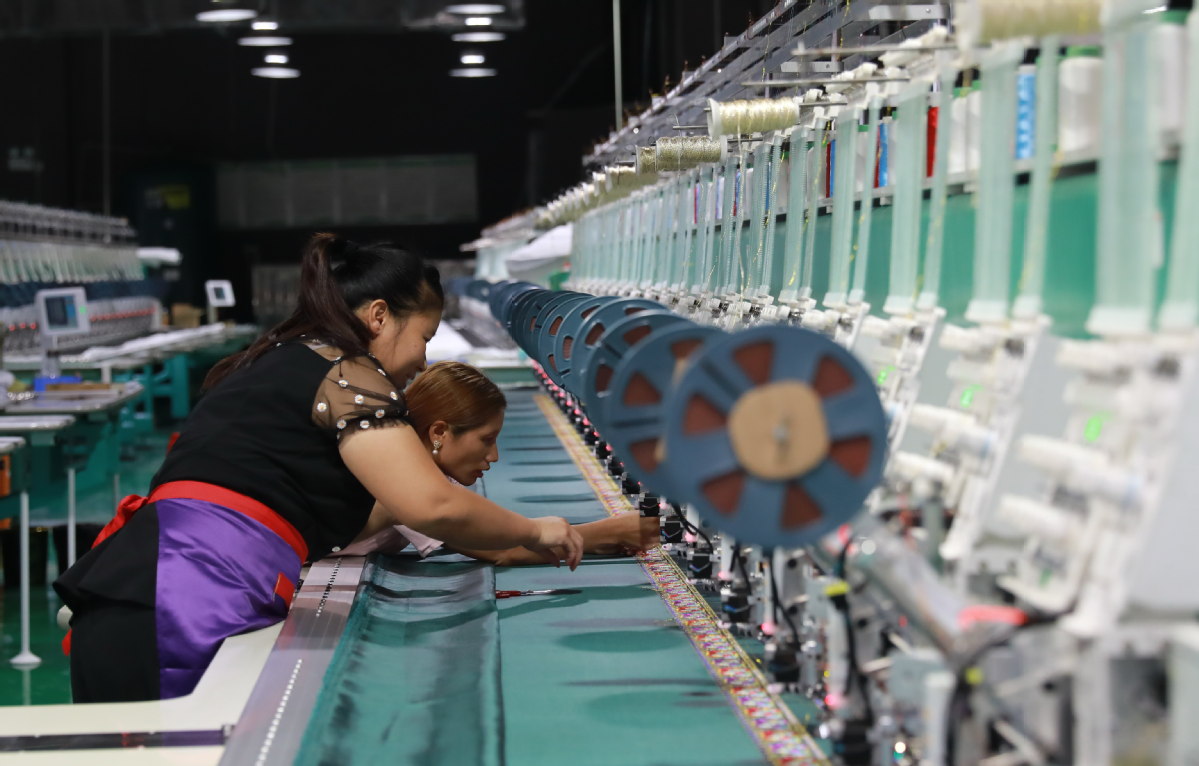 Miao patterns preserve tradition, raise incomes in mountainous regions thanks to automation, craftsmanship
Wei Zuying, a native of Southwest China's mountainous Guizhou province and a deputy to the 13th National People's Congress, said embroidery is inherently part of the culture of the Miao ethnic group, and she hopes the skill can be passed down over generations.
Wei, 40, an inheritor of an intangible cultural heritage designation for embroidery, started working at a clothing factory in Guangzhou, Guangdong province, two decades ago. She worked there for more than 10 years and was deeply impressed by the modern equipment and automation there, even as she was engaged in an activity traditionally reliant on manual labor.
In 2011, she returned to her hometown and bought a used automated embroidery machine. With an initial investment of 200,000 yuan ($29,700), she opened her own embroidery workshop in Maan village, Congjiang county, Guizhou.
A niche has since developed for embroidery in Congjiang. Wei and other designers now create new templates every year, and she tends to blend traditional Miao patterns with modern styles. The factory has made it possible for impoverished women in the village to both work near home and increase their incomes.
Over the years, an entrepreneurial spirit has been growing in Maan-formerly a source of a great deal of migrant workers. Some former employees who worked at Wei's factory have even established their own factories and become their own bosses.
"Embroidery has become a major business in Maan. The streets are filled with the sound of embroidery machines, and everyone is rushing to and from work as they have a large number of orders to finish," Wei said.
"Compared with manual embroidery that requires time and patience, embroidery machines can help quickly complete large quantities of orders and meet demand from different customers. Despite the fact that we now use machines, traditional Miao embroidery culture remains the soul of these embroidered products," she said.
The national culture of the Miao ethnic group should not be hidden deep in the mountains and restricted by geography, but should be promoted to wider areas nationwide, Wei added.
In Maan, there is a traditional custom that when girls get married, they usually wear a new beautifully embroidered handmade dress, and they will later also wear it at major festivals. Thus, most girls in the village learn the skill from childhood, and embroidery has become an essential undertaking for most locals.
"At the factory, embroiderers arrive daily and work with machines. Some with exceptional skills can work from home and be paid based on the number of pieces they produce. The combination of mechanical and manual embroidery ensures mass production and helps pass down skilled craftsmanship," Wei said.
Serving as a deputy to the 13th NPC, she hopes to help more women who live in impoverished conditions to master and inherit traditional embroidery skills and thus make a better living and enrich their lives. Inheritance and development of national culture is her focus as a deputy, and she has felt greater responsibility after taking the position of a national lawmaker.
During the annual two sessions in 2018, she put forward a proposal on how to transform the advantages of national culture into advantages of industrial growth.
Last year, she put forward proposals on building firefighting facilities in villages in less developed areas in Guizhou, and constructing a national highway to ease travel difficulties in mountainous regions.