Relocation changes lifestyle, mindset of Xinjiang residents
Share - WeChat Resettlement program in Xinjiang not only provides new houses for poverty-stricken families, but also ensures they have stable incomes.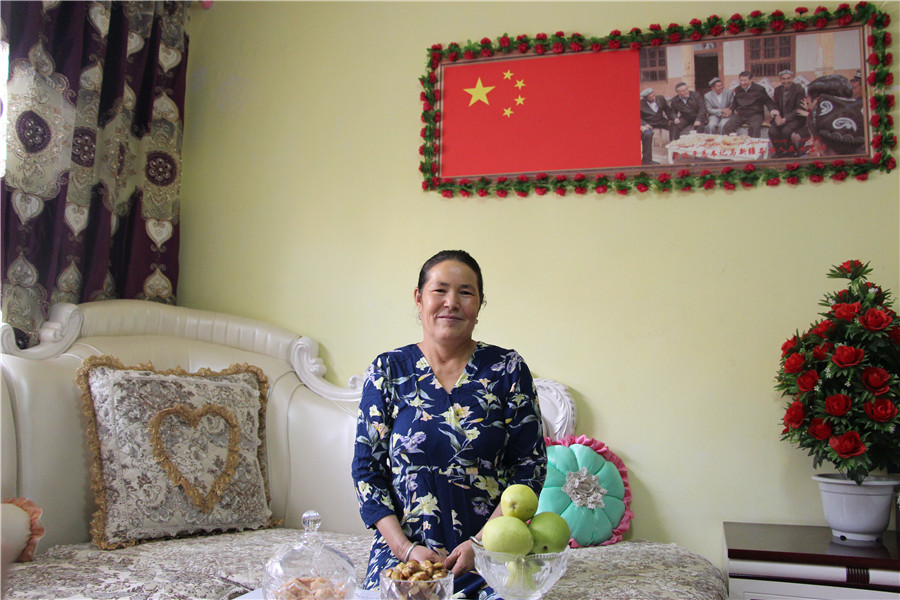 A card hanging on a wall of Buvjannat Abdurahman's home is a testament to the remarkable changes that have taken place in her family's life.
Designed for registered poverty-stricken households, it records the monthly incomes of each member of the family of four, the sources of income and whether they have access to basic services such as safe drinking water, compulsory education and medical insurance.
Buvjannat, 58, lives in the Hejia New Village residential complex in Pishan county, Hotan, on the southern edge of the Taklimakan Desert in the Xinjiang Uygur autonomous region.
The house, decorated in typical Uygur style with bright carpets covering the floor and delicate embroidery hanging on the wall, seems no different from apartments commonly seen in other parts of Xinjiang. But for Buvjannat's family, it marks a huge leap from their old life.
They used to live in a humble adobe hut built with mud and tamarisk.
"When it rained, the roof was leaky," Buvjannat recalled. "And when I burned wood to make a fire in the kitchen, the house was full of smoke."
In early 2018, the family moved from their old house in Saybak village, Kokterek township, to the new apartment. The house was provided by the local government free of charge.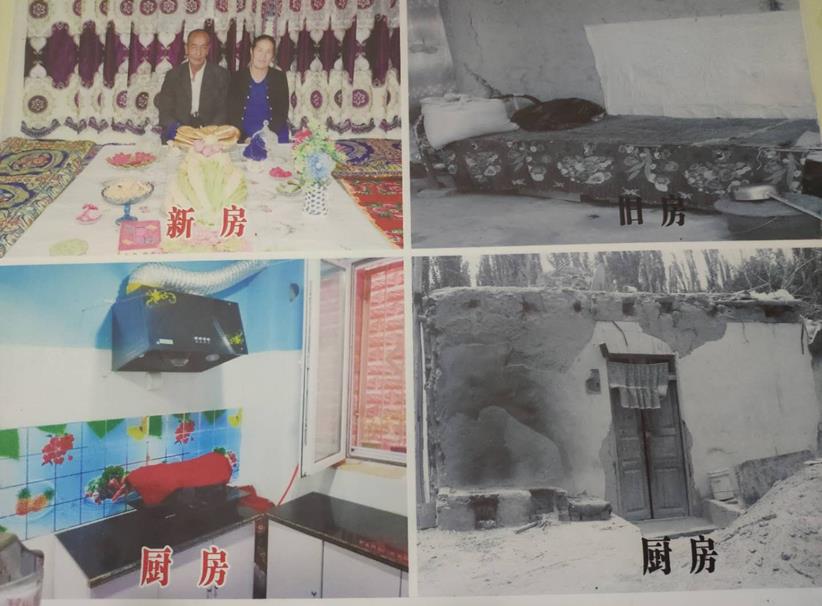 "In the new house, I use natural gas to cook and no longer choke in smoke while cooking," Buvjannat said.
The new community is home to 597 impoverished households, or 2,833 people, from villages scattered across the county. Some relocated because of poor housing and some because they couldn't earn a living.
The resettlement program not only provided new houses for the poverty-stricken families, but also ensured they have stable incomes.
Buvjannat's family used to live on the meager income from the cultivation of several walnut trees and some wheat. They lived under the national poverty line of per capita income of 2,300 yuan ($340) a year (2010 constant prices).
She now earns 1,500 yuan a month working as a sanitation worker in the residential community. Her husband runs a barbershop in the county seat.
The family was also allocated a sheep pen and a greenhouse close to their home. They leased the management rights of the properties to an enterprise designated by the local government to manage them in a centralized manner. The family gets 2,000 yuan a year in return.