2020 BMW China Culture Journey boosts culture, tourism in Liaoning
Share - WeChat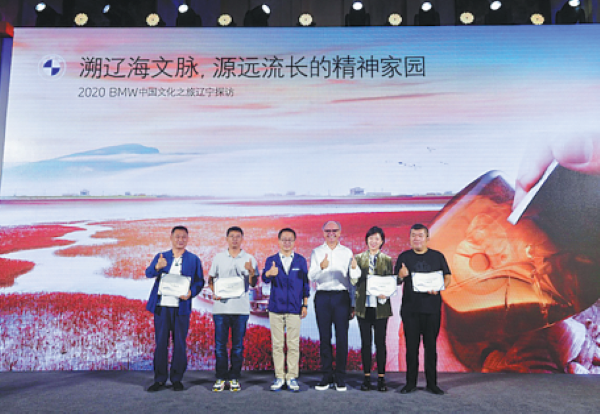 BMW wrapped up its 2020 BMW China Culture Journey's visit to Liaoning province on Thursday as the automaker aimed to shore up the province's cultural tourism with innovation.
Between Sept 7 and Sept 10, the four-day event invited media representatives, experts and scholars in the fields of culture and tourism to pay visits to cities including Shenyang, Panjin, Chaoyang and Fuxin.
The visit allowed attendees to experience Liaoning's traditional culture-Manchu culture, Liaohekou culture and Hongshan culture-as well as tangible and intangible cultural heritages, including the Shenyang Palace Museum, Niuheliang Archaeological Site, folk embroidery of Manchu culture and Fuxin agate carving artistry.
"Shenyang is the hometown of BMW Brilliance," said Johann Wieland, president and CEO of the joint venture between BMW and Chinese automaker Brilliance Auto. "Over the past 17 years since its establishment, BMW Brilliance has not only made positive contributions to promoting Shenyang's high-quality economic growth, but also helped the province with concerted development of its economy, environment and society."
Launched in 2007, BMW China Culture Journey has long been committed to protecting, inheriting and promoting traditional Chinese culture with innovative thinking, Wieland added.
During the visit to Liaoning, BMW selected six intangible cultural heritage inheritors to fund their study at the Tsinghua BMW Innovation Center for Intangible Cultural Heritage Safeguarding.
Under the guidance of professors with the Academy of Arts and Design at Tsinghua University, the six inheritors will work on designing and developing cultural and creative products to help promote the innovative transformation of intangible cultural heritages.
To further enable intangible cultural heritage inheritors, the 2020 BMW China Culture Journey partners with an Alibaba public welfare program targeted on helping women.
Through the program, female inheritors will learn e-commerce training and skills.
In addition, joining hands with the Chinese tourism website Mafengwo, the 2020 BMW China Culture Journey will release a tour guide on Liaoning. It aimed to promote the province's intangible culture heritages and their inheritors to more people, especially those from younger generations.
Li Songlin, deputy mayor of Shenyang, the capital city of Liaoning, said: "The BMW China Culture Journey is an important carrier that demonstrates BMW's sustainable development strategy."
"The BMW China Culture Journey has made incredible achievements in exploring, spreading, protecting and promoting Chinese traditional cultural heritages. I believe that its visit to Liaoning will inject new vitality into the excavation of intangible cultural heritage and the development of cultural tourism industry in Shenyang." BMW also greatly values the social development of local communities. The automaker established the BMW Children's Traffic Safety Experience Center in 2016 to provide traffic safety education for local children.
BMW JOY Home, the children care program launched in 2011, focuses on left-behind and migrant children.
The BMW JOY Home Football Tournament Summer Camp has been held in Shenyang since 2018.