Food wastage down during 8-day holiday
Share - WeChat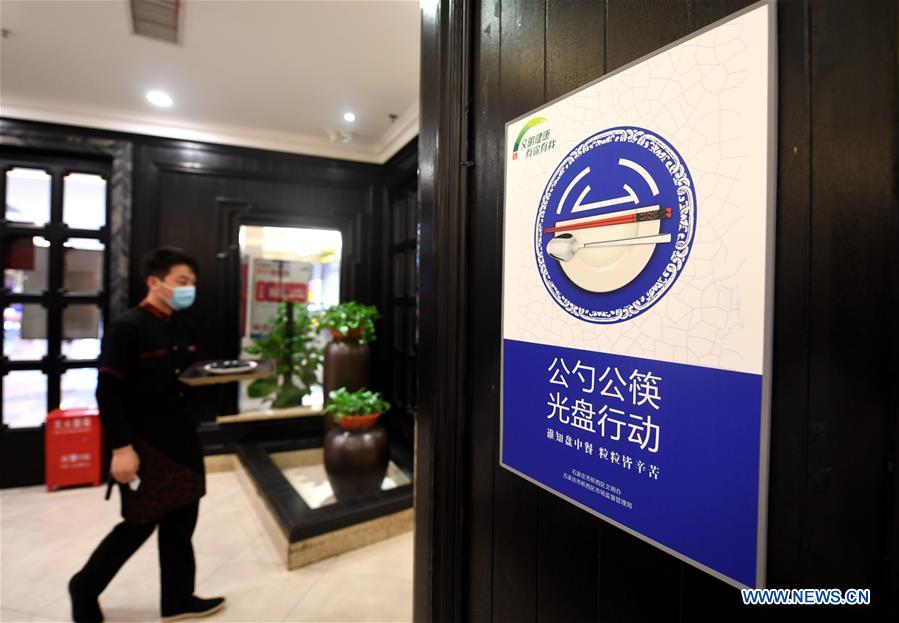 'Clear Your Plate' campaign generates more than 1 million social media posts
With more people heeding a national call, curbing food waste and promoting thrift have become increasingly common among Chinese restaurants and diners.
The trend has been especially noticeable during the ongoing eight-day National Day and Mid-Autumn Festival holiday.
Chinese catering firms have been urged to introduce measures to put an end to food waste while improving the quality of products and providing better service, according to a government action plan.
The plan calls for measures to be integrated into the entire process, from purchasing ingredients, storage and processing, to the serving of food and packaging takeout.
Many companies that took steps in anticipation of increased customer numbers during the holiday-usually a busy period in China for family gatherings, travel and eating out-saw their efforts prove effective.
In a buffet restaurant on Qingnian Road in Beijing's Chaoyang district, ready-to-eat seafood is now put on shelves in smaller dishes. Diners who finish all they take receive a piece of fruit as a gift before leaving the restaurant, manager Zhang Weidong said.
Wang Yajing, deputy manager of the Beijing Hepingmen branch of Quanjude, one of China's best known roast duck chain restaurants, said the branch has recently seen a 40 percent decrease in leftovers because of efforts to curb food waste, which also made garbage storage and sorting easier.
The chain has trained staff to help customers order the right amount of food. It also provides free packaging services so that diners can take away leftovers, and gives them badges bearing the words "role models of practicing thrift".
Similar changes are also taking place in Shanghai.
At a recent wedding banquet in the city's Minhang district, fewer dishes were seen on tables and many guests took away leftovers.
Xu Jie, the groom, said the quantity of dishes was decided upon after taking the number of guests into account. Boxes and bags were provided to guests for leftovers.
In Shenzhen, Guangdong province, six KFC outlets recently unveiled a pilot charity program called "Food Bank" that gives unsold food to people in need for free. The food is stored in freezers and put into small bags with labels stating the product name, storage date and processing guidelines.
At the same time, "Clear Your Plate", a national campaign against wasting food, continues to gain steam online.
Social media users, especially the young, have been invited to share photos or videos of empty plates on Sina Weibo, a popular social media platform, after finishing their food.
Media outlets, government agencies, social organizations and internet celebrities have joined the online stream of messages opposing the wasting of food, which has been welcomed by netizens.
"When eating a mouthful of congee or rice, one should bear in mind that its production is not easy," wrote Tong Dawei, a young actor, quoting a proverb, in a Weibo post with photos of empty plates.
As of Sunday evening, the "Clear Your Plate" campaign, with the hashtag #GuangPanXingDong, had generated over 1 million posts and 800 million views on the platform.
The China Consumers Association has reminded people to be reasonable when ordering meals and to avoid eating extravagantly.
In a related development, the Communist Party of China's Central Commission for Discipline Inspection and the National Supervisory Commission exposed six cases of officials violating frugality rules in a statement on Sept 28.
The country's top graft watchdogs released the names of seven officials involved in the misuse of public funds for banquets and tours, acceptance of gifts, and the awarding of unauthorized allowances or bonuses, among other violations.
They warned officials against inappropriate behavior during the holiday, which usually sees a rise in gift-giving, banquets and related activities.