Reducing food waste with 'Clean Plate'
Share - WeChat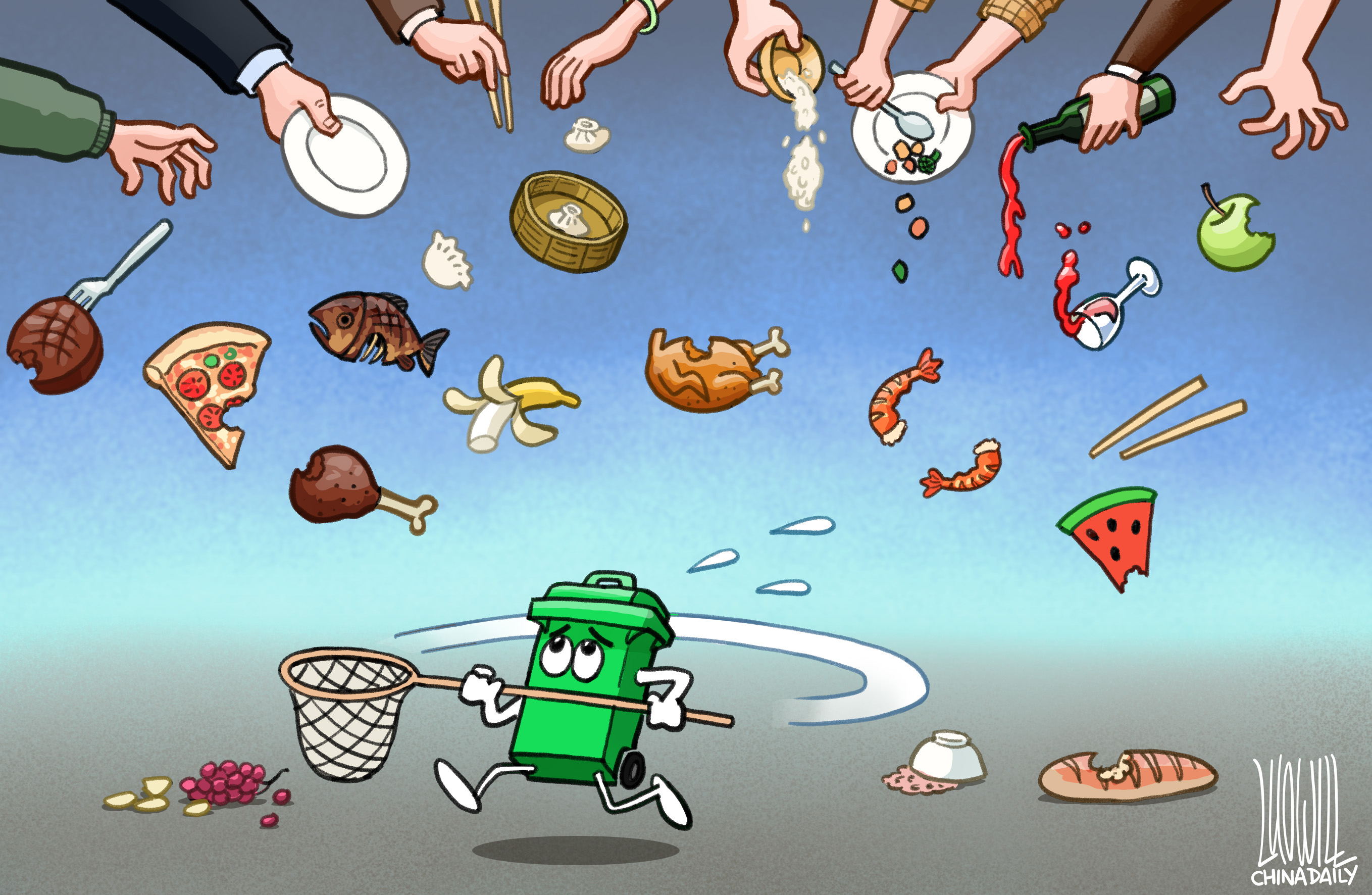 Food production must double by 2050 to meet the demand of a growing population, according to the United Nations. Yet about one-third of the food produced globally is either lost or wasted every year.
The impacts of food loss and waste globally are significant. About $750 million per year is the estimated economic cost of food waste globally, according to the Food and Agriculture Organization of the UN. And food loss and waste are considered responsible for about 8 percent of the greenhouse gas emissions.
25% of food wasted can feed 690m people
Nearly 30 percent of the world's agricultural land is currently used to produce food that is ultimately never consumed. Reducing food loss and waste is not only important from an economic and environmental perspective. It is also a moral imperative if we consider that-according to the State of Food Security and Nutrition in the World Report 2020-about 690 million people in the world are hungry, and that less than 25 percent of the food wasted globally every year could feed these people.
The COVID-19 pandemic has further aggravated the situation. The disruptions in supply chains which resulted from the implemented lockdown and transport restrictions have significantly increased food loss and waste, especially of perishable agricultural produce, such as fruits and vegetables, fish, meat and dairy products.
Moreover, the closure of much of the catering and food service industry and schools has resulted in a loss of markets for producers, making the situation even more challenging.
China is no exemption to this global phenomenon. According to Future Direction International, more than 35 million tons of food-6 percent of China's food production-are lost or wasted in the country annually: enough to feed 100 million people. And about half of it-17-18 million tons-is wasted at the last stage of the supply chain, that is, at the retail or consumption stage every year, according to the Chinese Academy of Sciences.
Food waste is shameful
Concerned about the increasing scale of the issue, President Xi Jinping has recently helped boost a campaign targeting food waste,"Clean Plate", saying "Waste is shameful", and reminding everyone that,"We should still maintain a sense of crisis about food security". His reference to food security is no coincidence. Food security has always been an important strategic objective of China's policy.
Continuous trade tensions with the United States, the COVID-19 pandemic, and the recent floods in the country, the southern region in particular, which damaged part of the summer harvest, should have raised the sense of crisis despite no immediate daunting challenges.
China has sufficient food reserves to meet its domestic demand for at least one year.
However, preventing and reducing food loss and waste would generate several economic and environmental gains, which will eventually benefit the entire Chinese society.
Reducing food loss and waste would reduce operating costs, and thus, eventually, consumers' end prices. Which in turn would reduce the pressure on China's limited land and water resources for producing food that is ultimately not consumed.
From a global perspective, with 20 percent of the world's population but only 7 percent of the world's arable land, China can significantly contribute to the global battles against poverty, hunger and climate change by cutting food loss and waste and promoting responsible and sustainable production and consumption.
What concrete actions can be proposed to prevent and reduce food loss and waste, which would improve food security, and reduce hunger and help fight climate change?
Every stage of supply chain needs correction
Food is lost or wasted at each stage of the supply chain. Mitigation measures would thus need to target each stage of the supply chain.
For instance, promoting the adoption of mechanized agriculture and improving the efficiency of farm machinery to ensure crops are harvested efficiently may reduce food loss during the production (harvesting) phase. Increasing the number, capacity and functionality of storage facilities may help reduce food loss during the storage phase, while better road connectivity and an efficient logistics system may reduce food loss during distribution. And digitalization can improve the overall efficiency along the entire value chain.
My organization, the International Fund for Agricultural Development, has provided financial resources to build feeder roads and improve road connectivity, construct storage facilities, and improve the efficiency of the agricultural value chains, thus directly or indirectly helping reduce food loss and improving food security in China.
Yet, as in many other emerging economies and increasingly urban societies, more food in China is wasted toward the end of the food supply chain, particularly during consumption. Implementing legislative and regulatory measures that discourage food waste is necessary, and the Chinese government has already taken several measures in that regard.
To really reduce food waste, however, a change in the cultural attitude and customs of the people is necessary. In this regard, campaigns such as the "Empty Your Plate" drive, or the "Clean Plate" campaign can indeed help change people's attitude toward food consumption and waste.
The views don't necessarily reflect those of China Daily.
The author is country director and International Fund for Agricultural Development representative for China, the DPRK and the ROK.
If you have a specific expertise and would like to contribute to China Daily, please contact us at opinion@chinadaily.com.cn , and comment@chinadaily.com.cn
Most Viewed in 24 Hours
China Views