China performs compulsory birth control on Uygur women?
Share - WeChat US Secretary of State Mike Pompeo published a press statement titled "On China's Coercive Family Planning and Forced Sterilization Program in Xinjiang" on 29 June 2020. On the same day, the Associated Press released an investigation report titled "China forces birth control on Uygurs to suppress population" (See this report at https://apnews.com/e2674c069d46f6d5c9a3d3be40d612d4, accessed on September 1, 2020.). Both Pompeo' statement and the Associated Press's report claimed that aiming to curb the Muslim population in Xinjiang, Chinese government has taken a series of draconian measures to slash birth rates among Uygurs and other minorities.
One research report, written by Adrian Zenz and titled by "Sterilizations, IUDs, and mandatory birth control: The Chinese Communist Party's campaign to suppress Uygur birth rates in Xinjiang" (hereinafter, referred to as Zenz's report), was published by Jamestown Foundation in June 2020. Zenz's report is the main citing source of Pompeo's statement and the Associated Press's investigation report. Zenz's report claimed that its data was quoted from China's official documents and statistical yearbook, yet in fact, this report has a large number of problems, mainly including fabricating facts and falsifying data. The wording that Chinese government has adopted compulsory sterilization to Uygur women in Xinjiang, in the essence, is a baseless fake news which was concocted by US government and some western foundations and scholars with anti-communist background.
Adrian Zenz,the author of the report, is a Germany scholar hired by The Victims of Communism Memorial Foundation — an extreme right-wing organization sponsored by the US government. Since its establishment in 1983, this foundation, disregarding the objective facts, has repeatedly conferred so-called "human rights awards" to some criminal terrorists, and slandered and denied China's salient contribution in fighting against COVID-19. In his report, Zenz listed his so-called significant research findings of Chinese government suppressing Uygur birth rates by mandatory measures, and declared that "[f]or the first time, the veracity and scale of these anecdotal accounts (These anecdotal accounts here refer to "mandatory birth control in Xinjiang".) can be confirmed through a systematic analysis of government documents" (Zenz's report, p2.). In the following sections, using objective facts and statistical data, we will refute Zenz's "significant" research findings and eventually expose how he concocted these lies through fabricating facts and falsifying data.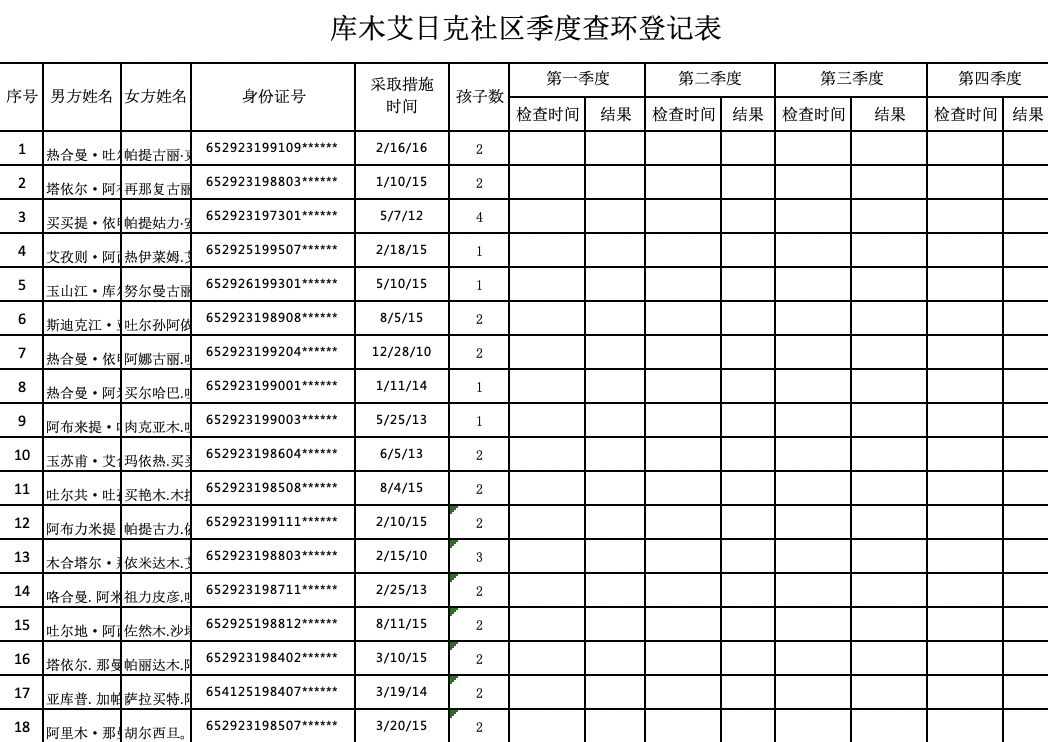 Rumor: The Chinese government has performed compulsory birth control operations on Uygur women who only have one child, and the shares of women aged 18 to 49 who were either widowed or in menopause have more than doubled since the onset of the internment campaign in Kuqa County.
Fact:
In his report, Zenz presented one form that recording the situation of IUD checking for women by quarter in one District, Payzawat County (see Figure 3),and criticized that the local health and family planning department conducted excessively frequent inspections on ethnic minority women(Zenz's report, p12, 13.). Then, he took this "evidence"to prove his findings that the Chinese government even took compulsory birth control measures on Uygur women with only one child.
Chin's fertility technical services have insisted the principle of combining state guidance and individual voluntary, and emphasized that all the Chinese citizens have the right to be informed of freely choosing contraceptive methods. The decisions of operating birth control surgeries that Uygur and other ethnic minority residents made is fully based on their willingness and full knowledge about the surgeries. In other words, one woman has the right to decide to have herself sterilized after having one child. The sources of the form Zenz provided were unknown and unidentified, and this form did not contain any evidence to prove that women's choice to operate IUD placement after having a child is a government-compulsory behavior, not a voluntary behavior. Zenz's conclusion is not the fact but the product of his extrapolation.
It should be mentioned here that the World Health Organization (WHO) has clearly verified the safety of IUDs. In the website of WHO, IUDs are identified as"a safe and effective method of long-term reversible contraception and the most widely used reversible method of contraception in the world today, used by an estimated 100 million women" (See the official website of WHO, https://extranet.who.int/rhl/topics/fertility-regulation/contraception/copper-containing-framed-intrauterine-devices-contraception, accessed on September 3, 2020.). Some relevant medical studies also confirms that it is necessary that women who use the IUDs go to the hospital for regular checkups to ensure its placement is correct (See:http://www.thepaper.cn/baidu.jsp?contid=1534503, accessed on September 3, 2020.). Free regular gynecological examinations provided by Chinese government have effectively reduced or prevented women's risk of gynecological diseases. The detection rate of women's gynecological diseases in Xinjiang has dropped from 41.6% in 2010 to 29.9% in 2018(Date source: the table of "the detection of gynecological diseases" in China Health and Family Planning Statistical Yearbook 2010 and China Health Statistics Yearbook 2019.). It definitely is a great achievement promoted by Chinese government in the protection of women's rights and interests which cannot be discredited.
It is even more absurd that another lie made by Zenz without any evidence. Zenz claimed that the shares of women aged 18 to 49 who were either widowed or in menopause have more than doubled since the onset of the internment campaign in Kuqa County, because those women's husbands died of internment or those women who were detained in the vocational education and training centers had been forced to be injected Depo-Provera, a well-known long-acting reversible hormonal contraceptive injection. Zenz thus censured Chinese government as the culprit who caused those women's menopause or losing fertility abilities (Zenz's report, p3, p9.).
Scholars and media reporters from many counties have visited the vocational education and training centers in Xinjiang since the centers' establishment. They have fully appreciated that the centers have fully respected students' religious beliefs, spiritual and cultural life. Yet, the so-called evidences Zenz offering to support his absurd lie were merely his previous article and one table that was quoted from the sixth national population census. This table merely existed in one footnote from Zenz's report yet cannot be found in the sixth national census's report.