Bayer, Hua Medicine sign diabetes treatment agreement, partnership
Share - WeChat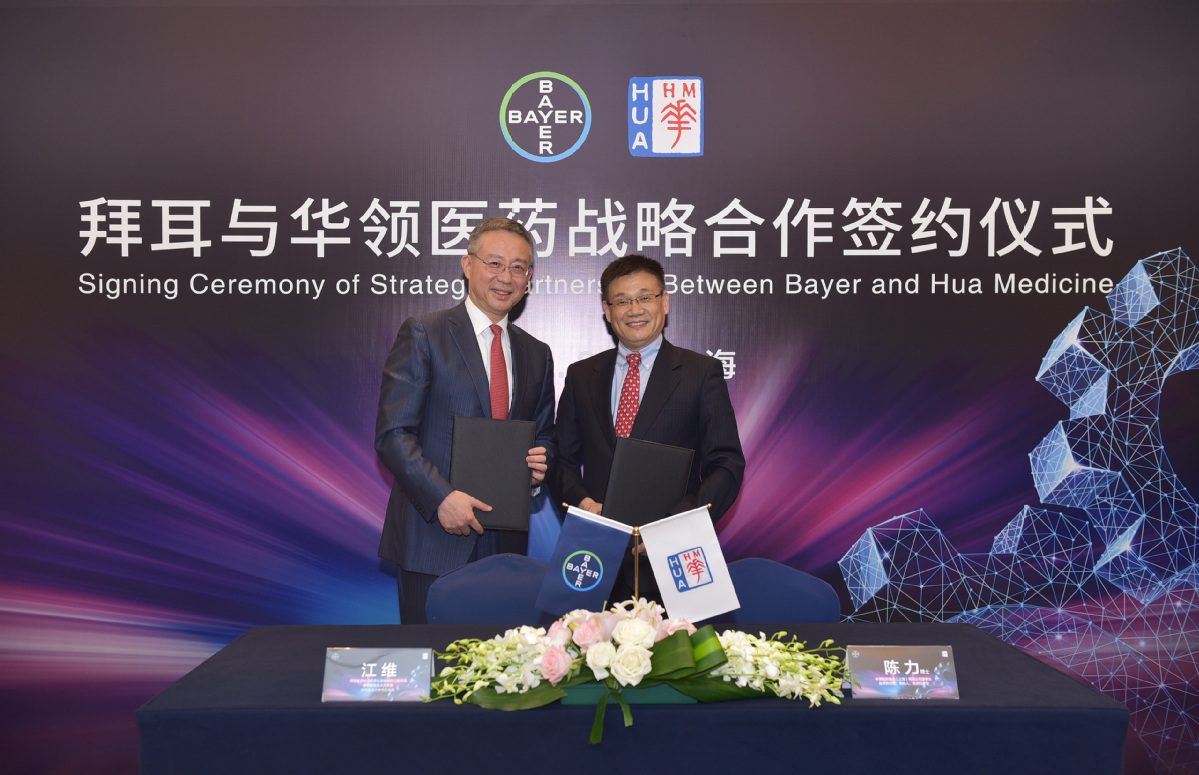 Bayer and Hua Medicine, a leading innovative drug development company, announced a commercial agreement and strategic partnership for dorzagliatin, a novel diabetes treatment, in China on Monday. The agreement aims to give Chinese diabetes patients access to a new treatment option, building on Bayer's existing strength and leadership in diabetes management in China and the innovation capabilities of Hua Medicine.
"Bayer has been long committed to Chinese patients living with diabetes and diabetic macular edema (DME) by offering innovative treatment options, including Glucobay and Eylea," said Wei Jiang, executive vice-president and president of Bayer Pharmaceuticals Region China & APAC, and president of Bayer Group Greater China.
"In the face of significantly increasing challenges caused by diabetes to public health in China, our collaboration with Hua Medicine will further address the unmet medical needs of Chinese patients living with diabetes. By leveraging Bayer's well-established products, as well as the upcoming continuous glucose monitoring system under the partnership with WaveForm, we will be able to provide integrated solutions ranging from prevention, diagnosis, treatment and complication management."
"We are very excited to have this great opportunity, joining forces with Bayer to bring a first-in-class diabetes medicine, dorzagliatin, to Chinese patients," said Li Chen, CEO of Hua Medicine. "Bayer has been a leader in diabetes treatment for the past 10 years in China and will be a great partner for Hua Medicine to advance diabetes care.
Under the terms of the agreement, Hua Medicine as the market authorization holder will be responsible for clinical development, registration, product supply and distribution, while Bayer as the promotion service provider will be responsible for marketing, promotion and medical education activities in China. Hua Medicine will receive an upfront payment of 300 million yuan ($43.3 million) and additional payments could reach up to 4.18 billion yuan if certain milestones are met.
Bayer receives exclusive rights to commercialize the product in China and will receive a tiered service fee based on net sales. Initially, both parties will share equally in sales derived from China net sales, with adjusting sales percentages based on agreed China net sales thresholds.
"China is a key focus of Bayer's partnering efforts and we are continuously looking for assets and health technologies to help address the significant unmet medical needs of patients," said Marianne De Backer, PhD, a member of the executive committee and head of Strategy and Business Development & Licensing, Pharmaceuticals Division of Bayer AG.
Bayer's Pharmaceuticals Business Development & Licensing team facilitated this collaboration.