President promotes PLA officer to rank of general
Share - WeChat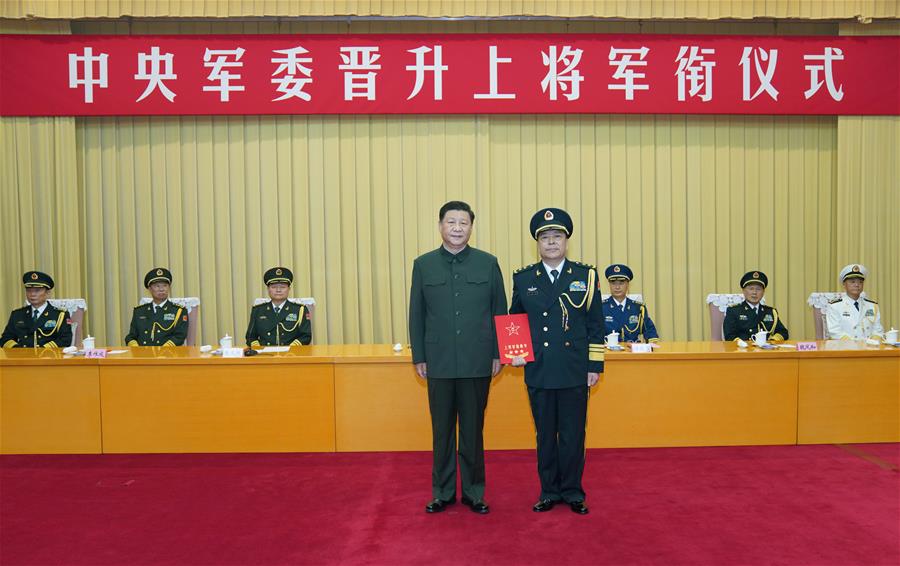 President Xi Jinping promoted Xu Zhongbo, political commissar of the People's Liberation Army Rocket Force, to the rank of general on Wednesday.
At a promotion ceremony at the Central Military Commission's headquarters in Beijing, Xi, who is also general secretary of the Communist Party of China Central Committee and chairman of the Central Military Commission, conferred the promotion order document to Xu.
The ceremony was attended by all members of the top military commission and some senior commanders of the Chinese military.
It is common for the Chinese military to promote commanders to the ranks of general or admiral, the highest ranks currently available to officers, before Aug 1, Army Day, which commemorates the founding of the PLA.
Xu, 59, a native of Shandong province, joined the PLA Ground Force in 1978 and moved up through the ranks.
He spent most of his military career with the 26th Group Army in Shandong and had been political commissar of an artillery brigade and then an armored division under the group.
In 2009, the officer was named head of the group's political department. Four years later, he was promoted to political commissar of the 20th Group Army. In October 2014, Xu was transferred to the 54th Group Army as the political commissar. In February 2016, he was appointed political commissar of the newly formed PLA Western Theater Command's ground force.
In July 2017, Xu was promoted to the rank of lieutenant general. In December that year, he was named political commissar of the PLA Joint Logistic Support Force.
In another development, Xi signed an order recently to bestow decorations on three units and five researchers inside the PLA, including the PLA Honor Guards and a hospital ship of the PLA Navy.