The return of saving
Share - WeChat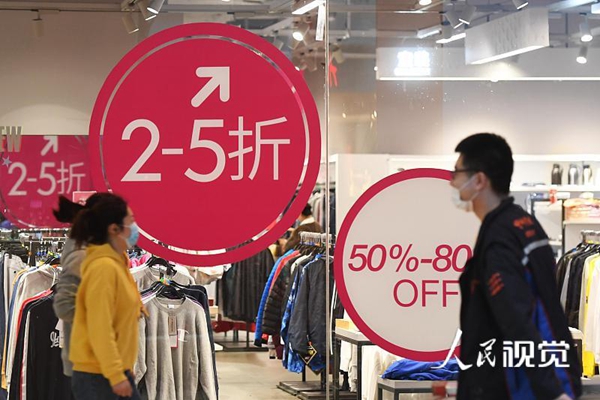 The pandemic has led young Chinese to manage their money better, Chen Meiling reports.
China has been educating its next generation to prepare for unexpected events or potential risks. And it seems there is no curriculum more cogent than the reality that reflects the old saying, "Bring an umbrella on a sunny day; save food when you are full."
With millions affected financially by the COVID-19 pandemic as a result of unpaid leave, furloughs or layoffs, many have shifted toward low-cost, high-value purchases during such tough times.
Young Chinese consumers, including those born after 1990, a generation often considered to have untapped spending power, have learned to become more cautious about opening their wallets.
Ma Tianhui, 21, a college student who studies advertising in Beijing, says she saves the money she previously spent on dining, outings and shopping since she stays home.
She previously often spent all of her 2,000 ($282) in monthly pocket money.
However, the gloomy headlines about layoffs and unemployment have got Ma's attention.
Ma says she plans to rent a house and work in Beijing after her graduation next year. "The pandemic made me think about the future and what kind of life I want to live as an independent adult."
She says she has learned to be careful about each expenditure. She has also taken up two remote internships-data analysis and new media operation-using most of her spare time after online courses to earn money and develop occupational skills.
The impact of the coronavirus outbreak is more obvious on consumer behavior among those already struggling in the labor market.
Liu Yifan, who's in her 30s, runs a company as an interactive-installation designer in Shanghai. She says her consumption has significantly decreased due to restrictions on entertainment activities, and fear of being infected during trips or outings.
"Besides, my income also fell as many of our clients, such as design and planning companies, have postponed or canceled business this year. I suppose we will stay idle for at least two months. This summer will not be easy," she adds.
Liu is a layperson in wealth management. She says she has to try harder to contact clients to make more money, but she thinks it's understandable that online courses about finance have sprung up.
Yun Xin, 26, an analyst at a communications company in Beijing, says her previous spending on clothes, cosmetics and entertainment has been cut, and she is more willing to pay for health and self-improvement.
Yun can only get 85 percent of her wages because of the pandemic. The company promised to return the remaining 15 percent to employees at the end of the year.
Yun would invest half of her monthly salary in low-risk financial products, because "the bank interest is low".
She says she is thinking about buying houses and other value-preserved or value-added commodities, and taking more side jobs to expand her income sources.
"Saving is of great importance to me. I'm the only child in the family. My parents are in poor health. I have to save more money to confront possible changes in my life," she adds.
Li Xuecan, a 25-year-old government worker in a county in Hebei province, routinely puts half to two-thirds of his salary into fixed deposits since he began to work.
He also buys financial products on Alibaba's financial-service platform, Alipay.
He barely spends money as he lives with his parents and eats at his office canteen, and only buys books from time to time, an expenditure that was also cut because he was too busy dealing with his office work at the peak of the outbreak.
He says his savings are for better things-marriage and housing.
"You don't have to experience difficult times to know the meaning of wealth," he says, referring to a way of thinking of the post-1990 generation, who grew up in a comparatively wealthy era, as "extravagant" or "unrealistic".
"Money brings a sense of security and the freedom to realize my ideas," Li says, adding that his future targets include having at least 300,000 yuan in savings before age 30 and buying his second house before 35.
Most Popular