HK's special schools stay open amid lockdown
Share - WeChat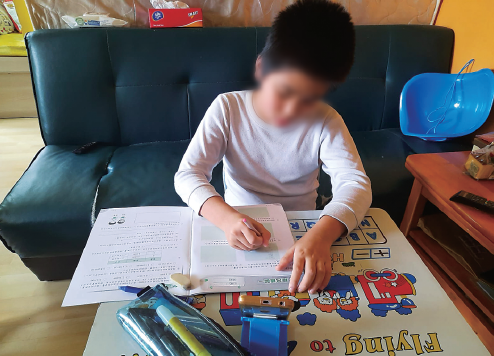 A boy with autism works on school assignments at home in Hong Kong. He has a younger brother who also has autism. CHINA DAILY
More than 57,000 children have learned to live with the epidemic. Li Bingcun reports from Hong Kong.
While much of the world remains locked down amid the novel coronavirus pandemic, life carries on at more than 20 schools for students with special educational needs in Hong Kong.
More than 300 of about 57,000 such students in the city continue to live at their schools, and the only thing that seems to have changed is that the teachers and caregivers all wear face masks.
Fong Sheung-wan, principal of Hong Chi Pinehill No 2 School in Tai Po district, conceded that the situation is stressful for staff members, but said it would be much worse for the children if the security of familiarity were taken away.
"We know we can't give into the stress. The students need our help," Fong said.
The children still sleep in their dormitories, attend classes and play with their friends during the day.
Initially, Hong Kong's other educational establishments, from kindergartens to secondary schools and even some special institutions, closed indefinitely.
However, students at some regular schools began returning to classes on May 27.
Special schools that offer residential services, such as Fong's, remain open for children in need.
Hong Kong has 60 government-aided schools for children with SEN, who mostly have physical or intellectual impairments.
Fong's school provides services for 60 students with severe intellectual disabilities, although 30 returned home after the virus emerged in the city in late January.
Most of those who have stayed have specific needs. Some are unable to speak, while others are unable to walk in a normal way. They need help with almost everything: eating; showering; using the toilet; and even sleeping.
Many have complex medical issues. Some have to be fed through tubes, while many have weakened natural immunity owing to chronic and unstable health.
Vulnerabilities
SEN students are quite vulnerable, especially to large-scale outbreaks of illness, Fong said.
That helps to explain why life at the school has to carry on in the face of every crisis, from typhoons to the outbreak of severe acute respiratory syndrome in 2003.
Compared with other challenges, the coronavirus outbreak is extra tough because of its lengthy duration.
The risk of infection on the campus is high. Dozens of students live together around the clock in a relatively confined space and they are in close contact with staff members, who come to help every day.
The school requires staff members to wear face masks all the time at work and to change them frequently. Meanwhile, all the places visited by students are disinfected every day.
All students are required to adhere to social distancing guidelines during group exercises, and they have been separated into two groups that alternate in undertaking regular activities.
The students' temperatures are measured six times a day, while their activities are closely monitored, including the amount of water they drink and even how often they turn over in bed.
Staff shortages are a chronic problem at SEN schools, especially places like Hong Chi Pinehill No 2 School, where some students have severe intellectual impairments and always require caregivers with specific expertise and a great deal of patience. Now, things have become even tougher.
Sixteen "house parents" are responsible for the 30 students, and the most severely affected children need more than one caregiver. Dining and bathing times can become nightmares, so cleaners are sometimes drafted in to help.
There's no stable supply of protective gear. The school has to compete with everybody else in the city for sanitizers, disinfectants and medical alcohol. In February, panic-buying of items-especially toilet rolls-left the school with just two weeks' supply.
Face masks remain the most urgent requirement. The 80 staff members use 150 a day, but the supply is limited.