HK's special schools stay open amid lockdown
Share - WeChat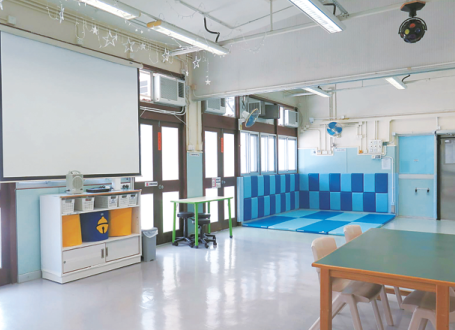 A dormitory activity room at a special school designed for students with disabilities CHINA DAILY
Collective ordeal
Leung Wing-hung, chairman of the Hong Kong Special Schools Council-an organization that represents all such schools in the city-said the situation at Hong Chi Pinehill No 2 School is being repeated in local schools.
According to Leung, more than 20 special schools that provide dormitory services for students have maintained operations during the pandemic.
Some dormitories for children with severe intellectual impairments have retained 70 to 80 percent of their residents, while the others have kept 20 to 30 percent.
Leung said that in addition to shortages of staff members and protective gear-problems faced by all special schools-some establishments have extra challenges.
During normal times, most students at residential schools return home for weekends and spend the Spring Festival holiday with their families.
This year, some children left the city during Spring Festival, which meant the schools had to implement additional quarantine measures when they returned.
Some schools were affected by the government's border control restrictions, which are intended to contain the spread of the disease.
Since Feb 8, most people entering Hong Kong from the Chinese mainland have been required to stay home under a mandatory 14-day quarantine regulation.
Some students whose parents live on the mainland have not been able to return and have been forced to remain at their family homes.
That presents a special problem. Some of the students need medicines that are hard to obtain on the mainland.
Express companies refuse to handle cross-border deliveries of medication, so schools have had to depend on parents who need to visit the mainland or ask cross-border truck drivers to deliver medication to students, Leung said.
Parental challenges
Though the outbreak poses a collective ordeal for schools, families have been left with individual problems on top of everything else.
Wong Hoi-man has two sons with autism. One, a 12-year-old whose intelligence is unimpaired, studies at a regular school, while the other, an 8-year-old with mild intellectual disability, attends a special school.
All the city's non-tertiary schools suspended classes in late January, and the resumption date has been pushed back several times.
The issue is the same for every school-age child, but it is especially troubling for SEN children. They need more time to adapt to change, Wong said, noting that the problem is most evident in her younger son.
The boy, who has been stuck at home for several months, loses his temper frequently, cries a lot and sometimes hits himself.
While his older brother is taking online lessons, the younger boy often shouts or creates other disturbances.
That makes it hard for his brother, because if he misses something during a lesson he has no way of catching up later.
Most parents don't even know how they are supposed to help their children at home. Without a timetable or dedicated learning environment, the children have difficulty concentrating.
Wong tries to help her sons by setting timetables, which she makes them follow. She does what she can, hoping she can teach the boys something by playing games with them.
She acknowledges that she's no teacher, but she hopes her efforts to adapt toys and even the furniture into learning tools will at least provide some progress.
She is concerned about the possible long-term effect the situation will have on the boys' physical and mental health, and is also concerned that they may take a long time to reacclimatize when classes resume.
Impact on therapy
Therapeutic services for SEN children are among the many nonemergency medical services that have been suspended during the lockdown.
Leung said things have to be that way because the services require close contact between therapists and children, which poses a higher risk of infection. However, he warned about the consequences of suspending the services.
The therapies-which involve physical coordination, communication skills and management of emotions-are meant to help the young people adapt to their world in the hope they will be able to live independently someday.
A lengthy suspension may cause setbacks, meaning even more time will be required for the students to adapt, Leung said. He added that it is especially difficult for final year students because most of them will soon be entering the workforce.
He said schools will intensify training when classes resume, which will mean inviting therapists to visit more frequently and prolong the treatment. He hopes parents will play their part and not simply rely on therapists and schools to make the difference.
Parents can help with simple exercises to improve balance and physical strength, he said. However, he has noticed that despite the video guidance given by schools, many parents seem troubled.
"They might be concerned that they can't do it well, or simply feel it is too troublesome to take the time. But they have to realize that they are the ones closest to their children, whether there's a pandemic or not," Leung said.