Coastal areas make gains in population
Share - WeChat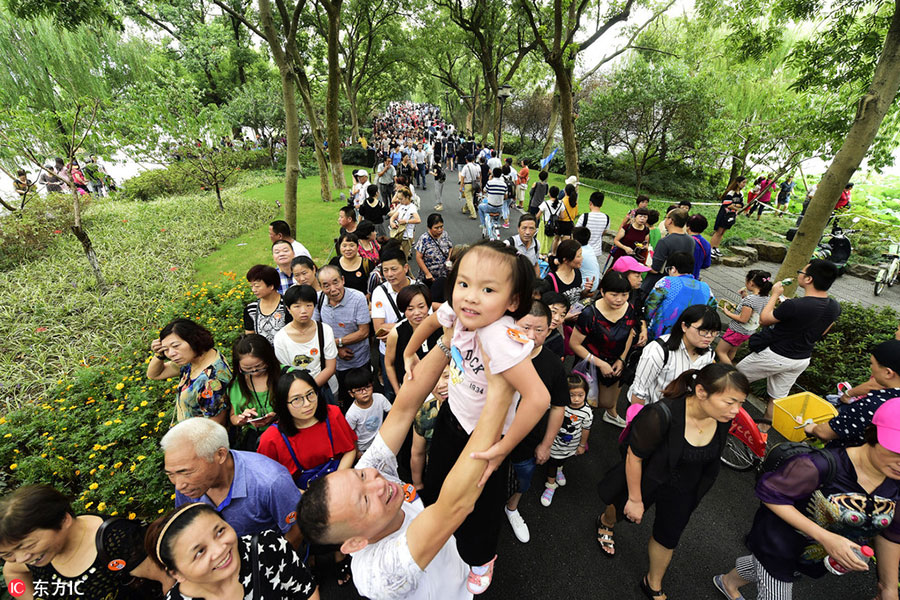 Experts call for balance-oriented policy as migrants pour into affluent regions
Different regions in China saw wide disparities in population growth last year, with the more affluent coastal areas recording the biggest increases, a trend that will continue, population experts said ahead of China's Population Day on Thursday.
The coastal provinces of Guangdong, in the south, and Zhejiang, in the east, were the only two provincial-level regions in China to record population growth of more than half a million last year, with both actually topping 1 million, according to data released by provincial governments.
The population of Guangdong grew by nearly 1.8 million, or 1.54 percent, last year, the biggest numerical increase among all 31 provinces, municipalities and autonomous regions. The country's most populous province for the past 14 years, and also tops in terms of GDP, Guangdong's population exceeded 115 million by the end of last year.
Zhejiang's population growth exceeded that of Guangdong in terms of percentage, with nearly 1.1 million extra people giving it a year-on-year increase of 1.97 percent. It was also the provincial-level region that attracted the most new migrants last year-841,000.
In contrast, four provincial-level regions saw their populations shrink, including the three northeastern provinces of Heilongjiang, Jilin and Liaoning. In Heilongjiang, the population fell by 218,000 last year, a year-on-year decline of 0.58 percent.
Beijing's population fell by 6,000, or 0.03 percent, last year, but remained around 21.5 million.
Some central and western regions also saw their populations grow, with Henan province, in Central China, recording growth of 350,000 last year, an increase of 0.36 percent.
Song Jian, a population studies professor at Renmin University of China, said unbalanced population growth in different regions in China, mainly driven by disparities in economic development, has become the norm. "The population in coastal areas has been increasing steadily since the early 1980s due to migrant inflows," she said.
The universal second-child policy implemented in 2016, which allows all couples to have two children, has also promoted population growth in those regions, she said.
In northeastern China, however, a population outflow has continued in recent years, she said, largely linked to weaker economic development that resulted in fewer job opportunities.
"The decreasing population in Beijing is a new phenomenon," Song said. "It is mainly the result of the municipality's policy in the past couple of years to bring population growth under control by discouraging migrant flows."
Wang Guangzhou, a population researcher at the Chinese Academy of Social Sciences, said population growth in an area is usually driven by the inflow of migrants attracted by business and job opportunities rather than births.
In more affluent coastal areas such as Zhejiang, authorities have been making greater efforts to attract talent, and they may see even more population growth in the next few years, he said.
Wang said the other side of the coin could be seen in northeastern China, traditionally a source of migrants, whose residents tended to migrate in search of better economic prospects.
Although disparity in population growth between different regions has become the norm, it could cause side effects such as a widening of the economic development gap between different regions, he said.
"It is important that a mechanism is established that promotes a more balanced distribution of population," Wang said. "For example, enterprises in central and western China could enjoy more preferential tax policies to attract more talent."
Song said the disparity between the northeast and coastal regions is very likely to continue, and even become more pronounced.
In addition to an outflow of residents, northeastern China has recorded one of the lowest birthrates in China in recent years, prompting concerns that social problems caused by population aging could be exacerbated. The birthrate in Liaoning last year was about 6.5 per 1,000 people, statistics released by the provincial government showed, while the national average was 10.5 per 1,000.
Chen Xiangqun, vice-governor of Liaoning and a deputy to the National People's Congress, the country's top legislature, suggested during this year's annual NPC session last month that the existing family planning policy be abolished in Northeast China, allowing couples there to decide how many children to have.
In addition, some other measures such as increasing investment in nursery and preschool education facilities should be adopted in the region, he said.
Cai Jiming, another NPC deputy and a professor at Tsinghua University's Institute of Economics, said just 60 percent of people in China live in urban areas, and rapid urbanization will continue.
It is expected that city clusters, led by major cities, will attract more migrants from across the country, he said, adding more efforts should be made to ensure that migrants can enjoy the same access to public services in cities as other residents.
Song said unequal distribution of population is common throughout the world. "We should respect the choice of individuals and families, but different areas can make customized guiding policies," she said.