Luckin Coffee faces possible delisting after fabrication of sales data
Share - WeChat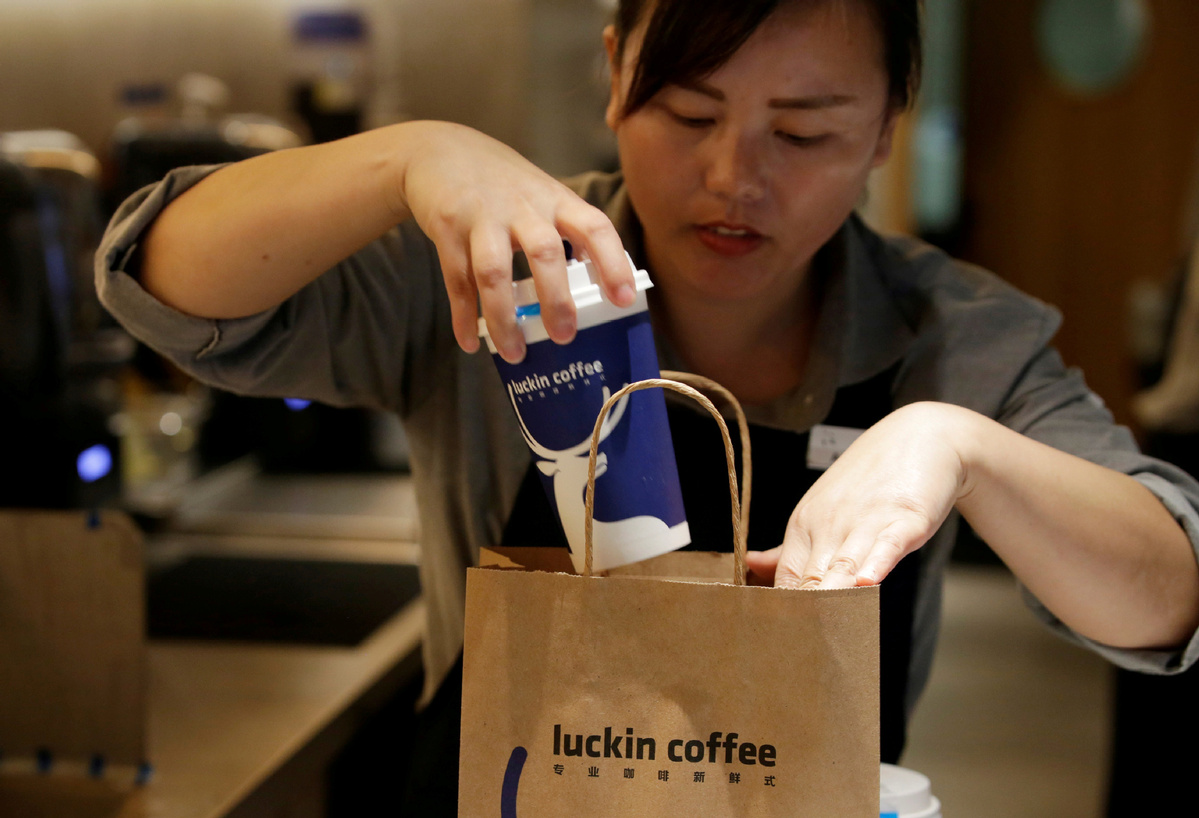 Luckin Coffee Inc, the so-called rival to Starbucks in China, has exposed itself to the risks of delisting and even bankruptcy due to severe fabrication of sales data, experts said.
The Nasdaq-listed Chinese coffee chain saw its share price crash more than 75 percent to $6.40 on Thursday after the company disclosed that its earnings results were substantially inflated. It dropped nearly 15 percent more in the first two hours of trading on Friday.
Liu Jian, chief operating officer and a director of the company, and several employees reporting to him, had engaged in misconduct, including fabricating transactions, a company statement said on Thursday.
The aggregate sales associated with fabricated transactions amount to around 2.2 billion yuan ($310 million) during the April to December period last year, according to Luckin's preliminary internal investigation, the statement said.
This represents three-quarters of the company's stated January to September revenue, which stood at 2.9 billion yuan and was 7.8 times the same period of 2018, according to market tracker Wind Info. The company said "investors should no longer rely upon" these numbers.
The China Securities Regulatory Commission, the country's top securities regulator, said on Friday that it is deeply concerned about and strongly condemns Luckin's financial fabrication.
"The consequences may be devastating for Luckin, more than merely getting delisted," said Dong Dengxin, director of the Finance and Securities Institute at the Wuhan University of Science and Technology.
Investors will probably bring a class action suit against the company, which could lead to a massive amount of compensation and bankrupt the firm, according to Dong.
"It alerts Chinese firms, both listed at home and abroad, to the bottom line of integrity," Dong said.
Besides civil compensation, Luckin may also face administrative and criminal fines, while employees in charge of the fabrication could be sent to prison, said He Haifeng, a counselor to the Beijing-based Tiantong Law Firm.
Luckin said it had suspended the employees involved.
Due to worries that prepaid coffees and coupons would no longer be usable as a result of the company's crisis, consumers reportedly have queued at some of Luckin's stores in big cities to buy coffee. Its mobile application and WeChat Mini program have experienced downtime from over-ordering.
Stocks closely related to Luckin also suffered. Hong Kong-listed CAR Inc, which used to employ Liu Jian and has the same chairman of the board as Luckin, saw its share price more than halved on Friday.
He said the event may impair the reputation of Chinese firms listed overseas and hinder Chinese companies from seeking IPOs overseas, at least in the short term.
Jason Yu, general manager of Kantar Worldpanel China, said Luckin's heavy assets in retail stores and its business model that relies on coupons without focusing on its core products and services, makes it hard to achieve financial balance in the long run, despite being empowered digitally.
The lack of cash flow in the first quarter of 2020, which was impacted by the COVID-19 epidemic, has led to the exposure of Luckin's problems, though its revenue and cash flow in past quarters last year had been gradually improving, said Wang Zhendong, a coffee industry analyst in Shanghai.
Luckin has more than 3,800 stores in China, mostly of smaller size and with fewer baristas, and had said it would open 4,500 stores by the end of last year to become the country's largest coffee chain.
The company may have artificially inflated revenue to prove its high-growth prospects to investors, enable capital market refinancing and quick business expansion, said an investment banker who sought anonymity.
The fabricated numbers may have been detected during the ongoing annual audit, the source said.