Small enterprises eye 'big' steps for smooth business operations
Share - WeChat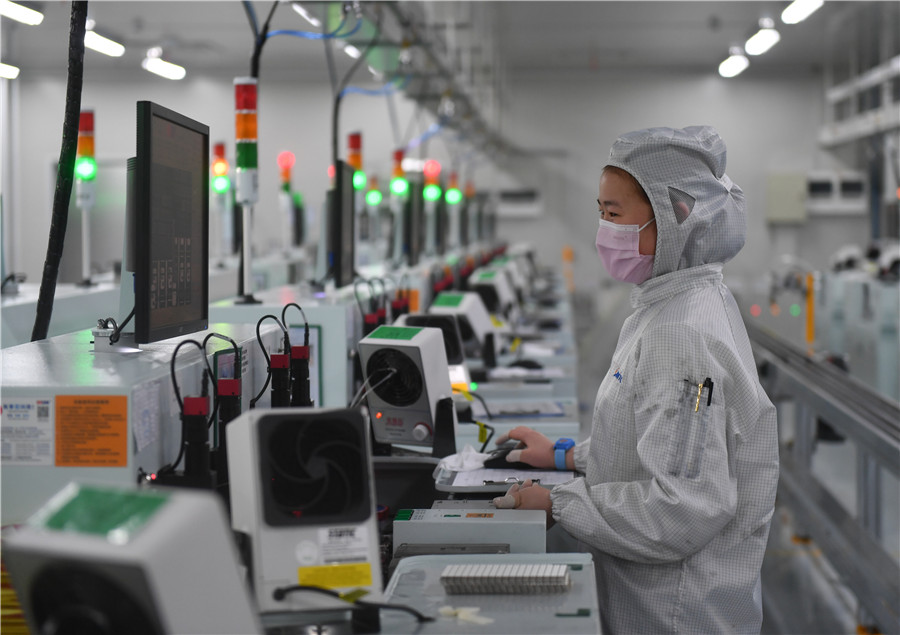 Small and medium-sized enterprises are leveraging the targeted policies and support announced by the authorities and investors to normalize business operations and sustain jobs, industry experts said on Tuesday.
"SMEs are accelerating their steps to restart work with targeted policies from the authorities. Their work resumption rate has been rising by 1 percentage point a day on average since the beginning of March," said Xin Guobin, vice-minister of the Ministry of Industry and Information Technology.
By Sunday, more than 76.8 percent of SMEs in China had resumed operations, latest data from the ministry showed, a considerable rise compared with the 60-percent resumption rate outside of Hubei province in mid-March.
President Xi Jinping pledged on Sunday to take measures to protect small and medium-sized companies from being seriously impacted by the novel coronavirus pneumonia outbreak. Xi made the remarks during an inspection of an industrial park producing auto parts and molds in Ningbo, Zhejiang province.
The central authorities have introduced a set of policies, and the policies will be adjusted in a timely manner in accordance with changes in the situation to protect small and medium-sized companies from being seriously impacted, Xi said.
Xi encouraged companies to resume normal operations as quickly as possible and even make further progress. Epidemic prevention and control work should not be relaxed, while work resumption and production should be accelerated, Xi said.
In Guiyang, Southwest China's Guizhou province, the world's first self-driving retailing vehicle developed by FlexBot, a local technology firm, has been successfully delivered to its buyers from the United States. The Chinese startup had encountered a tricky situation earlier, when one of its key component makers, based in Wuhan, had to shut down operations due to the COVID-19 epidemic.
"To deliver the vehicle on time, we quickly resumed work. By leveraging digital manufacturing and three-dimensional printing, we scrambled to remold our production line to manufacture the delayed part," said Cao Yuteng, CEO of FlexBot.
"Despite being affected by the epidemic, we have received several letters of intent from the US since the beginning of February. We are still confident about the future development," Cao said.
Amid the unexpected epidemic, a large group of SMEs are facing bottlenecks in resuming normal orders, mainly due to labor shortages and supply chain issues. Ant Financial, a unit of e-commerce giant Alibaba Group Holding, said in a recent report that nearly 80 percent of the SMEs are in urgent need of funds.
"Currently, SMEs are expected to ensure enough cash flows and prevent disruptions by increasing business income, reducing operating costs and obtaining external financing," said Huang Yiping, a professor and deputy dean of the National School of Development at Peking University.
Huang said policymakers should consider appropriate countercyclical measures to maintain social stability, like subsidies for the low-income people and the unemployed, and increase demand for, and revenue from, products and services of the SMEs.
"Currently, many local governments have good practices for reducing the operating expenses of SMEs, such as deferred payment of social security funds and lower costs for SMEs renting State-owned properties," Huang said.
Till now, more than 200 billion yuan ($28 billion) has been disbursed to more than 5,000 companies involved in combating the coronavirus epidemic, including many SMEs, the ministry said.
Liu Erhai, founding partner of Joy Capital, a leading venture capital firm that has investments in firms like Luckin Coffee and electric car startup Nio, said companies must be able to factor in future challenges while raising funds. "Companies cannot be expected to raise funds as and when they lack money. They have to prepare and ensure that they have enough cash flows well in advance," said Liu.
Liu said companies should communicate and collaborate with their upstream and downstream partners actively for smooth operations. From a long-term perspective, companies should also factor in the risks while signing contracts with their suppliers, he said.
"It is not uncommon that companies will face some difficulties. If the fundamentals of the firms are good, we are still willing to support them by providing additional funds and some transitional cash," Liu said.