Parroting skills help widower breed success
Share - WeChat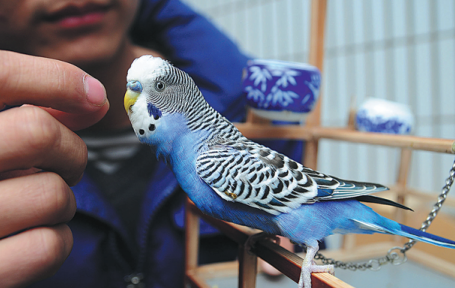 JINAN-Parrot breeding has lifted widower Nie Xiangbo not only out of a serious bout of depression, but also a spiral into poverty.
Nie lives in Gongjiaqiao village, Linqu county, Shandong province. Years ago, a boiler explosion killed his wife when the couple were happily cooking a meal at home together.
The fire left extensive burns on his body as well as emotional scars.
"The fire burned down my house and destroyed my life," he recalled. "I was unable to work and had no source of income. The medical bills left me in huge debt."
However, with the help of local officials Nie started a new life raising parrots.
At his breeding base, he has 11 buildings filled with 2,000 fluttering parrots of various breeds. Last year, Nie sold more than 3,000 parrots, earning him more than 100,000 yuan ($14,100). "I have found a new life," he said.
But success did not come easy.
Depressed
After the loss of his wife, Nie became depressed. The massive burns on his body made him introverted and he seldom talked to others. He was also deep in poverty.
In 2015, village officials Niu Weizhi and Zhao Fenqi were assigned to help Nie. Their first task was to tear down the defensive walls Nie had built around himself. They visited Nie every now and then, chatted with him and tried to cheer him up.
When Nie was recovering from his burns, one of his relatives sent him two parrots as pets. "The relative wanted to give him something to do to avoid boredom, but it translated into a big business," Zhao said.
Nie had never raised parrots before, but was intrigued.
He devoted his time to raising the birds and soon understood the parrots' habits and routines. Within a year, the two parrots had given birth to more than 10 offspring.
"He gradually started talking again," Zhao said. "We asked him to keep his chin up, and told him that despite what he had been through, life goes on."
Then, Niu and Zhao saw an opportunity.
"We went to the pet market and found that parrots were quite popular pets, so we suggested that Nie raise parrots on a big scale," Zhao said.
Nie agreed. He bought books on parrot raising, and turned to experts for knowledge about parrots, including how to tell their sex, how to prevent diseases and how to train them.
Lucrative
As his venture grew, the officials began to seek financial support for Nie and helped him establish a parrot-raising cooperative. They found vacant land to build a base, while relevant departments offered Nie guidance on entrepreneurship, information and training.
The cooperative officially opened in March 2016. According to the agreement, Nie would receive 60 percent of the cooperative's revenue for his skills and labor, while the village would get 40 percent from the input of infrastructure.
"A pair of parrots can give birth four times a year, and each parrot can fetch 20 yuan to 100 yuan," Nie said.
In the first year, Nie managed to rake in 30,000 yuan, which effectively lifted him out of poverty.
Riding on the success of the parrot-raising industry, Nie became a technical adviser for villagers.
"I pair the birds according to their habits and personalities," Nie said. "A male and a female usually stay together, and I feed them twice a day."
"The budgerigars are easy to raise, but the cockatiels are picky and shy," he added.
Nie has bigger plans for the future.
"The coronavirus outbreak has disrupted sales a little," Nie said. "But it's OK. We plan to raise 3,000 parrots during this time, and I believe demand will rise again after the epidemic."
Xinhua