Hard-pressed mask factory gets help from volunteers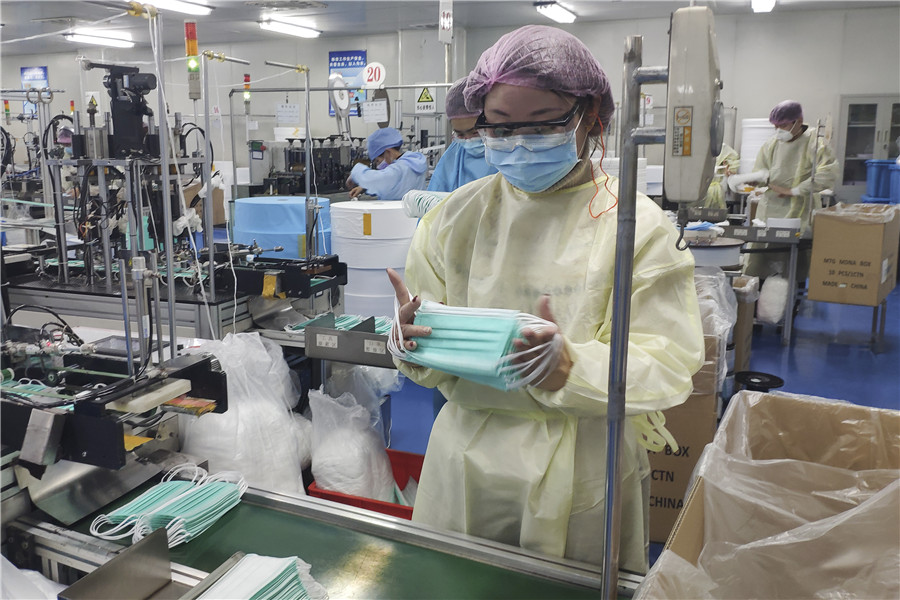 Editor's note: This series tells the stories of selfless individuals, from medical workers to volunteers, who are bravely fighting the virus outbreak with extraordinary dedication.
Much as the rest of the country, Shanghai was facing a severe shortage of face masks during Spring Festival as stocks were flying off the shelves and factories were unable to produce new ones quickly enough as most workers had returned to their hometowns.
It was then that Zhou Rong swung into action. Zhou, a deputy director of Symphony Charity and Social Development Centre, an NGO, organized a group of volunteers to help in the early fight against novel coronavirus in a Shanghai-based company.
"At first, one of our organization's volunteers couldn't get any masks and soon realized not only was there a shortage of masks, but also the capacity of mask factories was far from enough," Zhou said.
She said the volunteer contacted the factories making masks to find out if they needed help.
In order to meet the demand for masks, Zhou put out a notice on Jan 28 on some websites and on WeChat seeking volunteers for producing masks.
Soon, nearly 300 people, including employees from local and foreign enterprises, veterans, students, and even the disabled, joined in.
They started to work as volunteers for Meidikang, a medical materials supply company, in Songjiang district's Chedun Town.
While the volunteers, who were between 18 and 60 years, were engaged in the task of making masks in Shanghai from Jan 29 to Feb 9, the NGO provided them with insurance cover for their safety, according to Zhou.
Each day, a team of 20 volunteers worked from 7 pm to 7 am.
She said all volunteers had to have their temperature checked and disinfected before entering the factory. They had to wear masks and protective suits.
Since the entire production process was mechanized, volunteers were responsible for checking the quality of masks and packaging.
The capacity of 20 volunteers per night was around 300,000 masks, while the factory's capacity per day was 1,000,000 masks.
Zhou recounted some touching moments too. "Once a couple came to the factory as volunteers at midnight after their babies went to sleep. They let their parents take care of them."
She said some people who could not take part as volunteers offered to provide coffee and snacks to other volunteers.
"We have organized even larger activities in the past, but the feeling was different this time. The sense of responsibility, and everyone rushing to volunteer and wanting to contribute to the country touched me," Zhou said.
Wang Lihua, deputy general manager of Meidikang, told Shanghai-based Xinmin Evening News that the company had been relying on help from volunteers during this period of manpower shortage.
Since Lunar New Year's Eve on Jan 24, a team of volunteers comprising representatives from urban management, Party members and cadres from Chedun Town have been helping in the production and packaging of masks at Meidikang.
Meidikang is just one of many factories assisted by volunteers in meeting the demand for masks.
On Jan 28, the fourth day of Chinese New Year, a group of 120 volunteers gathered at the Shenghui Plastic Packing Co in the Shanghai Hangzhou Bay Economic and Technical Development Park to undergo training before helping pack masks.
The park's management made an emergency request on its WeChat working group on Jan 27 to hire volunteers to help in packaging masks. A 120-strong volunteer team was formed within a day.