Medical waste disposal capacity rises
Share - WeChat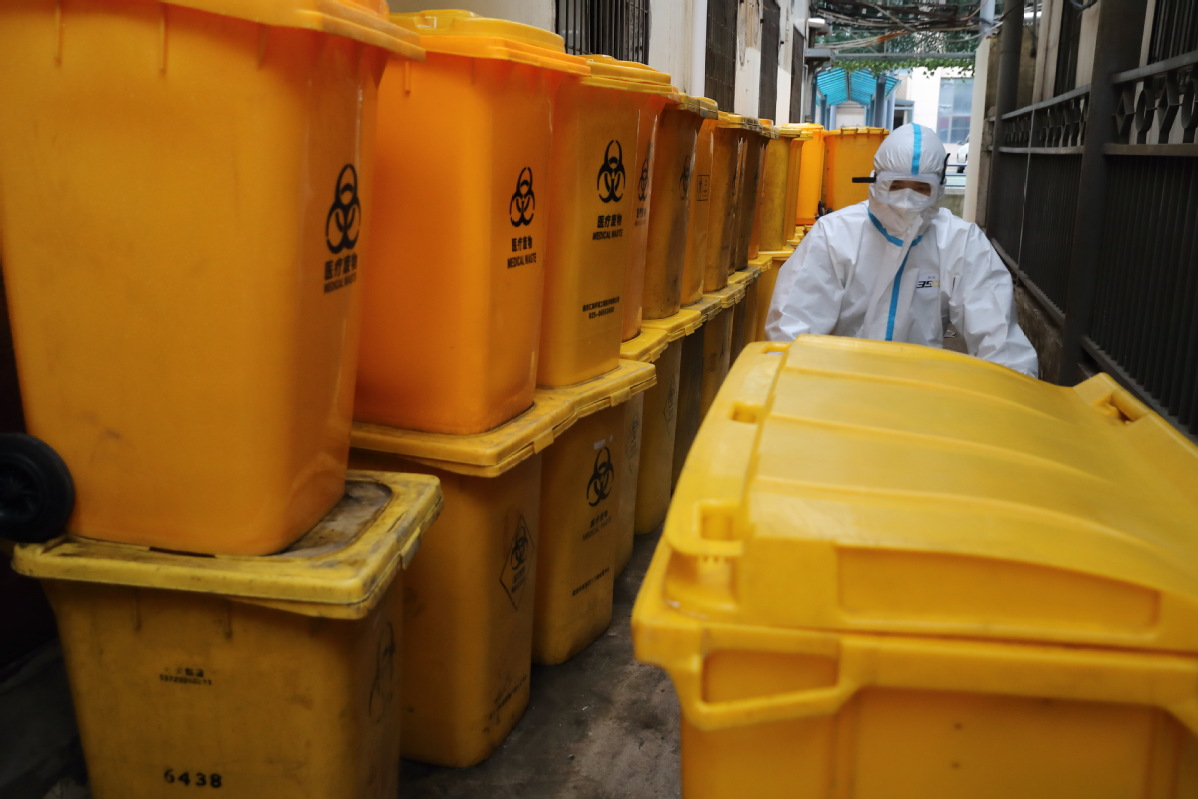 All the waste related to coronavirus control and prevention in China can be treated safely thanks to the increase of medical waste disposal capacity, a senior official from the Ministry of Ecology and Environment said on Tuesday.
Daily disposal capacity in all 358 cities nationwide expanded from 4,902 metric tons on Jan 20 to 6,022 tons on March 7, said Zhao Qunying, director of the ministry's emergency management office.
During the period, a total of 136,000 tons of medical waste was disposed of. On March 7, all medical waste nationwide-about 3,198 tons-was treated safely.
At a news conference held by the ministry on Tuesday, Zhao said the current disposal capacity could meet the needs created by the coronavirus outbreak, and medical waste produced every day could all be treated within 24 hours.
Hubei province, the center of the outbreak, and its capital Wuhan, the hardest-hit city, were under great pressure to handle the excessive medical waste due to the limits of disposal capacity, according to Zhao.
At its peak, Wuhan had about 190 tons of medical waste that could not be treated.
"All the excessive medical waste in the city has been disposed of as of March 2," he added.
Hubei has seen its medical disposal capacity more than double from what it was before the onset of the outbreak, according to the ministry.
In Wuhan, the ministry said the city's current medical disposal capacity is more than four times what it was before the epidemic broke out, expanding from 50 tons per day to nearly 214 tons as of March 7.
All 206 tons of the medical waste was disposed of on the same day in Wuhan, meaning nearly all the city's disposal capacity was in operation.
"Medical waste disposal in Wuhan is still at its peak, with a daily waste production of about 200 tons a day, and personnel working at the disposal stations are all under a heavy burden," Zhao said. "We will stay alert and make sure that all the waste is disposed of safely."
Over the past few weeks, the ministry has conducted inspections on the country's 2,114 sewage disposal stations that are designated to treat waste related to the virus. Problems that were uncovered as a result have all been corrected as of March 7, the ministry said.
On Tuesday, the ministry also revealed that its inspections uncovered no pollution of the country's ground water and drinking water due to the epidemic outbreak.
Environment authorities have conducted 619 inspections on water quality at 234 water sources in Hubei in the past few weeks. The results showed that water quality remains at a good level.