Shanghai airports strengthen measures
Share - WeChat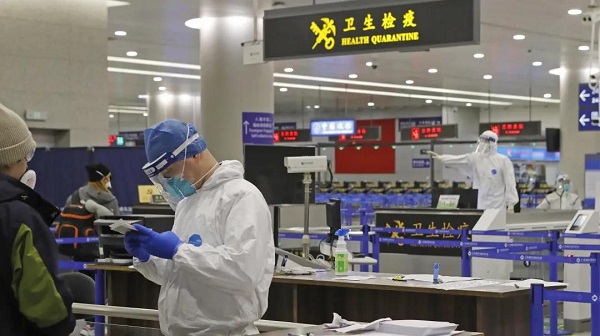 Shanghai authorities have stepped up preventive measures at the city's two airports since Friday to curb the spread of the novel coronavirus from overseas.
The new measures require that all travelers from countries severely affected by the virus arriving at the city's airports be subject to epidemiological investigation.
They will then be escorted home or to quarantine hotels by chartered buses to minimize their contact with others, according to the Shanghai government.
"Medical workers will conduct the epidemiological investigations, including their potential contact history with confirmed cases of novel coronavirus pneumonia, for travelers from South Korea, Italy, Iran and Japan once they enter the terminal building before taking their temperatures and checking their health declaration forms," said Jiang Yuan, deputy head of Shanghai Customs.
Since late January, all travelers arriving at Shanghai Hongqiao International Airport or Shanghai Pudong International Airport have been required to fill out a health declaration form, which includes their living and traveling experience over the past 14 days and their health conditions.
Anyone running a fever or showing symptoms of respiratory disease will be directed to medical screening at the terminal building.
The Shanghai Municipal Health Commission said on Sunday that 12 of the 31 suspected cases of the novel coronavirus pneumonia in the city were from overseas.
Since Friday, each of the 16 districts in the municipality has sent a work team to be stationed at the airports around the clock to pick up travelers from the countries severely affected by the contagion. Those who do not have a residence in Shanghai will be transported to designated hotels for quarantine lasting 14 days.
Taxis are not allowed to provide service for such travelers. Private cars from family or companies are allowed, but information about the vehicle and driver must be collected by the government.
A man surnamed Li returned to his home in Shanghai's Minhang district on Sunday after a trip to Japan.
Immediately upon arriving home, he was visited by a worker from the residential committee, a community police officer and a doctor from the local center for disease control and prevention, reminding him of the mandatory 14-day isolation period he would have to endure at home.
He was required to report his temperature twice a day, and it was suggested that he buy groceries online. His food and parcels will be delivered to him by a designated worker, according to the district civil affairs bureau.
"It's prime time for Shanghai to prevent the spread of the virus outbreak from overseas," Li said. "I support the Chinese government's rapid response."
Also over the weekend, Shanghai, a traffic hub for the neighboring regions, started transporting travelers who arrived at Shanghai airports and were bound for neighboring Zhejiang and Jiangsu provinces by chartered buses.
Customs also said that people who conceal their travel history when filling out health declaration forms or do not cooperate with health and quarantine measures will be brought to justice. If their behavior results in the spread of the contagion, they will face criminal responsibility.