Hoping for a happy sequel
Share - WeChat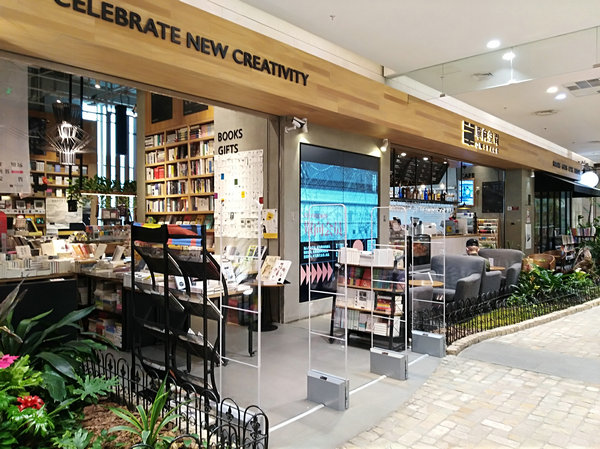 New solutions
On Feb 12, after discussing it with colleagues, Zhang at the Librairie Avant-Garde decided to try something new. He turned to livestreaming applications, showing 500 online viewers around the spacious underground bookshop, which was once a parking lot. In the one-hour live broadcast, he not only presented the layout and decoration of the bookshop, but also discussed the books and authors that appeared on camera. He hosted an impromptu literature quiz, in which audience members actively participated.
"It was my first time doing a livestreaming broadcast, and I seldom watch any, so it's a bit strange," Zhang admits, speaking about his debut hosting experience. "It's quite spontaneous and casual, just like when I show customers around who visit the shop. I mainly focus on the sections of literature and natural science that I'm familiar with."
So far, the video has been watched more than 20,000 times online. On Feb 15 and 17, he hosted two more livestreaming broadcasts, sitting in front of the camera and introducing books that readers are interested in.
Although Zhang has garnered tens of thousands viewers for the livestreaming broadcast-providing some metric of success to the trial-he still doesn't think the new method can really help them to sell books, "because even if the audience is interested in certain books, they don't necessarily buy them from our online shop. Instead, they may buy a cheaper copy from other sellers".
Mostly, he says, the livestreaming and book recommendation videos he and his colleagues post online are "for branding purposes or to inspire people to read", and that hopefully, when the outbreak is over, those viewers "will want to visit our bookshop and buy books".
Also, in order to gain more income, Librairie Avant-Garde has been promoting its Blind Pick service to readers. The service was launched back in 2014 inspired by the book 84, Charing Cross Road. At first, it was a bit of fun for both staff members and customers, who would create a riddle for the staff about the themes they enjoy by leaving a message while purchasing the service online.
Gradually, this "blind date with books" became so popular among readers, Blind Pick is now one of the signature services that the bookshop provides. Today, it is one of the few services that can actually reach readers and help to drive revenue.
"Blind Pick is still running normally," says Li Xinxin from the branding department of the Librairie Avant-Garde.
Despite the difficulties, a few bookstores have strived to reopen their doors. The One-Way Street Bookstore's branch in Beijing's Chaoyang Joy City is among them. It resumed operation on Feb 10 and the number of staff members has been reduced from seven to the current two-one bookseller and one barista.
Wu Yanping, One-Way Street Bookstore's book manager, says that the current number of customers has dropped by over 90 percent. On average, the bookshop sells 15 books a day, and without enough buyers, it has stopped providing cakes to avoid unnecessary waste.
"Judging from the situation since Feb 10, sales have dropped by 80 percent, meaning we are losing money for sure," says Wu.
According to estimates, One-Way Street's total sales in January and February will fall by nearly 65 percent compared to the same period of last year. If such a situation continues, "we can only keep it up for two to three months before we'll be forced to close, so it's really serious now", he says.
In order to increase sales, apart from online shopping platforms, like many other bookstores, One-Way Street has launched prepaid cards, which "is far from enough to support the operation of the shop".
"We are also making book lists that readers may be interested in, like books about virus transmission. Although people don't go to bookshops, they still need books," he says. "When delivery systems return to normal, things will get better, so we are promoting books through WeChat groups or livestreaming platforms."