Hoping for a happy sequel
Share - WeChat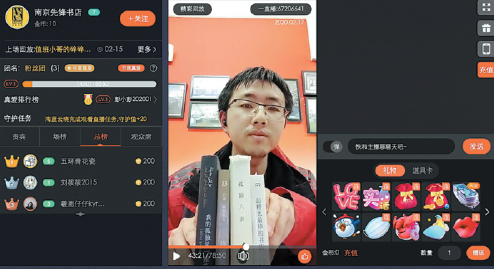 Zhang Yu, a staff member of the bookstore, who hosts a livestreaming activity showing viewers around the bookstore, introduces new books. CHINA DAILY
Sinking bookshops
The meager profits of bookshop businesses and a shortage of funds will make it difficult for most medium-and-small-sized bookstores to weather up to three months of the current circumstances, according to a report by an association aiming to represent the interests of China's physical bookshops, set up by a cultural company. The poll was conducted among 1,021 independent bookstores across the country at the start of February and released on its official WeChat account, Shumeng.
Compared with chain bookstores and the State-owned Xinhua Bookstore system, independent bookshops are suffering the worst, confronted with their harshest challenge since 2013, and many may not be able to survive even after the epidemic ends, the report says.
Nearly 93 percent of the 1,021 bookstores polled are of a small scale with a monthly expenditure below 500,000 yuan ($71,291).Among them, only 136 are located in first-tier cities like Beijing, Shanghai and Guangzhou.
After completing the questionnaire, more than 100 independent bookshop owners from the third-and fourth-tier cities wrote to the association, asking for revival solutions for their sinking businesses.
Over 99 percent of the 1,021 bookstores polled say their incomes are not reaching normal levels, while 926 stores have now suspended their business, but the report estimates that the real situation might be even worse.
"Even if some bookstores reopen, their income is very likely to drop by half or more," it says.
Over 87 percent of the polled bookstores say that they do not have incomes from other sources other than the store itself. Nearly 80 percent say that their cash flow will only cover them for around three months, while more than 34 percent say that period is less than one month. Only one-fifth of bookstores polled say they will be able to carry on up to half a year.
Nearly 44 percent of the respondents say that they are confident that their income can reach half of that recorded before the outbreak if they resume operation after the epidemic, while over 37 percent say the income might be even lower than half of what it was. Less than 16 percent of bookstores expect that the situation will return to normal levels and only 3.5 percent say it will be better.
According to the report, the bookstores are most concerned about their lower income and high expenditure for rent and labor costs. The most urgent need is to reopen as early as possible and with the government's support, the report says.
"We need to realize that there will be a certain number of bookstores that may have to permanently close in the months to come, which is the normal result of market dynamics. We can't stop it, but we may be able to reduce such cases with the right help," the report says.