Woodblock printing writes a new chapter
Share - WeChat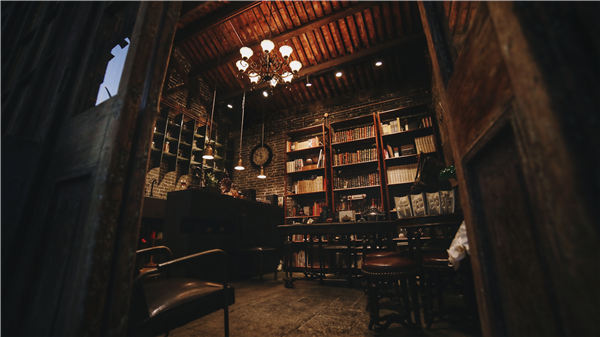 Traditional style of bookbinding enjoys revival and connects with ancient craftsmanship.
Students and teachers from the United States took a course steeped in culture and history at a Beijing bookstore last month. The 22 students and four teachers from Sidwell Friends School in Washington learned the intricate art of how to make a thread-bound notebook from scratch.
Sun Ju, 49, one of the tutors and a bookbinding craftsman at the Mofan Bookstore in Beijing, taught the students and teachers the 10-step process. This involves folding the paper sheets, inserting a blank sheet between each one, trimming the piles of folded sheets, fixing, pasting, cutting, packaging, punching holes, stitching with needle and thread, and sticking the book name on the cover.
"They knew nothing about traditional Chinese thread-bound bookbinding before, but some of them managed to complete their own notebook," Sun says, with no small amount of admiration.
"It's actually a skill that everyone can learn and experience in the course. All you need is patience," she says.
To Lin Xi, a participant who came to learn bookbinding skills at the bookstore at a training session held last month, concentration and a peaceful state of mind were essential attributes to mastering the technique.
Lin, 26, works in the business sector with a variety entertainment company in Beijing but wanted to feel the culture that imbues the craft.
"I appreciated the concentration, calmness and serenity," Lin says, "especially considering the hectic lives we lead."
Lin underwent a couple hours of intense training to make the thread-bound journal and found the work simple but beautiful.
"It's simply a fun experience," Lin says. "The process is not hard for anyone, and the tutor guides you in every step. All you need is to put your heart into it and get to know traditional culture from the perspective of a bookbinding artisan."
The course was developed by the Mofan Bookstore and Zhuyu Shanfang, a woodblock printing workshop. It aims to allow more people to understand and appreciate the traditional craft skills of engraving and bookbinding.