Teachers take new journey online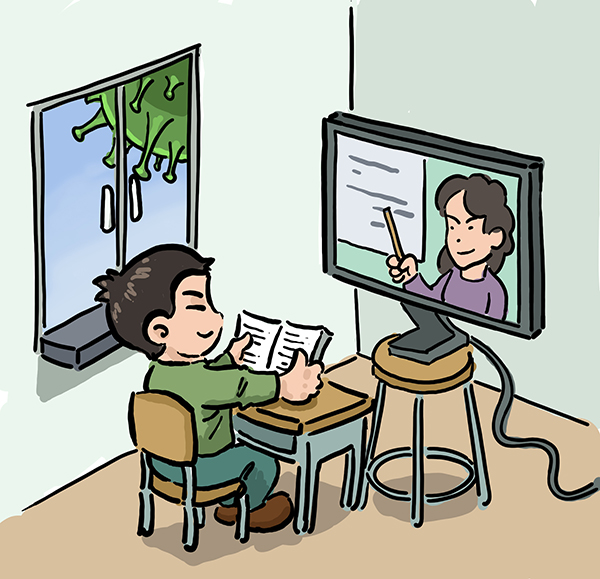 FUZHOU-It was 7 pm and You Xiaoling, who teaches a senior class in a high school in Fujian province, started a livestreaming session with her students to analyze an exam paper.
As schools across China are required to delay the opening of the spring semester due to the coronavirus outbreak, teachers like You are moving their classes online.
"Online streaming is the 'trendiest' way of teaching I've ever seen in my career," said You, who has over 22 years of teaching experience.
Online teaching is a challenge for many teachers. To prepare her first broadcast, You and her colleagues spent an entire evening in an online chat group discussing details such as how to set up their phones, use the software and interact with students.
The students also welcome such change in teaching methods.
"Taking classes at home is something I wrote about in my fictional essays when I was a child. I never imagined it would come true," said Lan Xinping, a senior student at You's school.
Lan thinks the method is flexible as she can have a small break for snacks and water when the content is something she already understands, but it is also strict because they need to punch in on time and hand in homework on the platform.
"More importantly, we can interact with the teacher anytime by sending real-time messages on the screen," Lan said. "We can also review the video many times after class."
During You's broadcast, for example, typing the numbers "111"is code for "I don't understand".
You said teaching online requires more preparation.
"As I cannot see their reactions, I want to make sure that I've explained everything thoroughly, and often I have to extend the class time," she said.
Some teachers appear more relaxed and active online, especially young teachers. They ask students for likes during the broadcast just as many online celebrities do, and students are often very generous in filling the screen with thumbs up, You said.
Teachers are usually the only ones speaking during the broadcast, and sometimes they take a pause and invite their students to chat.
"The first thing many teachers say during the chat is 'Haven't heard your voices for a long time, miss you guys!'" Lan said. "And most students reply on the screen with 'We miss you, too!'"
Xinhua