Drones take to the air to combat virus
Share - WeChat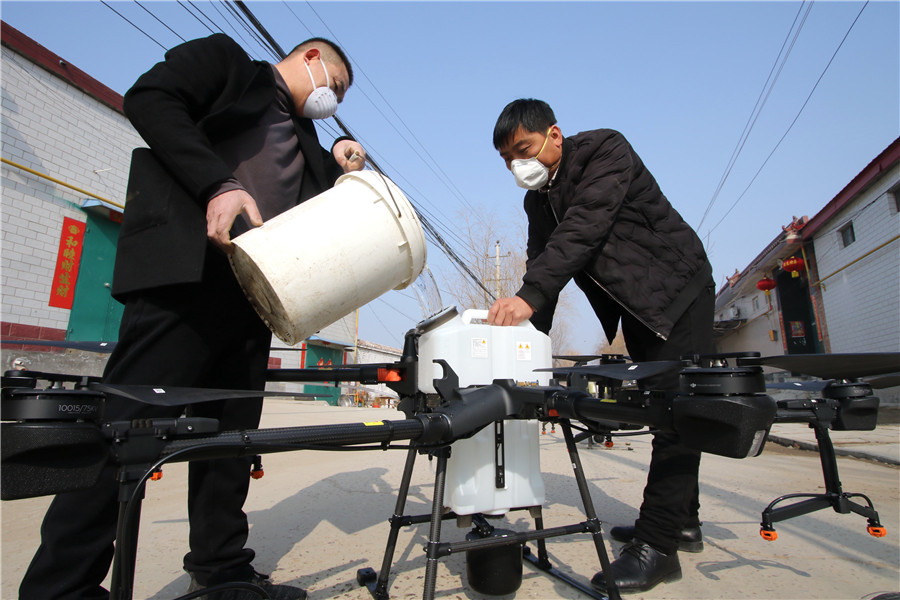 Drones have stepped forward as efficient tools in promoting knowledge about preventing infection and taking up tasks including checking body temperatures and spraying disinfectant amid the novel coronavirus epidemic in China.
A picture taken by Xinhua News Agency showed an operator using his drone to check the temperatures of residents in a community in Yichun, Jiangxi province, on Jan 29.
The drone, equipped with an infrared thermal imaging lens and a loudspeaker, can detect people with fever at a certain distance and broadcast messages about protective measures to residents, a Xinhua report said.
That way, the spread of the virus could be thwarted, it said, since people did not need to be in close contact.
In other places, drones are being used to patrol villages and urban roads to check for any behavior that might contribute to the spread of the virus, such as people not wearing masks in public.
"Grandma, do not go out without wearing a protective mask, and you better stay at home to be safe," an operator said via a drone flying over the head of an elderly woman in a village in Hohhot, Inner Mongolia autonomous region, in an online short video that has gone viral in recent days. The woman went back home after the drone reminded her how to protect herself from being infected by the virus.
Since the novel coronavirus outbreak began in Wuhan, Hubei province, rural villages and communities in cities across the country have been distributing information to the public about the dangers of the virus and recommending protective measures.
"The drones can easily draw people's attention and are more effective than traditional ways of dissemination like warning with horns," Qian Xue, a traffic police officer in Shuyang county, Jiangsu province, told the media.
She said people would stop when a drone was flying over their heads and listen to its instructions to wear a mask and avoid crowded places, among other "orders".
In Dongbaizhuang village in Zhengding county, Hebei province, several drones have been tasked with spraying disinfectant in recent days.
"Using drones to spray sanitizer over the whole village is a good idea because it's very convenient," a villager said in a video interview with Beijing News.