Pop fans rally to raise funds for Wuhan
Share - WeChat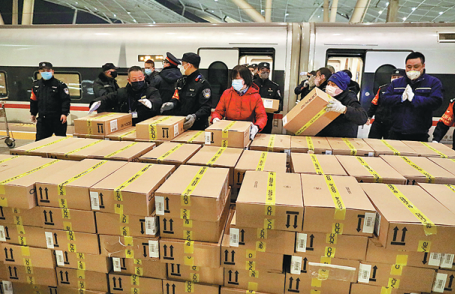 Netizens praise quick response to outbreak
The unruly behavior of pop fans trying to catch a glimpse of their idols often makes the wrong type of headlines.
Screaming supporters frequently jostle at airports, causing disruption. Some are even bolder, booking first-class seats on flights to enable them to get closer to stars to take their pictures and ask for autographs. Others stalk celebrity performers at their hotels.
However, one recent headline was truly inspiring. More than 300 Chinese fan groups have joined forces to raise funds to obtain face masks, protective suits and other vital supplies to donate to medical professionals in Wuhan, Hubei province, the epicenter of the novel coronavirus outbreak.
On Jan 24, Lunar New Year's Eve, Tangtang, a fan of actor Deng Lun, along with another supporter, Daqi, approached more than 10,000 medical supply stores on e-commerce platforms, such as Taobao and JD, to buy masks and protective suits to donate to hospitals in Wuhan.
"Usually, we have dinner with our families on Lunar New Year's Eve, which is a happy and fun night. However, when we learned about the situation caused by the viral outbreak and that many hospitals in Wuhan were facing shortages of medical supplies, the fans had the idea of donations," said Tangtang, who lives and works in Chengdu, capital of Sichuan province.
She canceled her plans to travel with her family and stayed in Chengdu during Spring Festival. As a pharmacist working in a hospital in the city, she also stood by to work shifts.
Tangtang said she first heard about an unknown type of viral pneumonia affecting residents in Wuhan at the end of December. Some of her colleagues, including nurses and doctors, were sent to the city to ease shortages of medical personnel.
One of the doctors has been working at Hubei Jinyintan Hospital in Wuhan, which has received the majority of infected patients.