Doctors, nurses stay at their posts in Wuhan
Share - WeChat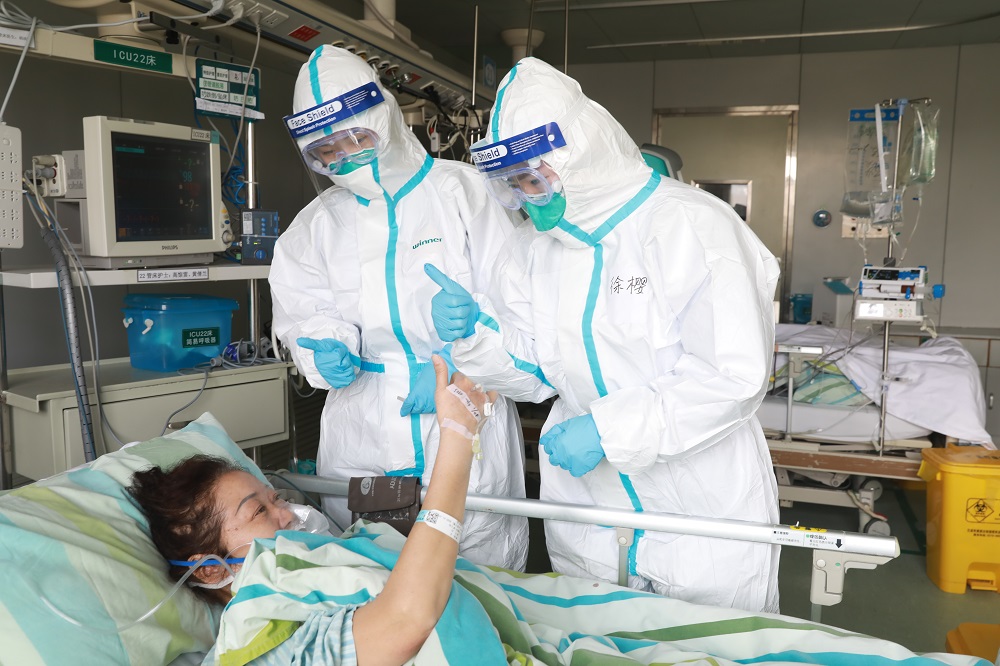 Medical professionals in Hubei province work relentlessly to treat patients
Editor's note: Hubei province has virtually isolated itself in a bid to curb the rapid spread of the novel coronavirus across China. Doctors and nurses in the province are staying at their posts to treat patients, with little regard for their own safety. In a series of exclusive interviews with China Daily, several hospital employees describe their work and concerns.
Chen Aimin, deputy director of Qianjiang Central Hospital in central Hubei province, is busy visiting health clinics in rural areas with a colleague to assess patients suspected of being infected with the novel coronavirus.
With a population of about 966,000, Qianjiang is just 60 minutes by high-speed train from Hankou Railway Station, located about 800 meters from Huanan Seafood Wholesale Market in Wuhan. At present, most cases admitted have exposure history of the market.
In a telephone interview with China Daily, Chen said he and his colleague had just confirmed that a patient in one of the rural clinics is suspected to be infected with the virus. The 52-year-old man spent the night of Jan 14 in Wuhan and developed a fever three days later.
"The rural areas lack medical professionals and protective masks and clothing. My colleague and I are in charge of identifying suspected patients in the countryside and helping to transfer them to the city's designated hospitals for further treatment," Chen said.
"The whole of society should be united to cut off transmission routes, and people should be disciplined in their actions. They should wash their hands regularly, open windows for ventilation, stay at home, and avoid get-togethers."
Infected patients in severe or critical conditions are being treated at Qianjiang Central Hospital. On Wednesday, the hospital was treating four confirmed cases and 25 people suspected of having the virus. Before, it had more than 60 virus-related patients, so some were transferred to other hospitals in the city.
On Thursday, authorities announced that Qianjiang had 10 confirmed cases-one of the lowest numbers in Hubei-and 117 suspected cases. Thursday also saw the city introduce restrictions on vehicle use and close all diners, restaurants and food stalls.
In Wuhan, 10 hospitals and seven centers for disease control and prevention are qualified to evaluate nucleic acid detection-based tests for the coronavirus. In cities such as Qianjiang, hospitals send test samples to the Hubei CDC for examination. Chen said the results come back within 24 hours.
Like people in cities across Hubei, Qianjiang residents often visit Wuhan for personal or business reasons, while during Spring Festival, many who work or study in Wuhan return for family reunions. Moreover, people returning to Hubei from other provinces have to pass through Wuhan, a major transportation hub, before they can reach other cities in the province.
Experts believe ease of mobility and a lack of awareness of the potential risks in the early days were the main reasons the virus spread so quickly that the whole province had to be isolated.
"Our hospital president gained deep experience during the outbreak of SARS(severe acute respiratory syndrome) in 2003, when he worked in the hospital. It's a boon to our current prevention and control work, although we're under great pressure," Chen said.
Early this month, Chen and his colleagues noticed an outbreak of an unidentified form of pneumonia in Wuhan, with symptoms of respiratory tract infection.
On Jan 19, Qianjiang Central Hospital adopted several emergency measures, such as moving doctors to the fever clinic from other departments, adopting triage procedures with temperature checks and keeping suspected patients in an isolation ward. At the same time, the hospital purchased protective medical items, but they will run out within a few days.
"We are in need of N95 masks and protective clothing. If the number of patients in a severe condition rises, we will need more ventilators. Also, the supply of hospital beds is falling short of demand," Chen said.
He added that the local government is working to solve these problems, while individuals and businesses have donated funds and protective equipment.
Since the outbreak, the first batch of 30 medical professionals have been required to stay in the isolation ward with patients for 15 days, working at least 10 hours a day. When their period of duty ends, they will be isolated for two weeks in a hotel especially rented for them by the local government. They will be replaced in the isolation ward by a second team.
"The measures are designed to prevent our medical professionals becoming infected," Chen said.
He added that the local government is making great efforts to tell all residents, including those in rural areas, to stay at home. Community staff members will record the names of all those who return from other cities, and look out for people displaying signs of fever.
Song Meizi, who owns a grocery store in a town in Qianjiang, said,"The road smells of disinfectant, and nearly everyone on the street is wearing masks, including children."
The storekeeper, who wears a mask, protective goggles and disposable gloves during business hours, said badminton rackets and jump-ropes sold out quickly because the locals want to exercise while stuck indoors.
According to Song, village cadres started providing information about the coronavirus on Jan 22 via community WeChat groups.
They have also put up posters and banners, and handed out leaflets, while a car fitted with a bullhorn broadcasts information on the street. The roads are blocked with cars or excavators to prevent residents from driving out of the village.
"Nobody drops by anymore. During the Spring Festival holiday, our only way to kill time is to play mahjong with relatives and neighbors, but now people just stay at home and play against immediate family members," Song said.
All working as one
Wu Xing (not her real name), who works in a clinical laboratory at a major hospital in Wuhan, said:"December is the peak time for flu in Wuhan. We medical professionals had worked around the clock for the whole month and were already very tired. When the coronavirus outbreak occurred, it was a bit like a mental breakdown for us."
She said some colleagues were unable to return to Wuhan after the city halted all forms of transportation, so others have had to work their shifts instead.
"Patients with fever have a blood test at the clinical laboratory, and some may have a CT lung scan in the radiology department. Those who work in the two departments also have a higher risk of infection," she added.
"Now, many hospitals are not doing nasopharyngeal secretion tests to avoid risky exposure of nurses and technicians. They are often used to test for flu."
According to Wu, health professionals in hospitals in Wuhan and other cities in Hubei are in need of protective equipment that meets medical standards, especially N95 masks and protective clothing.
She said that before the new materials arrived, doctors and nurses in some hospitals had to use regular medical masks, shower caps, swimming goggles and raincoats to protect themselves.
She said such protective materials are only used in severe epidemic situations, like the 2003 SARS outbreak, so the number of manufacturers in China is limited. When the novel coronavirus suddenly appeared, supply and demand were unbalanced and it took time to provide sufficient protective clothing.
"The clothing is disposable, and Wuhan has more than 100,000 medical professionals, so the demand is huge. I hope there will be regular suppliers to provide us with a sense of safety, because the frontline soldiers cannot fall ill," Wu said.
"I have patience. It takes time for the central government to coordinate supplies to all hospitals. Also, kind-hearted individuals and enterprises are donating medical materials and money."
She called on society to care for cleaners and security guards, who are still working in Wuhan's hospitals.
"They are elderly, don't know how to use the internet and have lower incomes. This group lives 'in the cracks' and also needs help. Also, cleaners have to deal with medical waste, which means higher exposure to risks. They also need plenty of masks," she said.
"It's heartbreaking to see Wuhan's empty streets. It's not a ghost town, but the place where I was born and raised. I feel sad for Wuhan, but I'm sure the city will recover.
"The citizens of Wuhan have a spirit of solidarity. Some volunteers take risks to transport doctors and nurses between their homes and workplaces, and carry food and medical materials to hospitals in their private cars. They wear masks and disinfect their cars."
Medical professionals with ID can live in the hospital or in hotels that volunteer to house them, and take a bus or volunteers' private cars to commute to work.
Wu only goes home once a week. The first thing she does is take a shower and wash her clothes with disinfectant in a basin.
"My colleagues and I are not afraid of being infected with the virus, but we're afraid that our children or parents will be infected-it's more lethal for seniors. So, we dare not go home to see them," she said.
72 hours in Wuhan's ICU
At 7:30 am on Jan 24, Lunar New Year's Eve, Tang Guangming and Han Zhenzhong spent about 30 minutes donning protective clothing before starting their first day of intense work in the ICU at Jinyintan Hospital in Wuhan.
The hospital was one of the first designated to treat patients with the novel coronavirus.
Tang and Han are nurses in the Intensive Care Unit at Yichang Central People's Hospital, but they had been assigned to help at the Jinyintan Hospital ICU, which had been hastily established in a regular ward. Initially, conditions in the transformed facility were basic and there was a shortage of medical materials and equipment.
"During the first 72 hours in the ICU, the things that weighed on my mind were how to help the doctors take good care of each patient and how to contribute to the 'white war'.It never occurred to me that it was Spring Festival and I should be having a family reunion meal," Tang said.
"From the expression in the nurses' eyes, I felt their exhaustion and knew the job must be more tiring than I had expected."
On the first day, the two male nurses worked from 8 am to 5 pm. Each shift had six nurses, and each nurse looked after four or five critically ill patients. The ward had 30 nurses in total, but few had ICU experience.
When they finished their shift on the first day, Tang and Han were exhausted. After supper in the canteen, they went to a hotel room to rest. Tang said he drank about two liters of water-he knew his clothes had been soaked with sweat and had dried several times.
In such situations, medical professionals have no time to drink water when on duty. Even worse, they dare not, because they have to change their protective clothing after visiting the bathroom, and the disposable clothing is in short supply.
After an hour at the hotel, Han received a call from the head nurse saying that he was needed to work overtime. He went to the hospital immediately and worked until midnight.
Tang said the nurses had to deal with the medical equipment and look after the patients' daily needs. All the patients were on ventilators, and the machines' alarms reminded him to be on high alert.
"Everyone was as busy as a bee. So, you had to turn the patient over on your own. The work was intense and consumed a lot of physical strength, even for a male nurse like me," he said.
On the second day, the two male nurses used their rest period to make a list to optimize their working procedures.
They adjusted the monitors so they could read the patients' vital signs on central monitors instead of going into the ward, which greatly reduced their exposure to potential risk.
On the third day, they arranged items in the ICU before the start of their 3 pm shift to improve work efficiency. Tang didn't realize that he had cut his hand while treating a patient until he left the ICU at 10 pm.
Medical workers outside of Hubei have been traveling to Wuhan to provide help, with the first teams from Shanghai and Guangdong province arriving on Jan 24.
By Tuesday, about 6,100 medical professionals from across the Chinese mainland had arrived in Hubei to aid in the diagnosis and treatment of people infected with the novel coronavirus.