World unites with efforts to help curtail virus
Share - WeChat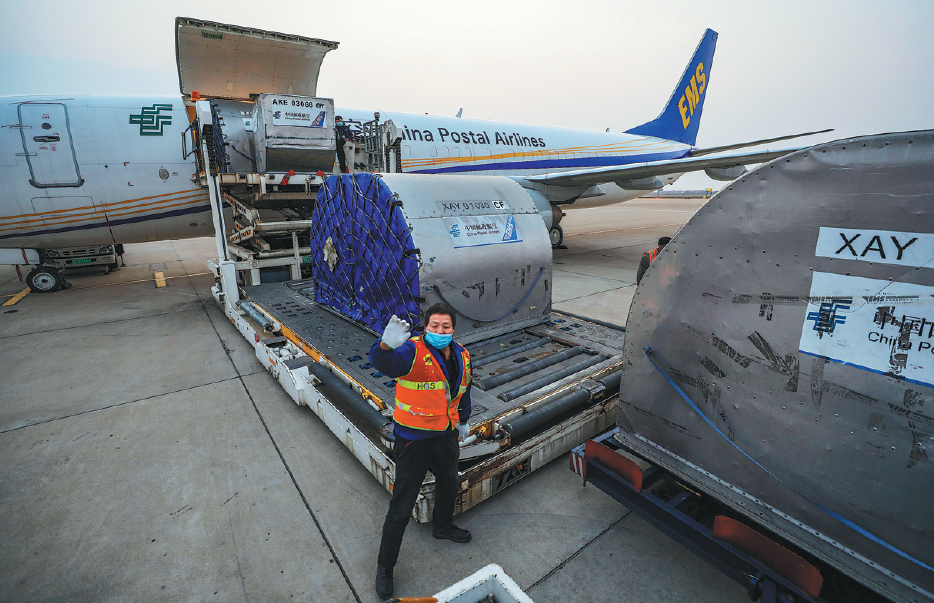 The international community has voiced support for the Chinese government and people in fighting the recent coronavirus outbreak, saying that China deserves gratitude and respect for its efforts.
The White House's top economic adviser, Larry Kudlow, said on Wednesday that the United States would send a group of experts from the US Centers for Disease Control and Prevention to China to work with the World Health Organization and the Chinese government.
"We're happy to do it. It's part of our engagement with China. We know we want to help out in any way we can," Kudlow said.
During a news conference on Wednesday, European Commissioner for Crisis Management Janez Lenarcic said the European Union can send emergency medical teams to China or provide protective equipment.
On Tuesday, the EU Civil Protection Mechanism was activated after a request for assistance from France to provide consular support to EU citizens in Wuhan, Hubei province, the epicenter of the outbreak.
"Should assistance be requested by China, via our Civil Protection Mechanism we can facilitate either the deployment of our Emergency Medical Teams or provide personal protective equipment stock," Lenarcic said.
In a televised speech on Thursday morning, Cambodian Prime Minister Samdech Techo Hun Sen called on the people of the Southeast Asian nation to stay calm in dealing with the outbreak, the country's NICE TV reported.
Saying his country will not suspend flights from China for now, Hun Sen cited friendship with China. Cambodia stands with the Chinese people in fighting the contagion, he said.
In a telephone conversation with State Councilor and Foreign Minister Wang Yi on Wednesday, Australian Foreign Minister Marise Payne said the Australian government firmly supports the Chinese government and people in fighting the novel coronavirus.
She said she appreciated China's timely sharing of information and its active, open and transparent international communication. Australia stands ready to coordinate with China and provide necessary assistance in the fight against the virus, she added.
In a telephone conversation with Wang on Wednesday, Singapore's Foreign Minister Vivian Balakrishnan also expressed resolute support for China's efforts to control the outbreak. He said China has gained experience and markedly improved its skills and capabilities in dealing with the epidemic. Singapore, he said, has full confidence that China will win the battle against the outbreak eventually.
At a briefing at the National Institute for Communicable Diseases in Johannesburg on Wednesday, South Africa's Health Minister Zweli Mkhize assured the public that the country is adequately prepared for rapid identifying cases of the coronavirus. South Africa has no reported or suspected cases to date.
He said that South Africa is "working closely with the international community and particularly with Chinese officials through the WHO", and there is wide consensus internationally that there is no cause for panic.
As for the safety and health security of South African citizens living in China, particularly those in Wuhan or Hubei province, Mkhize said that China has reassured them there is no evidence to support the necessity to evacuate foreign nationals living in Wuhan.
"All persons entering or leaving Wuhan are subjected to a 14-day quarantine to ensure they do not develop symptoms," he said. "Foreign nationals who need medical assistance for whatever reason will be treated like Chinese citizens and be afforded all the medical care necessary. Embassies are enabled to support those locked out and locked inside Wuhan."
Large multinationals in the US and Europe — including Microsoft, Dell, L'Oreal and Cargill — have collectively donated roughly $1.4 million to the Chinese Red Cross and authorities in Hubei province battling the epidemic.
The Bill & Melinda Gates Foundation announced on Sunday that it would commit $10 million to help first responders in China and Africa, including $5 million for international cooperation, treatment and vaccine development.
Thomas Donohue, president and chief executive officer of the US Chamber of Commerce, said the US business community is ready to cooperate with China in the fight against the outbreak.
"This is important, that countries from all over the world do whatever they can to cooperate with the Chinese government in putting a stop to this," Donohue said.
Medical materials donated from Thailand for fighting the virus, worth about 200,000 yuan ($29,000), are also on their way to the mainland, according to organizers at the Thai-Chinese Relations Association.
People from around Japan have also begun offering support to the residents of Wuhan and the rest of Hubei province, according to Japanese news agency Jiji Press.
Inagora Inc, an e-commerce operator based in Tokyo, launched a campaign on Monday to ship face masks, free of charge, to residents of Wuhan and other parts of Hubei.
On Monday, the city of Oita in Japan's Oita prefecture sent 30,000 masks it had been keeping for disaster relief in boxes with a message reading "Wuhan Jiayou!" which means "Stay strong, Wuhan!" in Chinese. Oita and Wuhan have been sister cities for more than 40 years.
Hong Xiao in New York, Cao Desheng, Cai Hong, and Chen Yingqun in Beijing contributed to this story.
Contact the writers at huanxinzhao@chinadailyusa.com