Weekly culture & leisure guide (New Year Special)
Share - WeChat Weekly culture & leisure guide (New Year Special)
Good morning, China Daily readers! Want to spice up your Chinese New Year celebrations with the biggest must-see events? Check out our roundup of temple fairs and concerts in major cities happening during the holiday week!
Temple Fairs
Visiting miaohui, or temple fairs, is considered by many Chinese people one of the most cherished traditions during the Spring Festival holiday.
What makes this millennia-old folk event still appealing in modern times is that it combines folk performances, traditional amusements and local foods and drinks for visitors of all ages, to get a real taste of Chinese New Year.
Here is a list of hand-picked temple fairs in major cities around the country you will definitely not want to miss.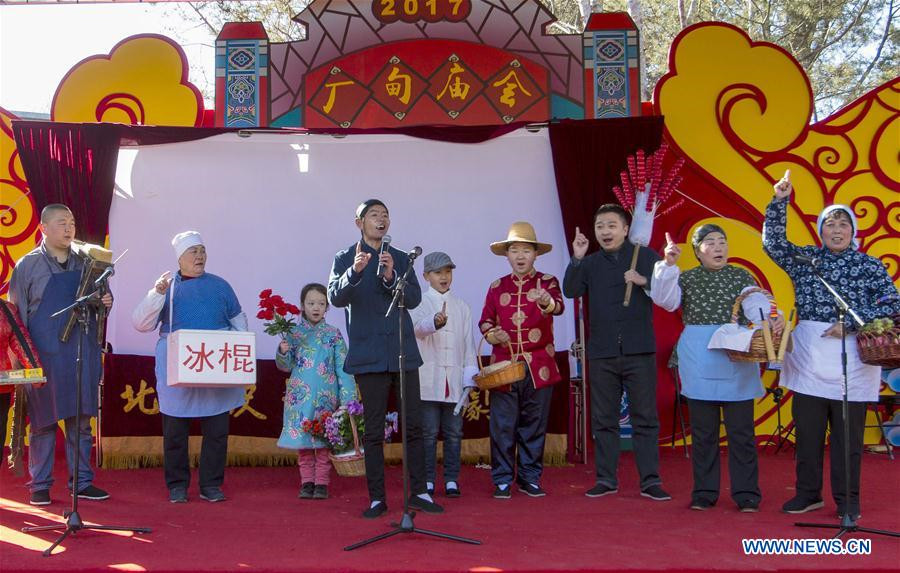 Changdian Temple Fair in Beijing
Celebrated as the most famous of its kind, Changdian Temple Fair is the oldest and also most-visited temple fair in Beijing, attracting thousands of vendors and visitors from far and wide each year.
Running from Jan 25 to 29 this year, the event is a perfect choice for anyone who wants to buy paintings or calligraphy, curios, articles for daily use, children's toys and food.
If you go:
Jan 25-29, Liulichang Street to Taoranting Park, Xicheng district, Beijing 北京西城区琉璃厂街到陶然亭, 厂甸庙会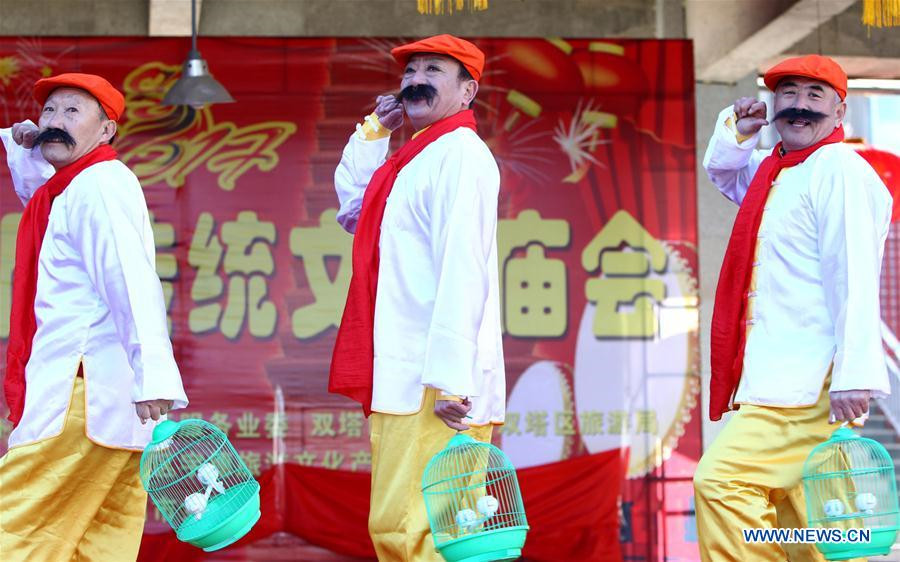 Baiyunguan Temple Fair
Visiting Baiyunguan or the White Cloud Taoist Temple, the largest Taoist temple in North China, during the Spring Festival holiday is a must-do for anyone who craves fun and religious customs that can rarely be experienced elsewhere. To seek fortune and good luck, fairgoers to Baiyunguan usually line up to burn incense, rub auspicious monkey statues and throw coins to strike the bell.
If you go:
Jan 25-Feb 1, No 9, Baiyunguan Jie, Xicheng district, Beijing北京市西城区白云观街9号, 白云观庙会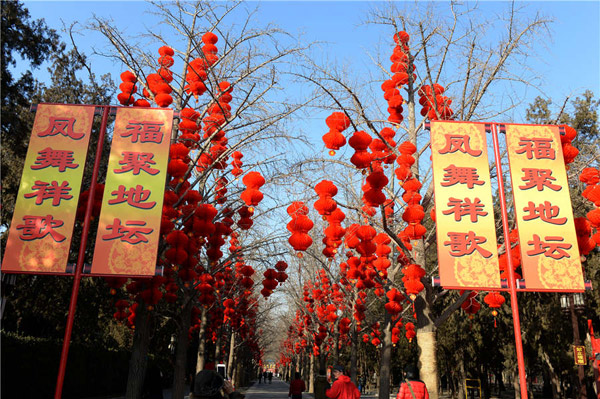 Ditan Park Temple Fair
Known as the Temple of Earth in English, Ditan Park promises visitors a medley of traditional activities with authentic Old Beijing flavor at its five-day annual temple fair starting Jan 25.
Visitors can feast their eyes on a grand showcase of intangible cultural heritages such as paper-cutting, shadow play and pottery making, along with a mix of traditional local folk art such as crosstalk, diabolo and ventriloquism. In addition, a traditional sacrifice ceremony to the God of Earth will be reenacted during the event.
If you go:
Jan 25-29, Ditan Park, Andingmenwai Dajie, Dongcheng district, Beijing. 北京东城安定门外大街地坛公园,地坛庙会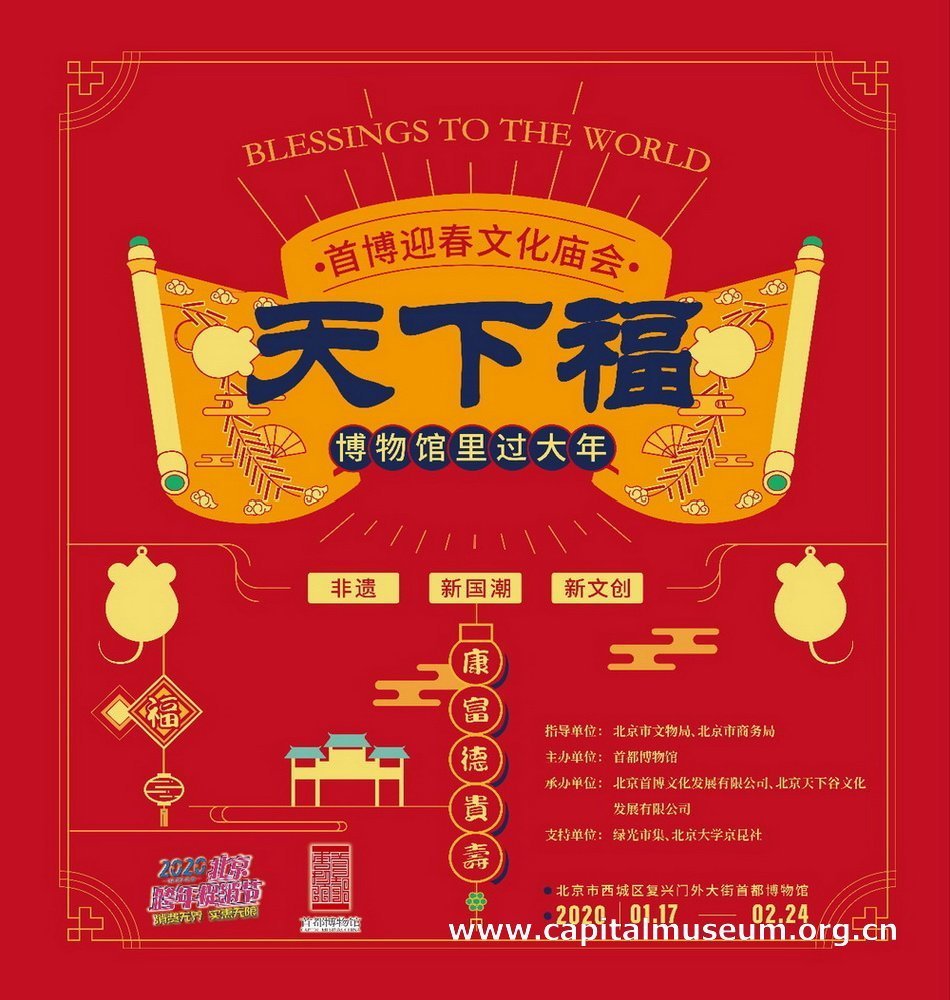 Capital Museum of China hosts first temple fair
The Capital Museum of China recently kicked off its first Spring Festival temple fair, Blessings to the World, to jazz up the celebrations of the Year of the Rat.
Running through Feb 24, the event features a crafts market gathering dozens of intangible cultural heritage inheritors; a craft workshop where visitors can try making sugar figurines, natural dye, woodblock printing and other traditional crafts; and Peking Opera and Kunqu Opera performances.
On Jan 28, the museum will host "Exploring the Central Axis of Beijing", an activity designed for helping children and teenagers understand the history and culture of the capital's age-old urban axis.
If you go:
Through Feb 24, closed on Jan 24 and Mondays. No 16, Fuxingmenwai Dajie, Xicheng district, Beijing, 010-63370491 / 63370492北京市西城区复兴门外大街16号, 首都博物馆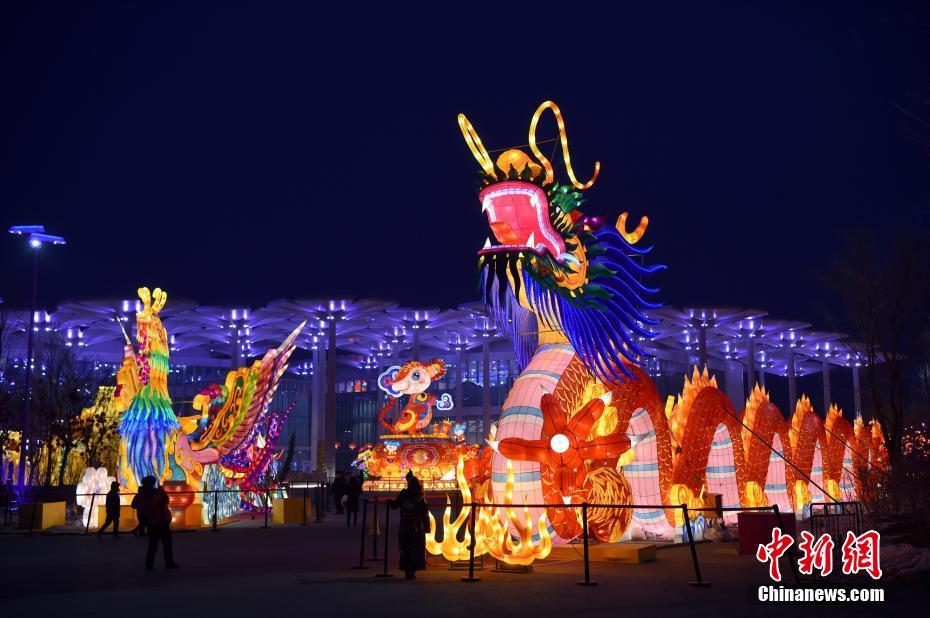 Beijing horticulture expo park stages temple fair, lantern show
The park that hosted the Beijing International Horticultural Exhibition last year in Yanqing district is holding an indoor temple fair with a grand outdoor lantern show to light up the Year of the Rat.
Visitors to the park can enjoy a buffet of intangible cultural heritage exhibitions, folk art performances and handicraft activities. Be prepared to be blown away by the 52 sets of mega-sized lanterns designed by artisans hailing from Zigong, the country's "hometown of lanterns" in Southwest China's Sichuan province.
If you go:
Through Feb. 29, to the west of S220 provincial-level expressway, Yanqing district, Beijing 北京市延庆区S220省道西边, 世界园艺博览会公园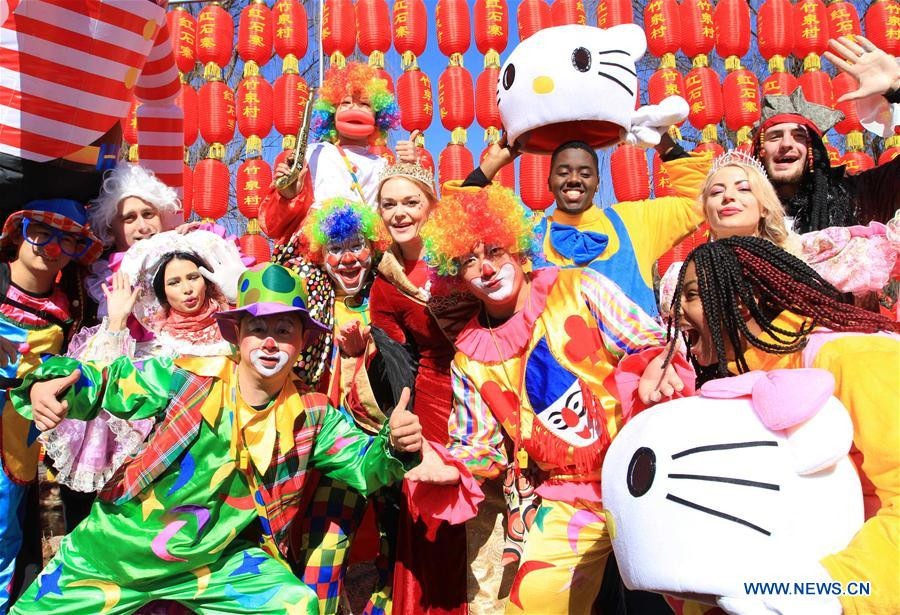 2020 Shanghai (Pudong) Chinese New Year Temple Fair
The Pudong New Area in Shanghai is gearing up for a 16-day Chinese New Year jamboree, bringing together dozens of folk art performances, local snacks from around the country and a number of internet-famous delicacies to the coastal metropolis.
The highlight of the temple fair would definitely be the performance of Dashuhua, a five-century-old Chinese New Year custom involving an experienced blacksmith throwing molten iron into the air to create spectacular showers of sparks resembling a leafy tree canopy.
If you go:
Jan 25-Feb 9, Zhoupu flower sea ecological garden, Pudong New Area, Shanghai. 上海浦东新区周浦花海生态园,2020年上海(浦东)新春大庙会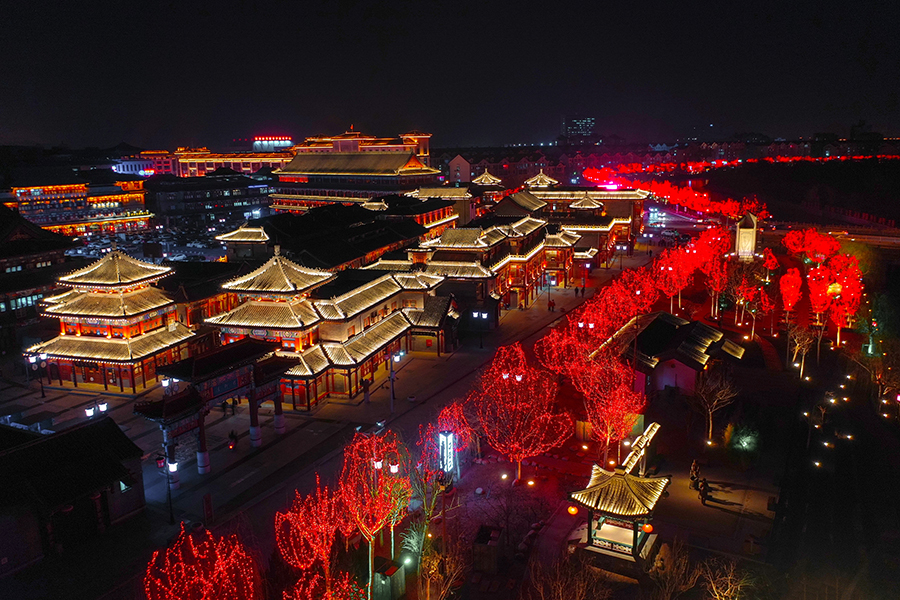 2020 Yangliuqing Temple Fair in Tianjin
Yangliuqing Ancient Town in North China's Tianjin is home to the Yangliuqing nianhua, one of the four noted chromatic woodblock prints in China. Its 2020 Spring Festival temple fair will entertain locals and tourists like.
Aside from sampling local delicacies and enjoying a roster of folk art performances such as dragon dance, stilt-walking and waist-drum dance, visitors can also pay a visit to the town's folk custom museum and the nianhua museum to learn more about its local culture. In addition, a three-day lantern show will be staged from Feb 7-9 to light up the Lantern Festival.
If you go:
Through Feb 9, Yangliuqing Ancient Town, Xiqing district, Tianjin.天津市西青区杨柳青古镇景区,2020年杨柳青庙会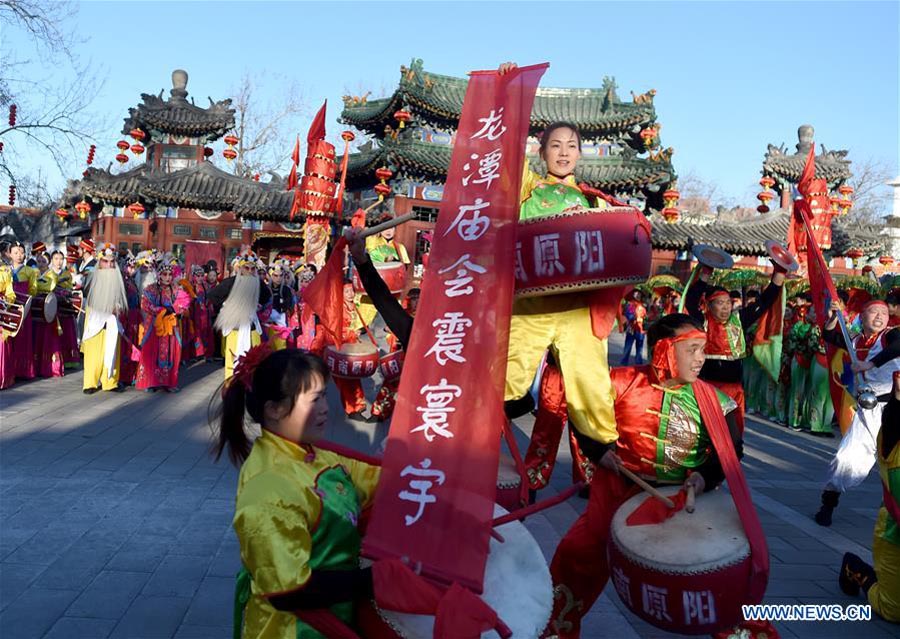 Datang Xishi Temple Fair in Xi'an
The Datang Xishi Art Center will stage a grand temple fair from Jan 25 to Feb 8. The event will feature exhibitions of ink paintings, oil paintings, ceramic works and high-end handicrafts, food and drinks from China and elsewhere, live concerts, bonfire shows, lion dances, magic shows and intangible cultural heritage workshops.
If you go:
Jan 25- Feb 8. No. 118, Laodong Nanlu, Lianhu district, Xi'an, Shaanxi province. 陕西省西安市莲湖区劳动南路118号, 大唐西市庙会
Concerts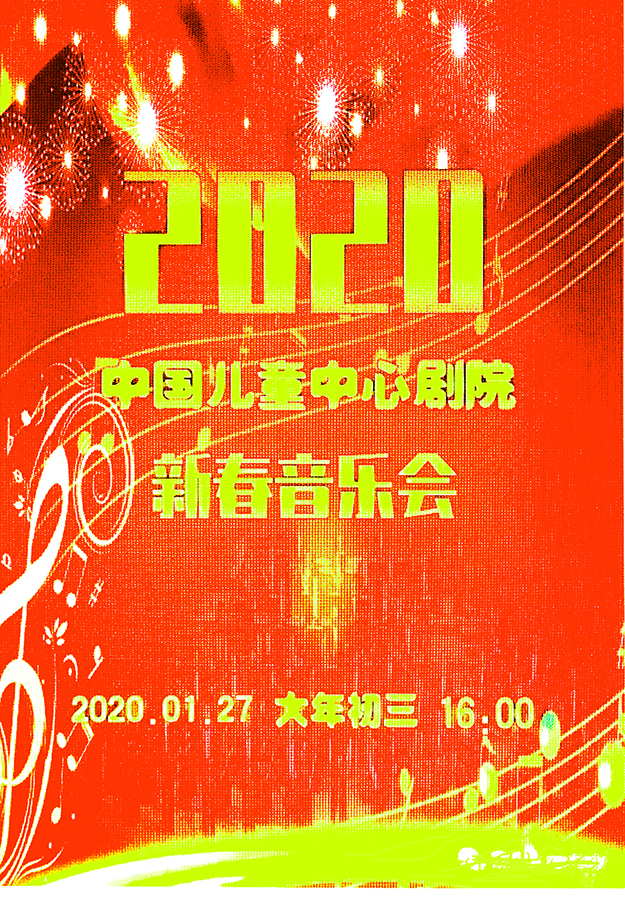 Chinese New Year concert for children in Beijing
The Theater of the China National Children's Center has prepared a concert for children during the Chinese New Year holiday, slated for Jan 27. The repertory features classic Chinese music, folk music and western tunes such as The Four Seasons: Spring, The Voice of Spring Waltz, and The Blue Danube. The Youth Philharmonic Orchestra of Beijing will perform under the baton of Shao Zishou.
If you go:
4 pm, Jan 27. Theater of the China National Children's Center, No. 43, Pinganli Xidajie, Xicheng district, Beijing. 010-6617-6321. 北京西城区平安里西大街43号中国儿童中心剧院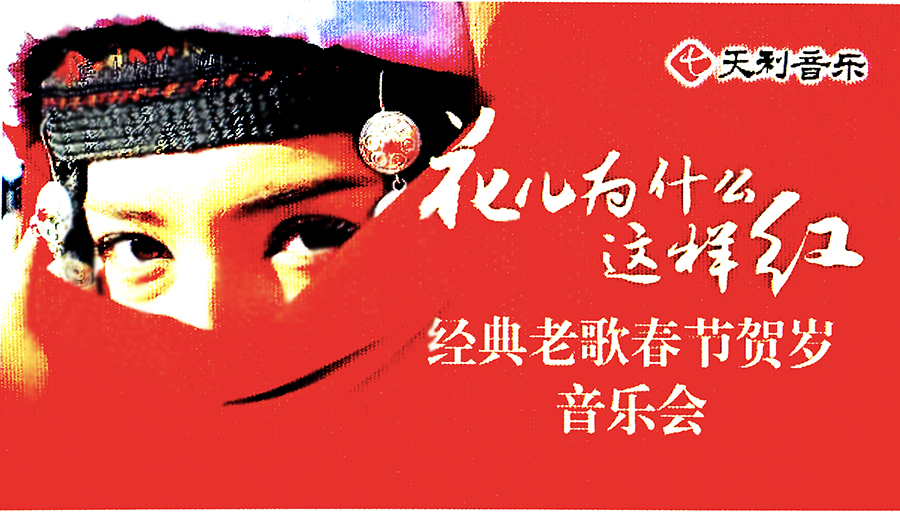 Concert of popular old songs in Shanghai
On Jan 27, the Concert Hall of the Shanghai Oriental Art Center will hold a concert titled Why Are All the Flowers So Red to greet the Spring Festival.
The concert features a roster of folk songs, pop songs and music from old movies Chinese people have been familiar with over the past few decades. Major performers include the Four Brothers from Beijing, pianist Gao Mei, sopranos He Dan and Li Hong, tenors Li Yinghui and Zhang You, bass singer Zhong Mingda and baritone singer Song Xuewei.
If you go:
2 pm, Jan 27. The Concert Hall of the Shanghai Oriental Art Center, 425 Dingxiang Lu, Pudong New Area, Shanghai. 021-38424800.上海市浦东新区丁香路425号东方艺术中心音乐厅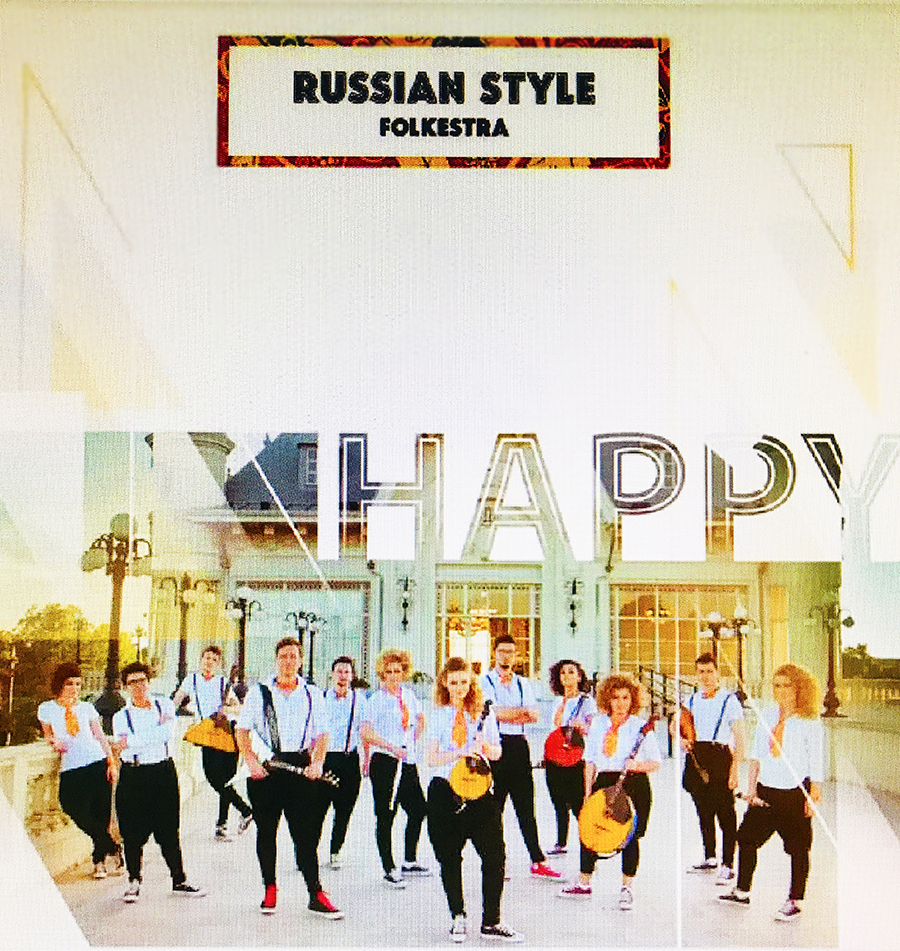 Concerts by Russian orchestra in Harbin
The Russian Style Folkestra will give five performances from Jan 26-30 at the Harbin Concert Hall. [Photo provided to chinadaily.com.cn]
The Harbin Concert Hall will stage five concerts of classical music, performed by the Russian Style Folkestra under the baton of Vesna Dmitry Kalinin. The repertory features not only Russian folk, pop and rock music but also melodies from popular movies.
If you go:
7:30pm, Jan 26-30, The Harbin Concert Hall, No. 1, Qunli Dadao, Daoli district, Harbin. 0451-84699400.哈尔滨市道里区群力大道1号哈尔滨音乐厅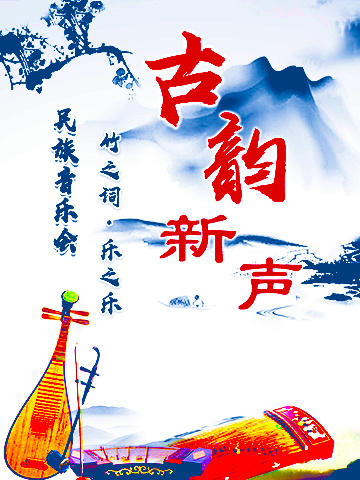 National Music Concert in Tianjin
The Jinwan Grand Theater in Tianjin will stage three Chinese national music concerts titled Old Rhythm, New Sound for the Chinese New Year holiday on Jan 26 and Jan 30. A band of veteran players of traditional Chinese instruments, including Mao Di, Peng Lei, Chen Shuo, Bai Chunmao and Liu Xuejiao, will perform folk music, classic Chinese music, tunes from popular movies and operas and even music from electronic games.
If you go:
2:30 pm, 7:30pm, Jan 26, 30. Jinwan Grand Theater, Jinwan Square, Jiefang Beilu, Heping district, Tianjin. 022-2321996. 天津市和平区解放北路津湾广场4号楼津湾大剧院精品剧场
Butterfly lovers and Yellow River concert in Beijing
Pianist Huang Ruoyu and violinist Chai Liang will present a concert at the Beijing Concert Hall on Jan 29. Highlights from the concert include Why Are All the Flowers So Red, Yellow River, and The Butterfly Lovers.
If you go:
7:30 pm, Jan 29. Beijing Concert Hall, 1 North Xinhua Street, Xicheng district. 010-6605-7006. 北京市西城区北新华街1号北京音乐厅
Most Popular