Yu Garden restaurant gets modern makeover
Share - WeChat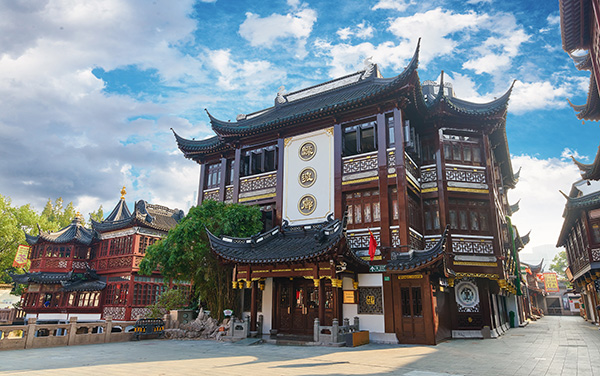 Lubolang, a famed Chinese restaurant in Shanghai's Yu Garden, recently revamped its interiors and menu in a bid to attract young customers.
"Having worked here since 1993, I have witnessed several renovations, but this one made the biggest change to the restaurant," says Wang Shijia, deputy general manager of Lubolang.
The restaurant now bears a stark contrast to the Qing Dynasty (1644-1911) building that houses it. Its new minimalist design, which features the use of emerald green for large screens and peacock blue for chairs, lends the space an air of elegance and modernity.
Lubolang was originally a teahouse that opened in 1924. It was only in the 1970s that the space was transformed into a restaurant, which grew in fame after hosting several important state guests, including former Cambodian king Norodom Sihanouk in 1973, Queen Elizabeth II of the United Kingdom in 1986 and former US president Bill Clinton in 1998.
According to Wang, the new menu offers a contemporary take on their dim sum dishes and desserts, such as the "thousand-layer pastry" and osmanthus cake, which have been perennial favorites among Shanghai's elderly residents. New dishes include fruit-flavored shrimp balls, fried silver fish with red curry and sauteed beef cubes with black truffle paste.
"Flavor-pairing is particularly trendy now, so we have combined traditional Chinese flavors with popular Western ones, creating a multi-sensory experience for sophisticated young gourmands," says Wang.
Most Popular