Spanish wine warms snowy solar term repast
Share - WeChat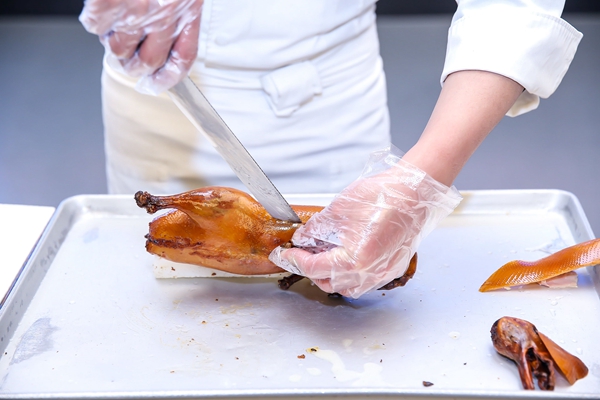 It has almost become a tradition that, for each of the 24 Chinese solar terms, Da Dong restaurant hosts a special dinner that delivers an artistic conception of Chinese cuisine.
To celebrate the 21st solar term, "heavy snow", which began on Dec 7, Da Dong provided something a little different. Dong Zhenxiang, founder and chef of Dadong joined forces with Lyv Yang, the only Chinese person who has passed the exam of Master Sommelier, to present a feast combining Chinese cuisine and Spanish wine.
The dinner was held at Da Dong Nanxincang branch in Beijing on Dec 13.
The festive repast started with saipangxie, which literally means "imitation of crabs". It is a traditional dish in which ginger and vinegar are added to stir-fried egg whites to produce a similar taste to that of crab meat.
Dong's version is to elevate it through the use of lobster soup and stir-fried egg whites with a topping of truffle to lift the taste. Lyv pairs the Westernized dish with a white wine, adding a sophisticated air to the rich flavor.
Dong offers a platter of cold dishes-traditionally prepared duck feet with yellow mustard dressing, sweet and sour pork ribs, Beijing-style pickled vegetables and pickled cabbage in spicy and mustard flavor.
Lyv pairs the platter with a fresh and fruity Lustau En Rama Manzanilla 2019 which is delivered directly to China after bottling.
"The order for Western cuisine dishes is from light flavor to heavy, so we can pair the wines following the same rule. However, the flavors of Chinese cuisine are more complicated, so sometimes we need to find a wine that is suitable for a number of different flavor profiles," Lyv explains.
"This wine can extend the flavor of the mustard and also highlight the freshness of the cabbage and the sweetness of the ribs," he says.
For the foamed cuttlefish roe soup, Lyv chooses a La Solucio Rosa 2017 which is made with six different grapes and fermented with natural yeast.
Fellow dinner guest, Ma Huiqing, a professor of wine appreciation at the College of Horticulture, China Agricultural University, found the pairings to be quite interesting.
Most Popular