China's 2019 box office gross hits a whopping $9.2b
Share - WeChat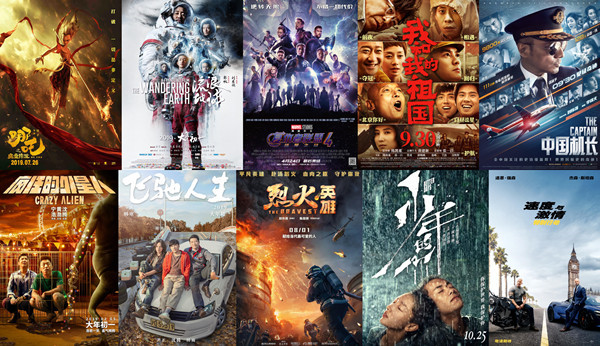 China's whopping $9.2 billion box office revenue in 2019 officially set a new annual domestic record. The 2018 record was broken as early as Dec 13, 2019 when the total box office gross revenue exceeded 60.7 billion yuan for the entire year of 2018.
According to the China Film Administration on Tuesday, domestic films grossed 41.2 billion yuan in 2019, which is 64.07 percent of the annual total gross revenue of both domestic and foreign films in the market, and a significant 8.65 percent increase from last year.
In 2019, China produced a total of 1,037 films. To break this down further, 850 were feature films, 51 animated films, 74 science education films, 47 documentary films and 15 special-format films (including 4D and Dome-screen films). However, many of the locally produced films never made it to physical cinemas. Of the 88 films that each had box office sales of beyond 100 million yuan in 2019, 47 were domestic films, the administration said.
Domestic films accounted for eight out of the 10 highest-grossing movies screened in the Chinese mainland in 2019. "Ne Zha," an animated fantasy adventure featuring the Chinese mythological character of the same name, topped the China box office chart with 5 billion yuan in earnings. It also became the highest-grossing Chinese animated feature and the second highest-grossing Chinese film of all time after "Wolf Warrior 2," which topped the 2017 chart by grossing more than 5.68 billion yuan.
"The Wandering Earth," a film adaption of a Chinese science fiction novel by the Hugo Award-winning author Liu Cixin, came in second on the chart with 4.68 billion yuan, followed immediately by Disney and Marvel Studios' "Avengers: Endgame," which grossed around 4.25 billion yuan.
Hollywood blockbusters lost a lot of its glamour as well as percentage share in the Chinese market as China-made productions grew from strength to strength last year. There were only two Hollywood movies that made it to the top 10 earnings list in 2019. "Fast and Furious Presents: Hobbs and Shaw" is one of them and took the 10th spot with 1.43 billion yuan in box office sales.
The China Film Administration shared that admissions in urban cinema chains reached a whopping 1.73 billion in 2019. It also added that China installed 9,708 new screens in 2019, making the total number of cinema screens on the Chinese mainland now 69,787. China currently has the most cinema screens of any country in the world.
The top 10 highest grossing films of 2019 in China (in US dollars)
1. "Ne Zha" - $714.75 million
2. "The Wandering Earth" - $668.72 million
3. "Avengers: Endgame" - $607.25 million
4. "My People, My Country" - $445.43 million
5. "The Captain" - $414.27 million
6. "Crazy Alien" - $315.92 million
7. "Pegasus" - $246.59 million
8. "The Bravest" - $243 million
9. "Better Days" - $222.28 million
10. "Fast & Furious Presents: Hobbs &Shaw" - $205 million