Cinema chains bank on high-tech for growth
Share - WeChat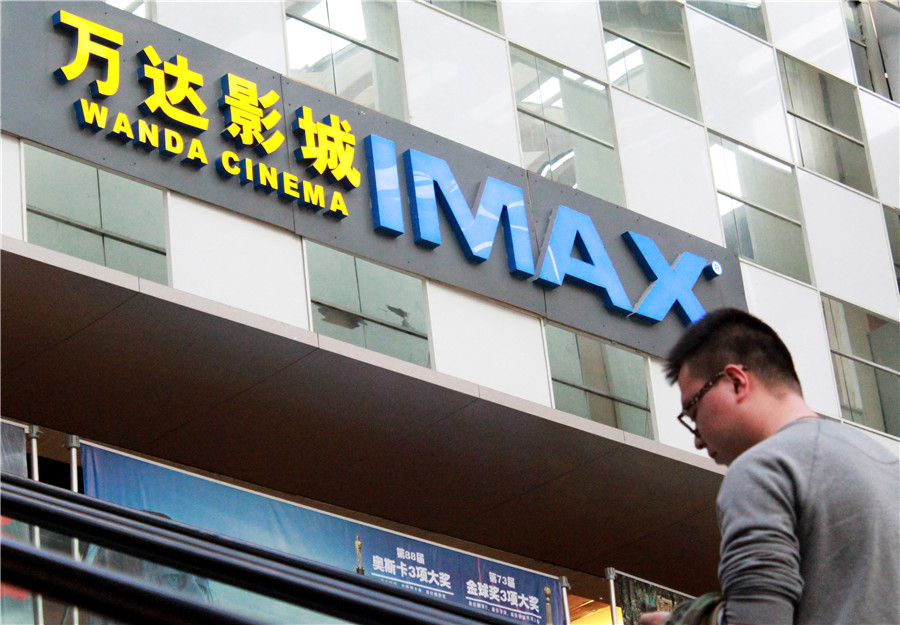 Wanda Film Holding Co Ltd launched on Monday its Prime cinemas to offer premium watching services, as the entertainment giant continues to bet on technologies to boost profits amid a sluggish market.
The launch came as Wanda Film is seeking ways to reverse its fortunes after it saw net profit drop by 57.25 percent year-on-year to 829 million yuan ($118.68 million) for the first three quarters of the year.
The Prime line cinemas of Wanda will have RealD Ultimate Screens which are expected to bring in an enhanced visual experience, high frame rates, and Dolby Atmos, according to the company.
Wang Qi, chief technology officer of Wanda Film, said the company is working to offer top-notch technologies and individualized services for an enhanced film watching experience.
High technologies have been a focus of efforts by Wanda to lure back moviegoers.
Earlier this year, Wanda agreed to install 20 Cinity Cinema Systems in its cinemas. The system offers film screenings in 4K stereoscopic 3D at 120 frames per second, which is considered superior compared to the often-used 24 frames per second.
Wanda was not the only one to bet on high-tech embedded film screenings to boost profits.
Major cinema chain Guangzhou Jinyi Media Corp also agreed to install 20 Cinity Cinema Systems in its cinemas earlier this year after seeing its net profit drop by 24.17 percent year-on-year to 105 million yuan for the first three quarters of this year. So did Bona Film Group Ltd.
"There are many reasons. Viewers' enthusiasm was cooling. Consumers' spending on entertainment was weakening due to economic slowdown. Supercheap film tickets (sold at 9.9-19.9 yuan per ticket) were rare on the market," said Chen Shaofeng, a professor of culture and entertainment at Peking University.
Chen said the booming home cinemas and rapidly-developing online streaming services are also part of the reason for the changes.
"Many industry people hold the view that current film screening services had outstripped movie going demand," he said.
In the first half of 2019, the total box office revenue stood at 31.17 billion yuan in China, down 2.7 percent year-on-year, data from National Radio and Television Administration showed. Total cinema visits were 808 million during the same period, a decline of 10.3 percent year-on-year.
"As film giants are betting on tech-embedded enhanced film screening services, film technology companies like Imax and Dolby are enjoying great popularity among cinema chain companies," Chen said.
Imax China has posted a double-digit growth in box office revenues from cinemas supported by its systems in the first half of this year.
"Aside from tech-embedded film screenings, cinemas are also eyeing non-box office sectors to boost new revenues," Chen said.
A report from industry analysis website Forward the Economist said revenue from ads shown before a film's screening is expected to create a 20 billion yuan market in 2020.
"In addition, sectors like film-related accessories and dining are also growing," Chen added.
Wanda Film's merchandise sales and dining had a 67.43 percent profit margin in the first half of 2019. Its ads business had a 65.43 percent profit margin in the same period. Its businesses leading to box office revenue, which accounted for 80 percent of Wanda Film's operation cost, only had a profit margin of 6.07 percent.
Talking about future potential of those sectors, Chen made a reference to Disney. In 2018, Disney reaped big bucks from its parks and resorts business, having netted $20.3 billion out of total revenue of $59.43 billion. Earnings from consumer products and interactive media contributed $4.65 billion to the total revenue.
"Although Chinese cinema companies are still at a very early stage in developing businesses in non-box office sectors and are facing challenges like copyright protection, many companies are on a fast track exploring this field," Chen said.