China's booming industry eyes quality sci-fi writers
Share - WeChat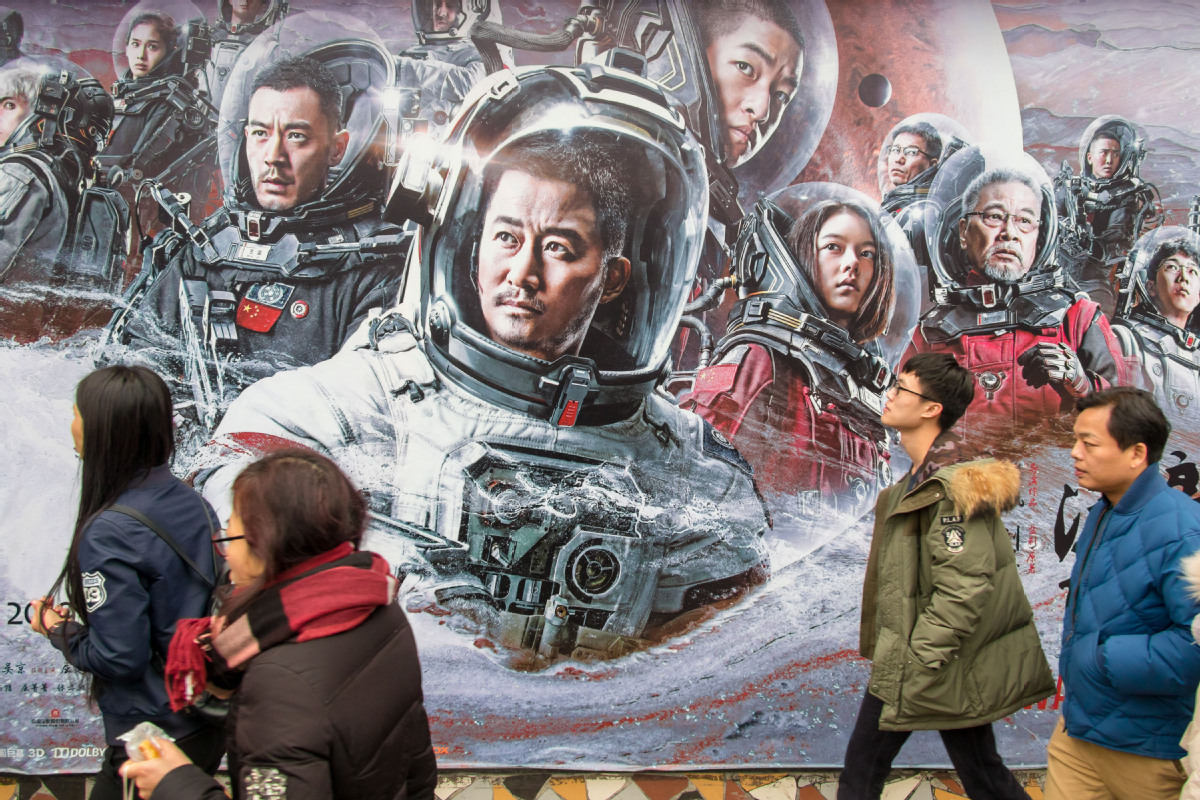 At the 2019 China Science Fiction Convention in Beijing last week, science fiction authors were treated like rock stars, with hundreds of fans asking for autographs from acclaimed novelists such as Liu Cixin, Chen Qiufan and Taiyo Fujii. The three have authored Three-Body Problem, Waste Tide, and Gene Mapper, in that order.
While China's sci-fi industry is booming in recent years, the sci-fi authors said quality stories tackling common sci-fi themes through unique Chinese perspective, better translations tailored to foreign markets, and expanding sci-fi novels into other merchandises are crucial to sustaining the momentum and carrying Chinese sci-fi onto the world stage.
Last year, China's sci-fi market value reached 45.6 billion yuan ($6.5 billion), with revenues from publications and movies growing more than 60 percent. In the first half of this year, revenues reached 31.56 billion yuan, up 38 percent year-on-year, according to the 2019 China Sci-Fi Industry Report by Southern University of Science and Technology, Shenzhen.
Movies and gaming were the two biggest components of China's sci-fi market last year, accounting for 20.9 billion and 19.5 billion yuan respectively, the report said.
The current Chinese sci-fi market is characterized by growing sci-fi-related workforce, branching products like theme parks and conventions, and increasing government and investor support, especially for the domestically made sci-fi films.
Huai Jinpeng, Party chief of the China Association for Science and Technology, said during the convention's opening on Sunday that sci-fi had always been a part of China's DNA, with the earliest original Chinese science fiction novel, Colony of the Moon, published in 1904.
Chinese intellectual giants such as Lu Xun and Liang Qichao also emphasized the importance of science fiction as a tool to help the country prosper during the last years of the Qing Dynasty (1636-1912).
Popularization of science and fiction is the foundation for scientific development, and the bridge for upholding and conveying the scientific spirit and dream, Huai said. "Sci-fi demonstrates the beauty, culture and humanity of science, and plays a unique role in stoking youngsters' imagination and innovative capability."
However, both Huai and the latest industry report highlighted the fact that China still has a shortage of sci-fi writers who can produce original, high-quality works. The Chinese sci-fi industry is currently dominated by foreign franchises, and while new talents are flocking to the industry, most of them are absorbed by the film and gaming industry.
China will devote more resources to train better sci-fi writers, establish prestigious awards and writing competitions, adapt sci-fi novels into other mediums, and establish platforms for interdisciplinary and global sci-fi collaborations, Huai said.
Chinese sci-fi writer Liu Cixin said China's sci-fi craze is partly due to the nation becoming more "futuristic" due to the wide-scale application of new technologies, as well as the new generation thinking more about the future and the fate of mankind in the context of the world, and even the universe.
"Our nation, as a whole, is entering the sci-fi golden age," he said. However, the size, marketability and story-telling capability of Chinese sci-fi literature and movies are still in their infancy compared with that of other sci-fi powerhouses.
Kevin J. Anderson, a best-selling science fiction author from the United States known for his spinoff novels for Dune, Star Wars, X-Files and other popular franchises, said the unique characteristics of Chinese culture and society can bring different and interesting perspectives to the current sci-fi landscape.
"Science fiction is a literature of ideas. When people read science fiction, they like to hear about how other people think," he said. "Having a different perspective makes for amazing stories but also a great exchange of ideas. We often read a lot about Chinese mythology and fantasy, but Chinese science fiction is a whole new opportunity."
Leonard Mlodinow, a US theoretical physicist and co-author with Stephen Hawking on best-selling books such as A Briefer History of Time and The Grand Design, said Chinese science and science fiction writing has become more creative in recent years, but good translators are essential to convey the full beauty of the work to a foreign audience.
"I think Chinese sci-fi is a good field, it is a field that is starting out and has the most amount of freedom to explore," he said. "There's no reason why sci-fi market is so dominated by American writers. We are really open for everybody, for new ideas and new ways of thinking."
Chinese sci-fi writer Chen Qiufan said China's recent sci-fi boom is largely spearheaded by Liu and a handful of writers. "There are only maybe two to three hundred full-time sci-fi writers in China, most are part-time. Hence, the quality and quantity of the produced works leave much to be desired."
"We can't expect to produce something as popular as the Three-Body Problem or The Wandering Earth (both by Liu) every year," Chen said. Ways to sustain the growth of Chinese sci-fi industry is to incorporate more professional talent, and create a complete industrial ecosystem to turn sci-fi novels into other more lucrative form of products like movies, games and merchandizes.