Celebs fight back against rights infringements
Share - WeChat Actors, singers and musicians are taking on unscrupulous firms who use their images and names without authorization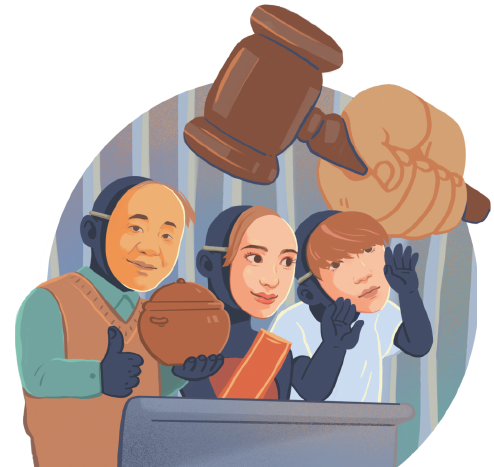 Earlier this year, Nobel Prize winner Mo Yan was awarded compensation of 2.1 million yuan ($298,000) after winning a lawsuit he brought against a company that infringed his personality rights by using his name and image in an advertisement without permission.
According to Mo's lawyer, Liu Ruzhong, from the Tahota Law Firm in Beijing, the compensation was a record for a case of this kind in China, and it was the first time the writer had brought such a lawsuit since winning the Nobel Prize in Literature in 2012.
In China, businesses often use celebrities' images without permission in promotional videos they post on the internet.
In response, a growing number of well-known figures are bringing cases to court, despite difficulties in conducting investigations and collecting evidence.
Resolving such cases in court helps to improve society's legal awareness and deters businesspeople who have potentially illegal intentions. However, the low level of compensation awarded remains a major reason for the frequent violations, according to lawyers.
In December last year, Yuci Technology, which sells cooking pots online, posted a promo on the internet in which Mo appeared to be acting as an official spokesman for, and fan of, the company's products.
The video featured a photo of Mo with Dong Zhenlei, CEO of Yuci Technology, which is based in Shenzhen, Guangdong province. It also showed an example of the writer's calligraphy skills in a poem about ceramics, and the voice-over told how the two men had met.
The promo claimed that after using one of the company's pots, Mo had praised the product and invited Dong to visit his home and accept the handwritten poem. In addition, it stated that the two regarded each other as "comrades" and had discussed literature and ceramics.
At the end of the video, a voice actor imitated Mo, saying: "Food cooked in this pot tastes delicious and is good for the health. Other pots that contain metal carcinogens should be discarded. I hope you sell it (the pot) to the world for the benefit of human health."
Mo has never been a spokesman for the company and has not authorized the use of his name or the photo, Liu said.