China offers investors certainty, resilience
Share - WeChat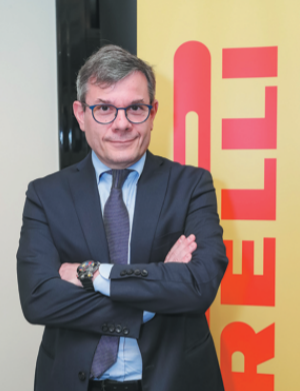 A1 Pirelli now is among the world's major producers of tires and associated services and the only one focused solely on the consumer tire market. Since Pirelli entered the Chinese mainland market in 2005, China has always been an energetic pillar of growth within the company.
According to a guideline issued by the State Council this August, which outlined 20 measures, China will ease restrictions on car purchases to support auto sales as part of its policy package to boost the country's consumption. This is a positive signal for the domestic auto and auto parts market.
Pirelli pays close attention to Chinese market trends and meeting market requirements by developing the right technologies, products and services, such as cyber car technology, which continuously monitors the condition of tires, sharing data to cloud solutions, and integrating real-time analysis of tires and car performance; and brand new Elect, which was specifically developed for ultra high performance electric and plug-in vehicles.
A2 From the Government Work Report delivered at the Second Session of the 13th National People's Congress, we can see the Chinese economy has entered a new phase of transitioning from high-speed growth to high-quality development. The industries or sectors with high-tech, high growth potential and high value add will be the new focal point of the Chinese economy, such as artificial intelligence, intelligent manufacturing, high-end equipment and old and new kinetic energy conversion.
Pirelli has been long aware of this tendency. In China, Pirelli runs several cooperation projects with local universities. Last year, Pirelli invested around 65 million euros ($71.8 million) in its joint venture in Shandong to run a new consumer tire production plant in China with 4.0 intelligent manufacturing that represents the most advanced technological standard worldwide. The new plant will provide the necessary production flexibility in the high-value segment, taking into account the evolution of the Chinese market, the expected developments in electric vehicles and the growing share of homologations obtained in the original equipment segment in China, Japan and South Korea.
A3 The automobile industry is an important part of consumption. According to the China Passenger Car Association's data, the high-end car segment (vehicles priced above 300,000 yuan, or $42,200) saw 6.2 percent year-on-year growth in January-July 2019 sales despite the downturn in the overall auto market, which indicates high-quality growth. This creates a good opportunity for Pirelli.
In 2018, Pirelli APAC, with a major contribution from China, had a total tire revenue of 890.2 million euros, which was 17.1 percent of Pirelli revenues, with an organic increase of 13.3 percent and profitability in the twenties. The strong growth is mainly supported by our high-value strategy, which gives the company a great resilience against market fluctuations. Pirelli now is the only pure consumer tire company with a distinctive positioning in high-value tires.
In 2019, Pirelli's high-value volumes are expected to grow by between 7.5 percent and 8 percent globally. We are committed to achieving high-quality growth together with the Chinese auto market.
A4 Consumption, which is tightly linked to people's daily lives, like the tire industry. Although the growth rate of car sales in China has slowed, the increase in the number of vehicles still brings opportunities in the after-sale replacement market for us. Pirelli is aiming to provide highvalue products and reliable services to expand our presence in China.
A5 Pirelli China is not really affected by the trade uncertainties with the United States. Pirelli applies localfor-local policy worldwide. Since we entered the Chinese mainland, we have been a local in the tire market. Our APAC headquarters is in China, we now have three plants and one R&D center here with an annual capacity of more than 12 million tires in 2018. The production from Chinese manufacturing sites is mainly dedicated to meeting domestic and regional demand, taking into account the evolution of the Chinese market, the expected developments in electric vehicles and the growing share of homologations obtained in the original equipment segment in China, Japan and South Korea.
A6 Since Pirelli entered the Chinese mainland in 2005, the Chinese government has always been supportive of our local development. Our three plants in Shandong and Henan have benefited from the sound investment environment and strong support from the local government.
ChemChina has been the main shareholder of Pirelli since 2015 and now owns about 45 percent of the company. ChemChina provides all the support needed, drawing on its valuable experience and established channels in China, to accelerate Pirelli's growth by encouraging the spread of its new technologies, products and services.
Under the current policy environment, Pirelli has full confidence in the Chinese market. We will continually enhance our local manufacturing capacity and R&D level, develop and upgrade the retail network, as well as seek more potential cooperation with international and local carmakers in China.
A7 As a leading player in the tire industry, Pirelli always keeps technology and innovation at the heart of its brand. In 2018, the company's R&D expenditure reached 219 million euros or 4.2 percent of sales, of which 202.9 million euros were for high-value activities accounting for 6.1 percent of revenues in the segment. Through close cooperation with global major carmakers, we have noticed the following trends on technological transformation in future mobility and we are ready to provide solutions.
The rapid development of electric cars can't be ignored. Pirelli develops tires specifically for ultra high performance electric and plug-in vehicles with an Elect mark. Meanwhile, our cars are now becoming more intelligent and more connected. Pirelli's Cyber Car and Track Adrenaline app monitors the condition of tires, including wear and load, via smartphone or car electronics.