Culture Insider: 6 things you may not know about Double Ninth Festival
Share - WeChat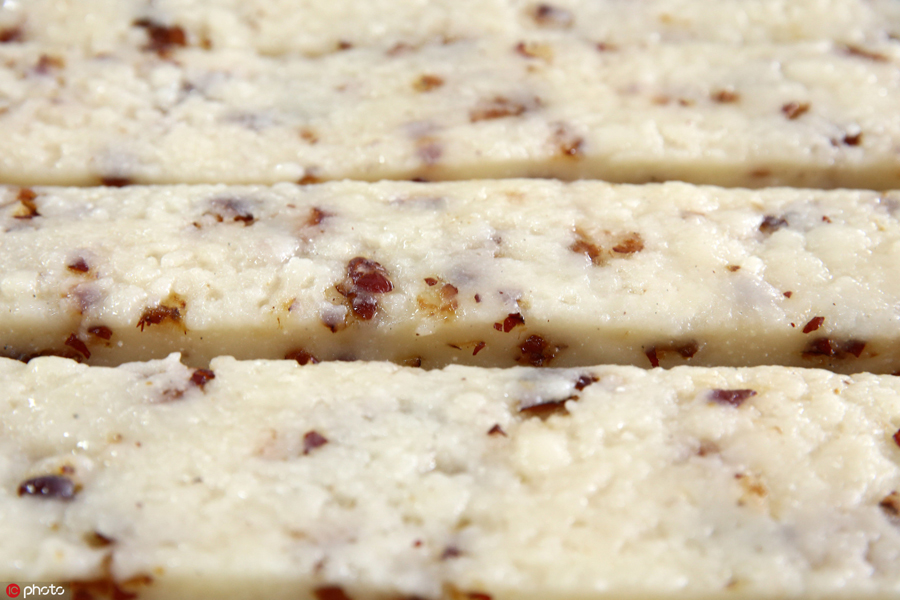 Eating Double Ninth cake
Double Ninth cake is also known as "chrysanthemum cake" or "flower cake". It dates back to the Zhou Dynasty (the 11th century – 256 BC). It is said that the cake was originally prepared after autumn harvests for farmers to have a taste of what was just in season, and it gradually became the cake for people to eat on the Double Ninth Day.
The cake was usually made of glutinous rice flour, millet flour or bean flour. In the Tang Dynasty, its surface was usually planted with a small pennant of multi-colored paper and bore at its center the Chinese character "ling" (order). The Double Ninth cake in the Song Dynasty was usually made with great care a few days before the Double Ninth Day, its surface covered with colored pennants and inlaid with Chinese chestnuts, ginkgo seeds, pine nut kernels and pomegranate seeds.
It was a nice festive present for relatives or friends. In the Ming Dynasty, imperial families customarily began to eat the cake early on the first day of the 9th lunar month to mark the festival, and the common people usually enjoyed it with their married daughters, which was basin-sized and covered with two or three layers of jujubes. The cake in the Qing Dynasty was made like a 9-storied pagoda, which was topped with two sheep images made of dough. The cakewas called Chong Yang Gao in Chinese, which means Double Ninth cake as "Chong" means double, "Yang" dichotomously suggests nine and sheep, and "Gao" means cake. Also, because "Gao" (cake) shares the pronunciation with "Gao" (high, tall), people hope to get a higher position in life by having Gao on the Double Ninth Day.