Putting love and care into my needlework
Share - WeChat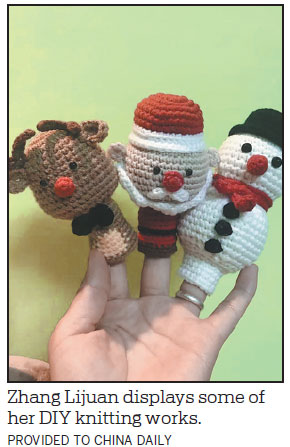 Zhang Lijuan, 31, homemaker
During my pregnancy in 2016, I learned to knit sweaters in my hometown in Fujian province after seeing my friend knit a gorgeous sweater for her soon-to-be-born child.
It reminded me of my mother making clothes for me when I was a little girl. However, this remained as just warm memories of my childhood. We bought all our clothes from then on.
So I decided to give it a try. I learned knitting by watching instructional videos. I am a quick learner and I enjoy being focused on doing something. It was a good way to pass time during my pregnancy.
Before my daughter was born, I had finished knitting a sweater, a pair of shoes and a hat for her. There is a feeling of accomplishment when you see something gradually taking shape in your hands.
When my daughter turned 2 years old and had longer hair, I started making hairpins and headbands for her. I usually use colorful woolen yarn to knit different patterns like sweets, ice creams and fruits, and stick them onto the hairpins as decorations. It takes me an hour to make a hairpin.
I also make toys and dolls for my daughter. She is now at an age where she recognizes animals. When she learns a new animal, I will make a doll of that animal for her.
She has dolls of a rabbit, pig, snail, owl, octopus and a spider. Recently, she wanted dolls of some ocean creatures.
My family is fascinated with my work, and they think it is a fresh idea. Instead of just following instructional videos step by step, I can now incorporate my own ideas into my handiwork. For example, if I make a rabbit doll, I can also knit a bag and hat for it to make it pretty.
When my friends saw the animal finger puppets I made, they asked me to make some for them.
My daughter likes the little toys. When I am knitting, she will play around me and will sometimes take a look at my progress, while looking forward to playing with it. This reminds me of my own childhood memories. "Mommy, look at my new doll!" yelled my daughter when she was given a toy I had just finished making. She would happily hold it and kiss it with joy.
I quit my job when I was six months pregnant. My daughter will be 3 years old soon and I don't work because I want to spend more time with her doing handiwork together.
Every day, I will do some simple handicrafts with my daughter, like paper-cutting and drawing. I hope she can develop a hobby in her childhood and enjoy handiwork.
Zhang Yi spoke to Zhang Lijuan.
Most Popular