Culture Insider: 6 things you may not know about Double Ninth Festival
Share - WeChat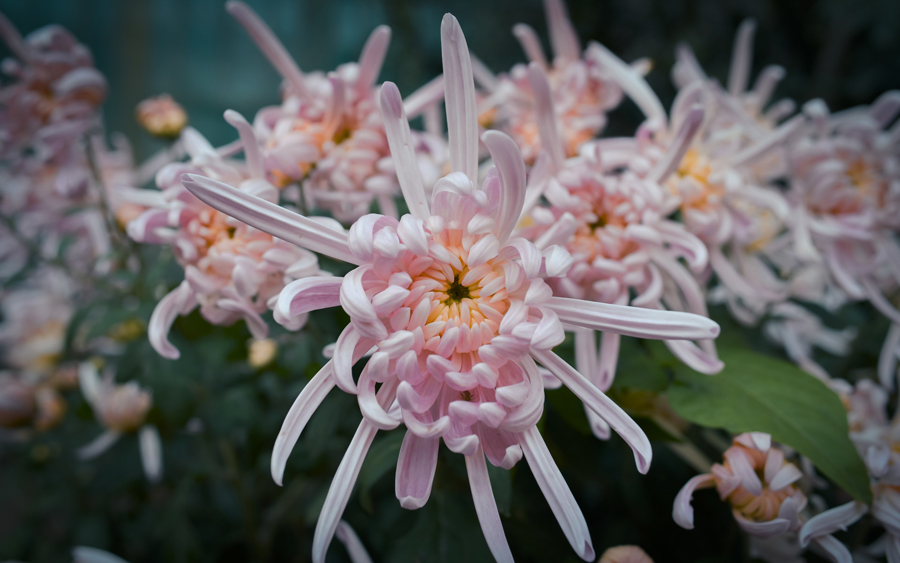 Enjoying chrysanthemum flowers
Chrysanthemum originated in China and was recorded in some Chinese books as early as the 5th century BC. The flower was introduced as imperial flower to Japan during the Tang Dynasty. Then it was introduced to Britain in the 12th century, to the continent of Europe in the 17th century and to the US in the 19th century. Also known as "yellow flower", chrysanthemum is of varied species in the composite family. Though its florescence lasts long, this perennial herb usually begins to bloom in the 9th lunar month, lending a festive flavor to the Double Ninth Day. That's why the month is also referred to as "the month of chrysanthemum".
The flower was favored by poets through the ages, because it is one of the only flowers that bloom in late autumn. It is said that Tao Yuanming, a famous poet of the Jin Dynasty, grew many species of chrysanthemum while he lived as hermit, and the flower, when in full bloom, drew many of Tao's relatives and friends. Huang Chao, leader of the peasant uprising in the Tang Dynasty, wrote many poems about chrysanthemum, which were compiled into an anthology of chrysanthemum and are often quoted even now. Du Fu, a great Tang Dynasty poet, wrote more than ten poems singing the praises of the flower.
Chinese folks were fond of enjoying chrysanthemum on the Double Ninth Day long before. Chrysanthemum blossoms in the ninth lunar month have the beautiful name of "flower of longevity". The custom of wearing chrysanthemum appeared in the Tang Dynasty and was very popular throughout the time afterwards. The entrances of some taverns in the Song Dynasty (960-1279) were decorated with the flowers on the day, which was supposed to incite customers' desire for wine. Chrysanthemum displays were usually held immediately after the day in some regions of China in the Qing Dynasty. People in Beijing began to stick chrysanthemums on doors and windows to "get rid of the bad luck and bring in the good ones", which is an alteration of the custom of wearing chrysanthemum on people's heads. At these displays people might enjoy chrysanthemum flowers, take part in poem-composing competitions or watch painters drawing chrysanthemum flowers. The display was often lively with a sea of visitors.