Walmart Food Safety Innovation Pipeline Round 3 Innovation Draft Day Held in Shenzhen
Share - WeChat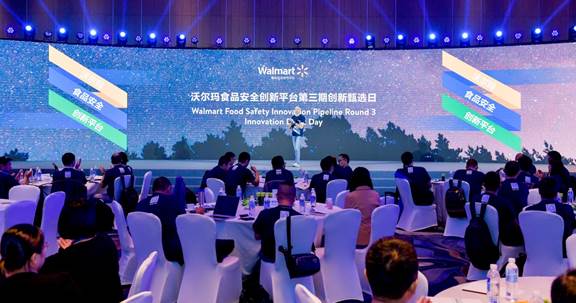 The Walmart Food Safety Collaboration Center (WFSCC) hosted the Walmart Food Safety Innovation Pipeline Round 3 Innovation Draft Day in Shenzhen. A total of 150 participants, including senior executives from Walmart China, representatives from Starbucks, New Hope Liuhe, Want Want Group and Cargill, members of the Walmart Food Safety Innovation Council, finalists, industry leaders in food and retail and media representatives attended the event.
The Walmart Food Safety Innovation Pipeline is a unique initiative designed to generate new and creative ways to solve both persistent and emerging issues in food safety through technology. Aiming to improve food safety through collaboration and innovation, the Innovation Pipeline brings together different key actors from across the value chain to identify critical food safety issues and challenge fresh thinking on solutions. The Innovation Pipeline ultimately aims to fast track the most promising solutions by testing them in the real-world supply chains of Walmart and its partners.
Since launching in 2017, the Innovation Pipeline has successfully organized two rounds. More than 70 proposals were pitched covering a variety of topics, from cold chain temperature control, to sustainable packaging, product traceability and rapid testing. Selected previous winners earned the opportunity to develop pilot projects with Walmart China or to explore future business opportunities.
Will Watts, Senior Director of the WFSCC, said, "Like a startup itself, the Innovation Pipeline has grown, scaled, and pivoted over the last three years. We are proud of the growing food safety innovation community built around the Innovation Pipeline as well as the impact our past winners are already having in the industry. Round 3 is our most ambitious round yet, inviting applicants from around the globe as well as creating opportunities for applicants in global markets. Along with our strengthened Innovation Council, we are living our motto 'to innovate for safe food, together.'"
Round 3 of the Innovation Pipeline focuses on supply chain insights that advance transparency and improve food safety from farm to fork. Since the WFSCC launched the request for proposals on May 30, 2019, the Innovation Pipeline received 64 proposals from domestic and overseas companies and organizations, a significant increase from previous rounds. Applicants presented a variety of solutions from across the supply chain, from AI-assisted supply chain management, to next generation cold chain logistics, to rapid testing and agricultural data platforms. This year, the Innovation Pipeline welcomed greater participation from international applicants, representing 20 percent of total applications.