Cooperation delivers energy security for all
Share - WeChat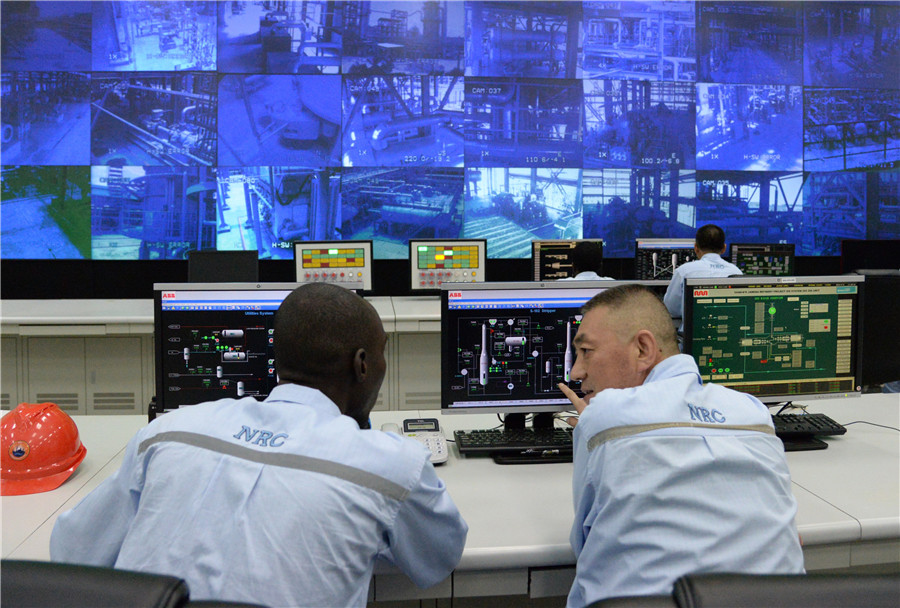 CNPC enhances its overseas role with a range of exploration, production and pipeline deals
China National Petroleum Corp, the country's largest oil and gas company, has been stepping up its equivalent overseas equity production of oil and gas in recent years to meet the surging demand for oil and gas at home.
It vowed to come up with more than 100 million metric tons of equivalent equity production of oil and gas abroad by 2020, especially in markets in Central Asia, Russia, the Middle East and Africa, said the company.
The overseas equivalent equity production of oil and gas will be equal to that of domestic output by 2020, the company said during its 2019 international cooperation conference held at the end of July in Beijing.
The company also aims to further enhance its global oil and gas resource allocation capacity, in a bid to increase its international trade to 550 million tons by 2020, through further exploration of its overseas upstream business, lowering crude purchase costs, increasing exports of refined oil products and diversifying purchases of liquefied natural gas, it said.
Bloomberg Intelligence data showed China's dependence on imports to meet domestic gas demand is expected to rise to 75 percent in 2020 from 57 percent in 2017.
To ensure adequate gas supply for the biggest gas-consuming nation worldwide, PetroChina, as CNPC is known sometimes, has been diversifying its channels to import more gas from abroad, including conventional gas, shale gas, tight gas and coal bed gas.
The China-Central Asia natural gas pipeline and the China-Myanmar gas pipeline are the only two international gas channels that bring fuel into China across land. They represent more than 15 percent of the annual national gas consumption and more than 40 percent of national gas imports every year. As of July this year, they have transported 300 billion cubic meters of natural gas to China since beginning operations in 2009 and 2013, respectively.
Construction of the middle part of the China-Russia east-route natural gas pipeline, stretching from Jilin province to Hebei province, will also be completed next October and ease the gas shortage in Northeast China and the Beijing-Tianjin-Hebei region, providing China with 38 billion cubic meters of natural gas from Russia annually, it said.
CNPC has also signed an agreement with Novatek, Russia's top independent gas producer, in April, to buy a 10-percent stake in its new liquefied natural gas project, Arctic LNG 2, to increase gas supply in the country.
Li Li, energy research director at ICIS China, a firm providing analyses of China's energy market, said gas-rich countries like the Central Asian nations and Russia will play a significant role in natural gas trade cooperation with China, considering the country's expected continuous growth in natural gas imports.
The company saw its overseas trade volume exceeding 480 million tons in 2018 and international sales revenue of over 1 trillion yuan ($ 142.1 billion). It has a trade marketing network extending to more than 80 countries and regions.
The annual new contract amount of overseas engineering service business in 2018 exceeded $10 billion, and the company said it expects the newly signed contract amount and operating revenue to reach $15 billion and $12 billion, respectively, by 2020.
Ever since the company started its overseas business in 1993, both the volume and value of its international trade have been growing on the back of its strong brand equity, comprehensive competitiveness and efficient management of international operations.
CNPC is now managing 92 overseas oil and gas cooperative projects in 34 countries and regions and has international businesses in more than 80 countries and regions. Fifty projects are in 19 countries involved in the Belt and Road Initiative, it said.
Additional recoverable reserves equivalent for the company during the 2016-18 period reached 230 million tons, with annual growth of equivalent production of oil and gas equity reaching 10 million tons, it said.
Its materials and equipment products are exported to 78 countries and regions. More than 1,200 teams have been sent to over 60 countries for engineering, construction and technical services, it said.