CNPC to ramp up its global output
Share - WeChat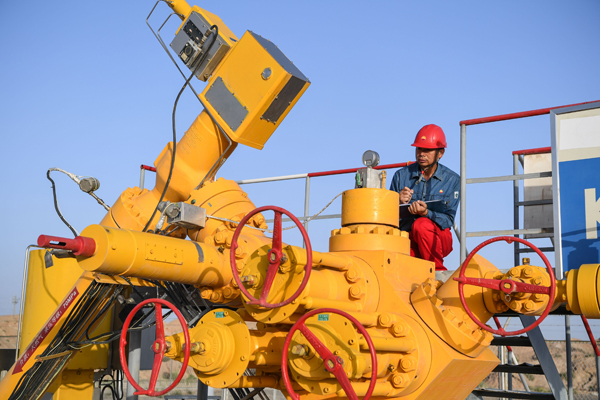 China National Petroleum Corp has pledged to come up with more than 100 million metric tons of equivalent equity production of oil and gas from abroad by 2020, especially in markets in Central Asia, Russia, the Middle East and Africa.
The overseas equivalent equity production of oil and gas will be equal to that of domestic production by that time, the company said during its 2019 international cooperation conference held in Beijing from July 27 to 28.
The company also aims to further enhance its global oil and gas resource allocation capacity, seeking to elevate its international trade up to 550 million tons by 2020, through further exploration of its overseas upstream business, lowering crude purchase costs, increasing exports of refined oil products and diversifying purchases of liquefied natural gas, it said.
Analysts said as the country's largest oil and gas company, CNPC has been stepping up its equivalent overseas equity production of oil and gas in recent years to meet the surging demand for oil and gas.
Li Li, energy research director at ICIS China, a think tank focusing on energy trends, said China, the biggest gas-consuming nation worldwide, is likely to witness continuous growth in oil and natural gas imports, as the country has remained highly dependent on oil and gas imports.
China's dependence on imports to meet domestic gas demand is expected to rise to 75 percent in 2020 from 57 percent in 2017, according to data provided by Bloomberg Intelligence.
To ensure adequate gas supply in domestic market, CNPC has been diversifying its channels to import more gas from abroad, including conventional gas, shale gas, tight gas and coal bed gas.
Two of its gas pipelines, the China-Central Asia natural gas pipeline and the China-Myanmar gas pipeline, have transported 300 billion cubic meters of natural gas to China since beginning operations in 2009 and 2013 respectively as of July this year, it said.
The company's trade volume exceeded 480 million tons in 2018. It has a trade marketing network extending to more than 80 countries and regions.
The annual new contract amount of overseas engineering service business during the 2016-18 period exceeded $10 billion, and the company expects the newly signed contract amount and operating revenue to reach $15 billion and $12 billion by 2020, it said.
CNPC is now managing a total of 92 overseas oil and gas cooperation projects in 34 countries. Additional recoverable reserves equivalent for the company during the 2016-18 period reached 230 million tons, with annual growth of equivalent production of oil and gas equity reaching 10 million tons, it said.