More voices call for end to violence in HK
Share - WeChat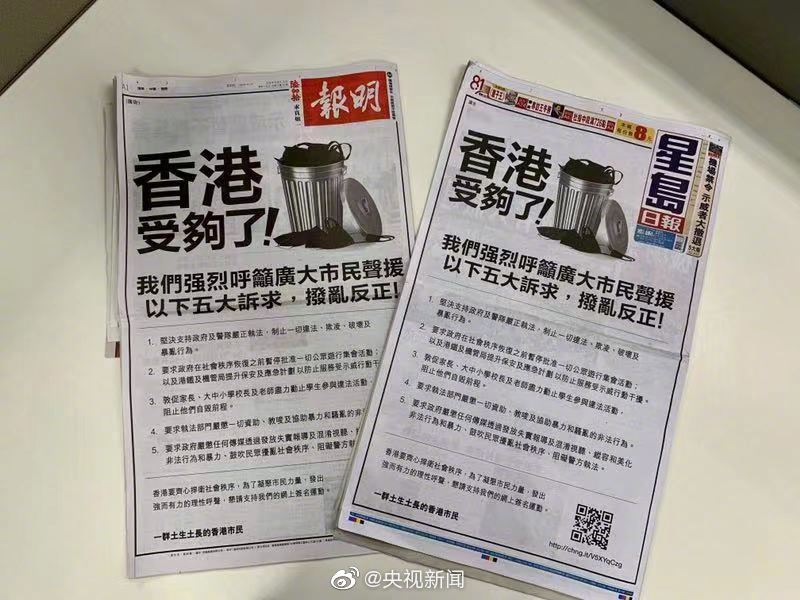 People from all walks of life in Hong Kong formed a united front on Friday to speak out against violence after the city has endured radicalism and unrest since mid-June as a result of repeated protests.
Business tycoons like Li Ka-shing and entertainers including Charmaine Sheh expressed their concerns over the escalating violence and called for the restoration of the rule of law.
Their appeals came amid worries of more possible clashes over the weekend between radicals and the police and a call for students to boycott classes as the new school year begins in about two weeks.
Hong Kong has seen protesters blocking roads, setting fires and besieging government buildings and police stations more than 70 times in 18 days since June 9, Central District Commander Tse Ming-yeung said on Friday. Protests have also seriously affected the normal operation of Hong Kong International Airport, one of the world's busiest traffic hubs.
After the city's economy and people's livelihoods started to feel the pinch from the monthslong turmoil, Hong Kong billionaire Li Ka-shing took out advertisements in several local newspapers on Friday urging an end to violence. Earlier, another tycoon, Peter Woo Kwong-ching, also spoke out against the unrest.