Naruhito speaks of remorse over WWII
Share - WeChat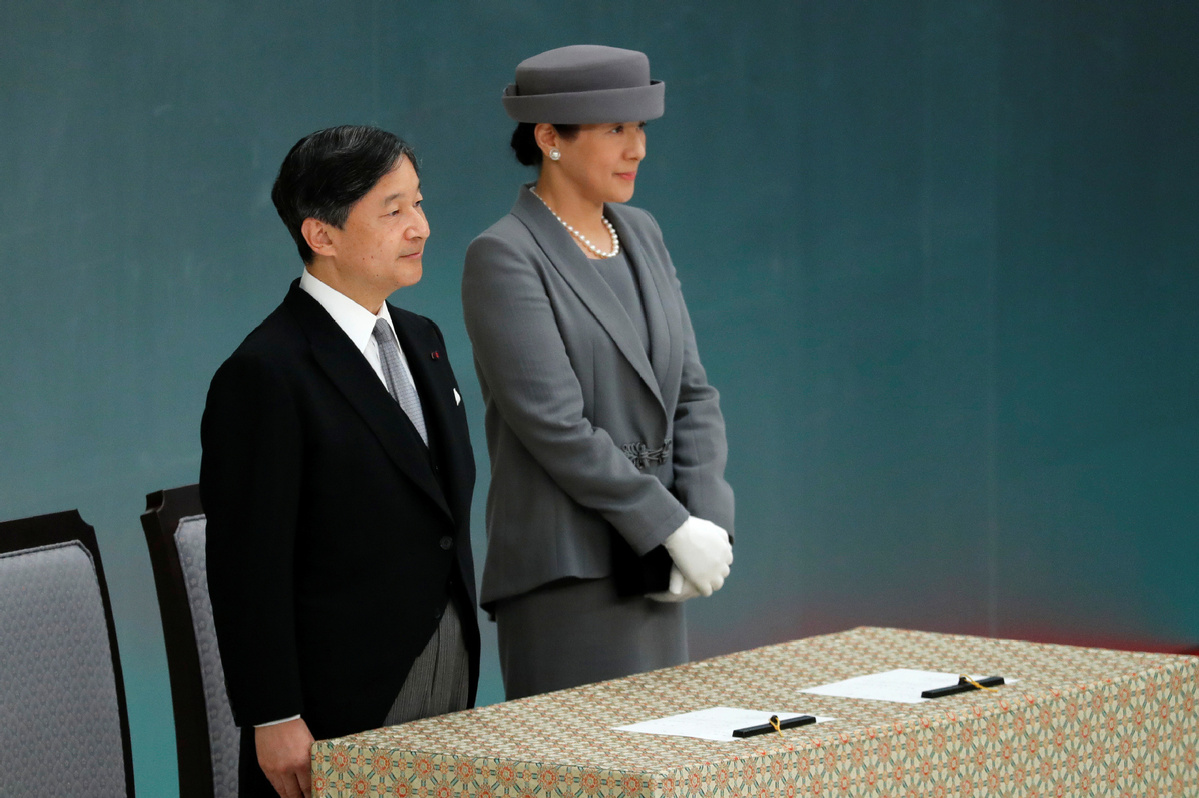 But Japanese PM Abe sends offering to controversial Yasukuni Shrine
Following his father's lead, Japan's Emperor Naruhito expressed "deep remorse" over the country's wartime actions and prayed for global peace when making his first appearance as emperor on Thursday at an annual ceremony marking Tokyo's surrender in World War II.
"Looking back on the long period of post-war peace, reflecting on our past and bearing in mind the feelings of deep remorse, I earnestly hope that the ravages of war will never be repeated," Naruhito said.
"To those who lost their lives in the battlefield or by the war, I pay my heartful tribute together with all of our people and pray for world peace and further development of our country," the 59-year-old emperor added, using terms almost identical to those in his father Akihito's speeches.
As Japan's first emperor born after the war, and grandson of Emperor Hirohito, in whose name Japanese troops fought the war, Naruhito's attitude toward the country's past aggressions had been a focal point of many with several viewed it as "encouraging".
Yuzo Tanaka, a professor of economics at Ryukoku University in Kyoto, said the emperor's choice of echoing his father is a "pleasant move" as "it reminds people not to forget the tragedy of past, especially at a time when today's young people almost got no clue of war at all".
In addition to Naruhito and his wife Empress Masako, more than 5,000 people participated in Thursday's event. They included Japanese Prime Minister Shinzo Abe, lawmakers from various parties and family members of the war dead.
In his address, Abe renewed his pledge to maintain peace saying Japan "deeply recalls the lessons of history". However, as in the past, he steered clear of acknowledging Japan's wartime responsibility.
"Over 3 million of our countrymen's lives were lost during the war. ... We will never forget that the peace and prosperity we are enjoying now are built on the ultimate sacrifices of the war dead," Abe said, adding that Japan's vow of never engaging in war again will not change.
Despite his reflection on the war, Abe also sent a ritual offering to the controversial Yasukuni Shrine on Thursday. The shrine honors Japanese soldiers killed in the war as well as 14 Japanese wartime leaders convicted as class-A criminals including Hideki Tojo, the wartime prime minister who was executed.
Japan's ruling Liberal Democratic Party lawmaker Tomomi Inada, an aide to Abe and former defense minister, made a monetary offering on the premier's behalf.
"The peace and prosperity of our country is due to those heroes who gave their lives for their homeland and I express my gratitude and respect," Inada quoted Abe as saying.
Saying it was a private matter, Yoshihide Suga, Japan's chief cabinet secretary, refused to comment.
Zhou Yongsheng, a professor at and deputy director of the Center of Japanese Research at China Foreign Affairs University, said as the shrine is regarded as a symbol of past Japanese militarism, visits and ritual offerings made in person or by proxy will trample on the feelings of the people of China, South Korea and other countries brutalized by Japan during World War II.
"Japan must face up to and reflect on its history of invasion, and draw a line under its militarism," Zhou said, adding that the issue is about whether Japan correctly acknowledges its history of invasion and of Japanese militarism, and about the feelings of the people in victims' countries."
Pang Zhongpeng, an associate researcher at the Japan Studies Center of the Chinese Academy of Social Sciences, said memorial of any kind to war criminals would only make matters worse for Japan's credibility as a responsible country.
Pang said, because China and Japan's relations have warmed in recent years, it is high time that the Abe administration stop trying to whitewash Japan's war crimes if it really wants to make Japan a normal country and maintain good relations with its neighboring countries.