A relay of planting trees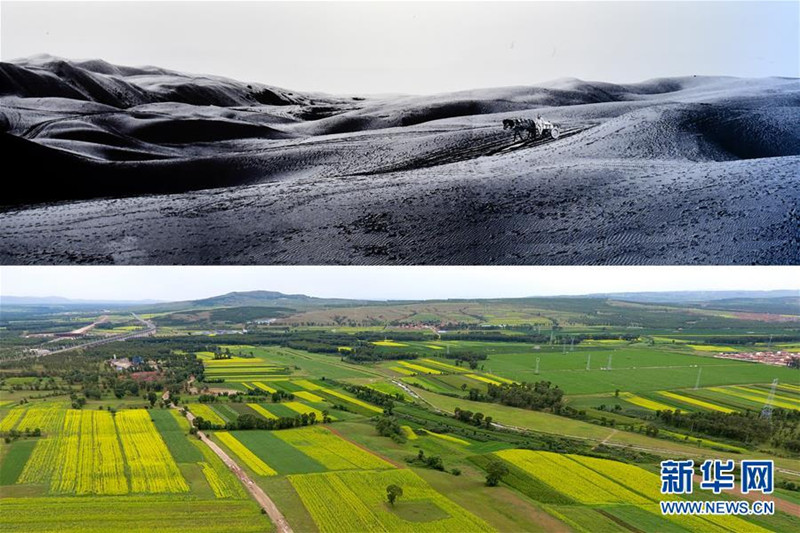 TAIYUAN - Youyu county was once a barren land where nothing grew, but today, it has become a green county with over half of it covered by trees.
Despite the summer heat, people came to see a 20-meter-tall tree in the Cangtou river wetland park in the county. The tree is named after Zhang Ronghuai, the county's first Party secretary who planted it.
"We started to plant trees because we wanted to survive sandstorms and live a good life," said Wang Degong, in his 70s, who used to be a county cadre. "The tree represents our initial pursuit."
Youyu county, in northern China's Shanxi province, is located on the edge of the Maowusu desert. On the county's over 1,900 square km of land, there was only about 5.33 square km of forest remnants when the People's Republic of China was founded in 1949.
A German geological expert once visited Youyou and declared it inhospitable and suggested that the whole county move.
However, Zhang Ronghuai did not buy it. He wanted his villagers to stay and live a better life.
He went on a field trip for months and came to the conclusion that only by planting trees could they survive. He soon led the locals and planted the first batch of trees by the Cangtou river.
Since then, the relay of tree planting has been carried on by generations of the county's Party secretaries.
In the northeast of the county were active sand dunes with a length of 20 km and a width of 4 km, moving toward the county center at a speed of several meters every year in the 1950s.
In 1956, Ma Luyuan, the county's fourth Party secretary, decided to fight against the dunes.
"I followed Ma to plant trees and he told us that the sand would be stopped as long as the trees could survive," said Wang Minghua, a villager.
With Ma taking the lead, the whole county joined the fight. They failed twice, but after eight years of efforts, the trees finally survived.