Man turns trash into collectors' treasure
Share - WeChat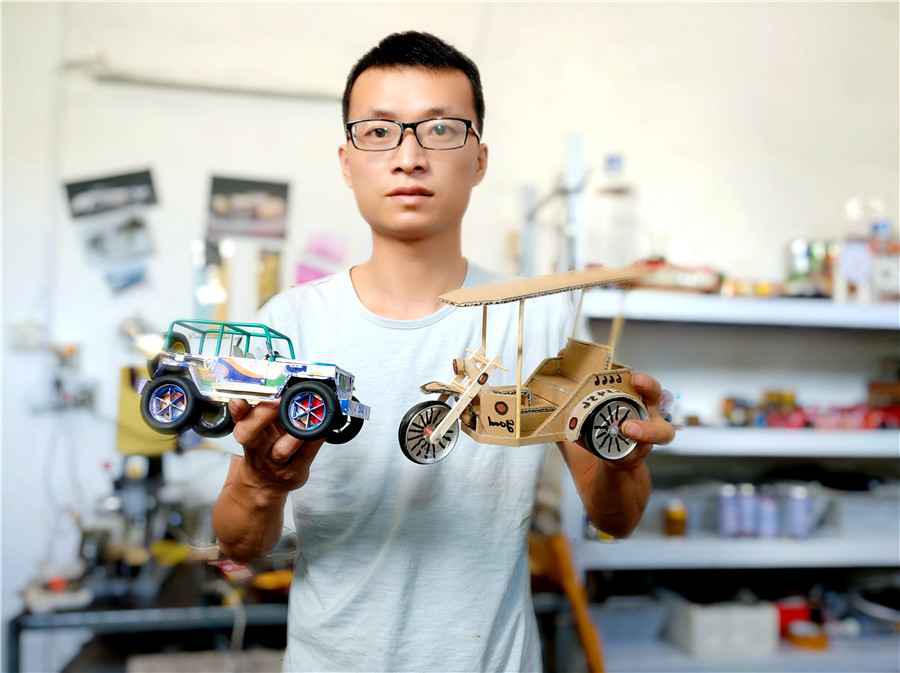 Dai Changlin has become well known for making miniature car models from tossed out cans and other trash, turning the waste into profit-making products.
Dai, 31, is a social media influencer, acclaimed as "the king of transforming the rags" by followers on video-sharing platforms. He has attracted more than 270,000 followers on Douyin, or Tik Tok, and 250,000 on Kuaishou.
The question that Dai is asked most often is, "Are you a rag collector?"
Dai, indeed, has collected more than 30,000 empty cans, ever since he started to make miniature car models in 2005, when he was a high school student.
"I made them and sent them to my friends. Toy cars then were seen as something luxurious," he said.
After graduating from high school, Dai worked in Hangzhou city, East China's Zhejiang province, and then came back to his hometown, Luoyang in Central China's Henan in 2012. But he remained steadfast to his hobby. He said he benefited from creating the handmade cars, and enjoyed the pleasure of making things.
When Dai first posted footage of his models on Kuaishou, a popular short-video app in 2016, he said, "The internet served as a place to exchange ideas and (for people to) express themselves equally, and sharing the videos and photos with more people is very interesting and expecting."
To date, he has made more than 8,000 toys, and is working full-time on various models and toys; his monthly income was nearly 10,000 yuan ($1,465) when the works were selling well on the internet, he said.
"Next, I would like to have a tutorial on the internet, teaching more and more people how to turn waste into wealth and hoping they will join in, picking up rubbish, sorting and recycling it, because it is meaningful to use our own hands to make someone have some new values," he said.