Alain Ducasse pursuing perfection
Share - WeChat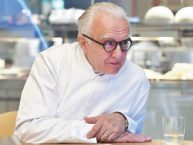 As one of the world's most decorated chefs, Alain Ducasse is known for his forensic attention to detail-from thrice-ironed tablecloths to hand-picked decor and cutlery.
But he has an unexpected weapon in his pursuit of perfection: He closely monitors social media to keep an eye on customer reviews of his culinary empire.
The 62-year-old is arguably the doyen of France's "grande cuisine". His eateries currently have a combined 20 Michelin stars, more than any living contemporary.
But just as Ducasse-who now boasts more than 30 restaurants across seven countries-blends tradition and modernity in his menus, he sees tech as a way to finesse the dining experience.
It's through social media that he discovered Benoit, his popular New York bistro, was messing up a classic French dish.
"Looking at the customer reviews we realized there was an issue. Everyone was complaining about the roast chicken," Ducasse says.
"It was unbelievable," he recalls, adding that this helped them spot-and fix-the issue immediately.
That Ducasse personally monitors the social media of all his restaurants is indicative of a man who insists on maintaining control over a sprawling intercontinental business.
"Before we opened here, we spent three years poring over every detail. I know every object. There was a lot of personal involvement," Ducasse says of his eponymous restaurant in Macao at the Morpheus.
The last two decades have seen chefs with global status rapidly expand their international footprints, sometimes at a cost.
Yet Ducasse-much like the late Joel Robuchon, whose restaurants earned 32 Michelin stars during his career-sails on, expanding with no shortage of critical acclaim.
His Macao restaurant Alain Ducasse at Morpheus, which just celebrated its one-year anniversary, earned two Michelin stars within six months.
Macao, Ducasse says, is now "very competitive. (You) cannot sleep. You have to stay awake".
Ducasse's first foray into Asia began some 15 years ago in Japan, followed by Hong Kong and then Macao. Later this year, he plans to open a restaurant in a glitzy Bangkok mall and a Mediterranean-influenced grill in Singapore's Raffles hotel.
Much of his cooking inevitably caters to the 1 percent-the tasting menu at Le Louis XV clocks in at $410 a head while one of his most famous signature dishes pairs rockfish jelly with a generous dollop of gold caviar.
But followers of Ducasse's food empire have noticed a shift in recent years to more accessible eateries.
New openings such as Spoon 2 in Paris, Omer in Monaco-and even the Singapore and Bangkok ventures-are more brasserie than haute cuisine.
With rising anger about inequality in the West, is Ducasse looking to democratize his cooking?
He rejects this idea and says it's more down to business realities-the sheer amount of time and effort required for the top-end restaurants cannot be replicated ad hoc.
AGENCE FRANCE-PRESSE
Most Popular