Lessons on how to tackle poverty, from a master of the lens
Share - WeChat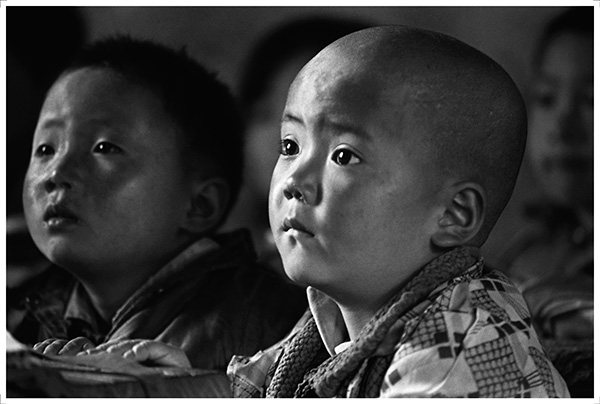 Nearly 30 years ago the photographer Xie Hailong began an investigation of rural students and teachers, recording their living conditions and the stories of their striving for educational opportunities.
In 1992, when he was 41, he became a photo journalist for China Youth Daily, and visited more than 100 rural schools in 128 counties in 26 provinces over the following 10 years.
A photo he took in 1991 that told the story of Su Mingjuan, 8, with great sparkling eyes and a pencil in hand, in rural Jinzhai county, Anhui province, became a household image after it was used as a poster for Project Hope.
The project, launched by the China Youth Development Foundation in 1989, is dedicated to helping poor children get an education. It received 100 million yuan ($14.5 million) in six months.
By last year the project had received donations totaling more than 15 billion yuan and had helped nearly 6 million students in need.
While Xie dares to say his photos calling for educational opportunities have almost fulfilled their historical mission, more needs to be done to reduce poverty and achieve educational equality, he says.
However, because schools and governments of rural areas are now more aware of the potential social assistance they can receive, some may abuse good intentions.
Xie once took 500 schoolbags to a rural school of Daliangshan in Sichuan province in 2016. A teacher told him that the school wanted to give only a small part of those bags to outstanding students as a learning incentive.
The proposal angered Xie, who insisted that the teachers distribute the bags to every one of the 495 students.
He believes his intervention may have spared many of these children from their parents' punishment for not being awarded a bag.
He hopes that his photographic observations will shed light on the plight of the underprivileged, and that in doing so many other people will join him in helping them. It is an illustration of how photojournalists can be a force for good, he says.
Xie says he has realized that with newly built, well equipped classrooms and campuses, urgent attention is also needed for rural children's physical wellbeing, including issues such as malnutrition, tooth decay, shortsightedness and obesity.
One problem has been food that is appealing but of low nutritional value being sold near the entrances to rural schools. Nationwide regulations aimed at tackling this issue were enacted in April.
For the past 10 years Xie has also been working on a project aimed at recording the lives of migrant workers in cities.
In addition to taking photos of such people, Xie is keen to find out as much as he can about their situation, eager to get them the help they need.
Xie's peer Wang Wenlan says of him: "He does not choose a subject unless he has some idea about the political and social context of the time. As for everyday problems, if you don't pay attention to them, to their origins, and to possible solutions, you're not going to know how to reflect them through the camera lens."
Achieving that aim, he says, is not easy task.
Most Popular