The sky's the limit with a cool twist on barbecue
Share - WeChat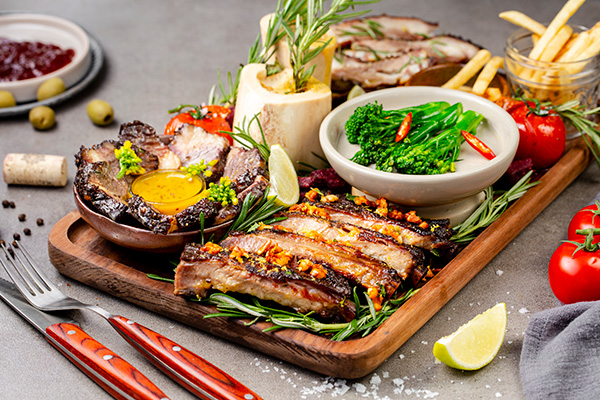 From a humble, one-table hutong eatery, to a rooftop terrace in the upscale Sanlitun area, Akatoao is firing up Beijing's foodies with its cool twist on barbecue.
In 2017, a restaurant with only one table opened on the floor above a flower shop in Beijing's Wudaoying hutong.
Named Akatoao, the tiny eatery closed within a year, leaving those among the city's gastronomes who had not managed to get a seat at this most exclusive of tables somewhat bereft.
However, last month, the restaurant reopened in the city's Sanlitun area, at a more permanent venue featuring a modern design, a brand-new menu - and many more tables.
"Akatoao literally translates from Japanese into 'red and blue'," explains Wang Bowen, the restaurant's 37-year-old co-founder." We named our restaurant Akatoao because we see red and blue representing fire and water, and while they are incompatible, they can be used together to cook - and we want to cook food that fuses different, sometimes seemingly incompatible, ingredients together."
Writing in the menu, which he designed, he notes "here at Akatoao, we present the oldest cooking method, BBQ, with a new charm."
Explaining the phrase, Wang says: "We gave the old brand a new interpretation. It's a bar and barbecue restaurant now, and it also combines fire and water, like our name suggests."
Located on the top floor of Taikoo Li building N6, the restaurant features a rooftop terrace, so Wang asked the design team to use a "sky" theme for the interior space. The decoration work took seven months to finish.
Most Popular