The sky's the limit with a cool twist on barbecue
Share - WeChat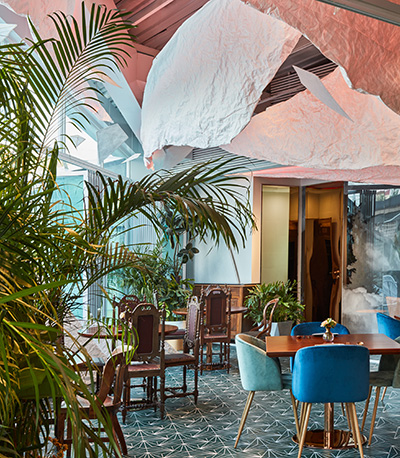 The ribs platter is the quintessence of his creations - it has smoked beef brisket, roast pork ribs, roast lamb ribs, grilled bone marrow, accompanied by stir-fried vegetables and various sauces. The different meats require different skills to cook, and a long preparation time.
The first step is to marinate the meat with kelp for at least 12 hours. Some special cuts like the ox tongue, need to be marinated for at least fifteen days.
"This step sucks out all of the bad flavors of the different meat, as kelp has a special salty and fresh flavor," Yang explains.
The second step is to slow cook the meat for anything between 12 to 24 hours, which ensures the meat remains juicy.
The final step is to cook the meat on the grill, which can reach temperatures as high as 400 C, to get that charred outer layer that is essential to any good barbecue. Yang opts to burn apple wood to imbue the meat with a subtle flavor and fragrance.
Another menu favorite of Yang's creation is the cold-cut platter. It includes 20 different items, including Iberico ham and chorizo from Spain, prosciutto ham and salami from Italy, chicken liver mousse and olive salad. The plating resembles a miniature table of food from a renaissance painting.
Yang chose to use chicken liver to make the mousse as he thinks Chinese diners are more familiar with its flavor and he uses two different liquors to cook the liver. Passion fruit is used to coat the mousse, adding a sweet and sour flavor to the liver.
"I like to add some crispy textures into my dishes, so for the platter I add rice crisps and corn chips," says Yang.
For something a little heartier, the grilled beef and mushroom in risotto balls with spicy tomato sauce is arguably one of Yang's most delicious creations.
Equally, the grilled beef rib burger is as enjoyable to look at as it is to eat, as the burger contains a full rib on the bone, which is artfully removed by the server in front of the diners.
"Young diners like to have a sense of ceremony in their life, so the process of removing the bone provides the necessary flourish for them to fully enjoy the burger experience," says Yang.
Most Popular