New hope for women with breast cancer
Share - WeChat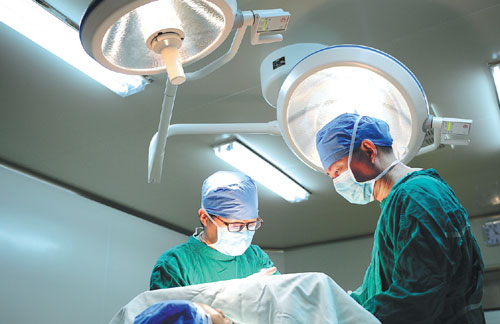 Treatment shifts from disease-focused approach to a patient-centered one
After doctors removed a cancerous tumor from her right breast, Dai Lifang, 37, woke up from the induced anesthesia and immediately explored the affected area with her hand.
"When I woke up, I touched my right breast. It was still there," she said. "I felt so relieved. It was almost the same as before, except for the little, 10-centimeter horizontal scar."
The surgery Dai underwent earlier this month offers new hope for women with breast cancer. It means that for many women, a key part of their bodies-one closely tied to their self-image-can remain intact.
As surgical procedures have advanced, cancer treatments have shifted more to a patient-centered approach from a disease-centered one, according to Liao Ning, Dai's surgeon and the head of the breast cancer center at the Guangdong Academy of Medical Sciences and Guangdong Provincial People's Hospital in Guangzhou, Guangdong province.
"As a woman myself, I understand what complete and full breasts mean for a woman's self-esteem and sometimes their intimate relationships," said Liao, who was trained in Germany.
Mastectomy, the removal of all or part of a breast, has long been the norm for certain breast cancers that have not yet spread throughout the body.
"I have seen young patients in their 30s who no longer had sex with their husbands after a mastectomy. The man lost his desire for the wife," Liao said. "That would hurt the woman's feelings badly and impact the treatment outcome over the long run."
On June 7, China celebrated Dragon Boat Festival, a traditional event to remember ancient poet Qu Yuan.
For Dai, there was something more to celebrate during the holiday. She was released from hospital and received new hope for life. She was cancer-free and still "complete".